Marine yoga in front of exotic fish
Ideal for families, from 6 years
WE love
: an original family outing, in a unique setting, in front of the large Caribbean basin
Schedule:
from 10:30 to 11:30 one Saturday per month
Duration: 
1 hour
AGE : 
for children from 6 years old and older
LOCATION: 
at the Aquarium of Paris (16th)
The YogAquarium, an unusual family outing
The YogAquarium is the only yoga class in front of an aquarium!
This is a marine yoga class with family in front of exotic fish
The course is given atAquarium of Paris (16th)
A class dedicated to parents and children and accessible to all, even to the uninitiated
During this yoga session, you will take Postures related to the marine world such as the dolphin, the flamingo ...
This yoga class mixes inventiveness, stability and improvisation in a Zenitude-specific place!
The YogAquarium session ends with a meditation phase with a story that invites you on a voyage underwater
The class is limited to 30 people (children and adults)
The courses are led by Roxane Adel, a Yoga graduate with the RYE recognized by the national education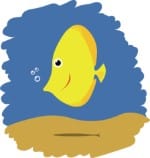 THE SCHEDULE OF SESSIONS:
One Saturday per month from 10:30 to 11:30
Saturday 13/04/2019
Saturday 18/05/2019
Saturday 15/06/2019
THE RATES :
The ticket gives access only to the Yoga session.
It does not allow to visit the Aquarium. We offer discounted rates for the Aquarium of Paris
Adult (from 12 years old): 20 €
Child (up to 12 years old): 10 €
Participants must come with their carpet and outfit. There is no cloakroom on site.
Method of reception and validity of the tickets:
Once your payment is done, you will receive by mail your e-ticket to scan (no checkout)
It is not necessary to print the ticket, it can be scanned from your smartphone
Tickets are valid for the chosen session when booking
They are neither cancellable nor refundable.