MOMENTARILY UNAVAILABLE
Family and children's workshops on chocolate
A colorful, warm and regressive setting
From 5 years old
In the Halles district (Paris 1st)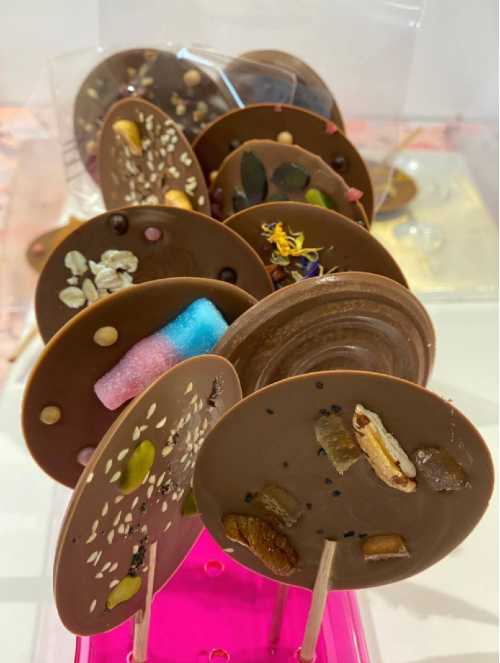 Workshops for children and teenagers
Duration: 1h
Rate : 25€ / person
Min. 2 people to open a workshop/ Max. 12 people
Children under 8 years old must be accompanied by an adult participating in the workshop
The workshop is not suitable for children under 5 years old
The workshops are led by professional pastry chefs and chocolatiers
These workshops are fun, greedy and are done in the joy and good mood
One leaves at home with its small culinary preparations
The team can contact you directly for a change of schedule.
---
Chocolate workshop (from 5 years old)

Personalized chocolate bar, personalized chocolate lollipop, personalized beggars
Rate 25€ / adult or child - Duration : 1h
Same price as direct
Choose the date and time. We will confirm availability within the day. The transaction is charged only after validation
Find the list of our reviews
- Interesting experience but could easily be improved pedagogically
Written by Sandra, on 14-02-2023
We really liked the hospitality of the 2 chefs and the possibility to be in a small group. However, it is a pity that the origin of chocolate is not explained more. When they leave the workshop, the children might think that the chocolate is constantly flowing from a fountain! 25 euros per person for 2 bars of chocolate. That said, very good chocolate.
- Good experience
Written by Diabona, on 11-02-2023
We had a great time with my 6 year old son, we were the only ones there that day with 2 pastry chefs and the experience was very enjoyable. We left with 2 bars of chocolate each. A small downside, it's a shame that the store was not accessible that day because of construction.
- A bit disappointing
Written by Lila Benchikh, on 10-01-2023
The making of the chocolate bar is really just a matter of adding a few ingredients to the chocolate.
- Great! A real paradise for children, such a warm welcome and high quality products!
Written by Nina Marx, 07-01-2023
The reception was adorable. My children loved it, they learned a lot and left with beautiful chocolate bars!
- very good
Written by julie PHARIPOU, on 12-12-2022
It was very good, very nice and educational person. Too bad familin'paris didn't confirm my participation...
Reply from FamilinParis
Written by the Familin'Paris team
Hello Madam, The confirmation of your reservation must have arrived in your junk mail. If you had any doubt about this reservation, please do not hesitate to send us an email. We would have answered you very quickly. We are delighted that you liked this service.
- Great
Written by Marie Aigoin, 05-12-2022
A super friendly experience and an even nicer staff.!!!! Do it again
- Super ????????
Written by Carine , on 03-12-2022
Very nice activity to do with children! We leave with our chocolates and it is very amusing to make them!
- Nice
Written by Liv, 23-11-2022
The place is very nice, the chocolatier who made the workshop very nice and good teacher. On the other hand, there is a big lack of hygiene and the service is a bit too expensive overall, but it was nice.
- A great time!
Written by Laurent BREBOIN, on 13-11-2022
Great experience with Nina who transmitted her passion for pastry and more particularly for chocolate. Julian 5 years old was able to leave with his chocolate bars, lollipops and beggars with original toppings! To do with family or friends, parents love it too!
- Disappointment
Written by Eric Legrand, on 12-11-2022
* Avoid offering online schedules if you are going to call and ask for a 15 minute delay after booking * 1/4 hour waiting time on arrival * The cleanliness of the place, the utensils, the equipment leaves something to be desired * It is not necessary to oversell the competence of the people who animate when it is obviously not the case * Children do not learn anything * At a time when it is recommended to avoid foods with too much sugar, the chocolate recipe goes in the opposite direction * No I will not recommend
- A fun activity that the kids enjoyed. However, I didn't get to watch them do it so I don't realize how much they participated in the different tasks. But they enjoyed bringing back their lollipop, their tablet and the chocolate squares.
Written by Linda , on 10-11-2022
Positive points : greedy activity that the children liked Negative points : the parent can't watch. Duration : rather 50min than 1h as announced
- High price for what is offered
Written by Marjolaine Ttn, on 09-11-2022
Workshop rather expensive but good one launches nevertheless once on the spot rather disappointed. Waiting rather scrambled, with delay of more! The speaker full of good will and very nice but exceeded by the time and the organization We were late because we didn't have enough time between the previous workshop and the next one: the facilitator didn't have enough time to welcome us, to clean everything and to be fully available for the group. 3 steps in the workshop: chocolate bar, lollipops and small squares nice with the children however that two choices of chocolate to be fetched at the fountain with a pitcher used throughout the workshops by all. No step to make the chocolate, no explanations.... and once again a speaker who must be everywhere at once (dishes, cleaning, answering questions ...) some small pots with different fillings (vermicelli, marshmallow etc. ..) not very hygienic: used by the group before and for everyone. Knowing that it is necessary to reserve jars at disposal by reservation would be more hygienic and more practical for the workshop. + different fillings for the 3 stages would also be better because there it is redundant the pleasure is not there anymore. No apron, no cap for the hair, a folding chair as a "step" for the little ones, no utensils to smooth the chocolate and remove the excess ... Freezer not intended for the workshop so little space to put the chocolate creations and make them freeze in time. Work surface not adapted and dirty Intervenante who does the best with little means: not enough material for an afternoon she must wash as and when so that everyone can do. It's a pity!!! Because the concept is nice but to reorganize completely!
- Mixed experience
Written by ALEXANDRA QUENDERFF, on 08-11-2022
The workshop took place in the kitchen of the restaurant. In itself not disturbing at all but we were 14 participants in total and very cramped ... the sink was overflowing with dishes and dishes in all directions, there were pots of chocolate everywhere. in the end a feeling not super clean and not very pleasant considering the price of the service. The material to prepare the bars was damaged and we understood that everything was very expensive... the workshop took place on a Saturday at 3pm, there was no more milk chocolate, which is a pity when you have children, toppings were missing and you had to take only one bag to wrap your chocolate... fortunately the animation was on special offer but even at 25,00€ per person it was way too expensive. the kids were still happy even if the room for maneuver in the workshop is very limited (you pour chocolate in molds and you decorate with 3 toppings max and very very quickly for technical reasons of refrigeration of chocolate). I don't recommend it especially or at another time more quiet and rather in duo.
- Very good moment!
Written by karina rochon, 06-11-2022
My 9 year old daughter and her young nanny had a great time. She was particularly happy to tell me about her experience and especially that there were children but also adults ????. And we had a great time!
- So fun for little ones! Yummy too!
Written by Mommabear, on 01-11-2022
My little girl and I had a "momma-daughter" activity day - and it was really a lot of fun watching her enjoy the fun of making her own chocolate treats! I would recommend for little ones, mine is almost 6 (although even teens might like it too): you for melted chocolate into molds and then decorate your own chocolate bars, chocolate lollipops AND chocolate squares with all the different "toppings" they have on offer...then you get to take them all home! 😉 Yummy! -> A special *big hug* to the whole staff who were so fun and sweet (and patient!) with my little girl - she hugged everyone as we left & she can't wait to go back for our next "candy class" all together AND with her "new friends" there! 😉 *As a "grown-up" I was really surprised at the high-quality of the chocolate - it is delicious. Truly. So, in the end, you are paying for a nice activity to do together - and for all the chocolate you get in the end - which makes it very reasonable. We will be back for another workshop!
- Pleasant activity
Written by Christine Feuillet-Zahler, on 29-10-2022
Thanks to Hugo who animated our workshop with kindness and motivation. My 6 year old grandson loved it and we left with our creations. I recommend it.
- Yum yum
Written by BENJAMIN GAFSOU, on 26-10-2022
Very good animation The animator is very nice and attentive to the children Everyone had a good time, both adults and children It makes you want to make chocolate again at home
- Disappointed
Written by Christelle Gramond, on 25-10-2022
Very dirty place! On the other hand, the hostess was very nice, welcoming and cheerful. Cdlt
- Paradise for gourmets!
Written by Michele Gesson, on 18-10-2022
The setting is very pleasant and attractive for children, with a friendly welcome and satisfactory supervision. The activity is fun and young children enjoy taking their creations, well wrapped, at the end of the session. The workshop is a little small (we were 11!), especially when it is necessary to wash the hands ... The creativity is not extraordinary for adults, it is better suited to small (under 14 years). Finally, we spent a very pleasant time according to my two grandchildren and that's what counts!
- I recommend
Written by Franck LE COTTY, on 11-10-2022
Everything was great. I had a great time with my son. A big thank you to the animator.
- Very disappointed with FamilinParis...
Written by Anonymous, on 10-10-2022
After saving up and paying for the activity, my daughter caught the Covid. Not only did familinparis not want to refund my money, they were totally closed to discussion and did not even answer my email. They did not even have the kindness to make any commercial gesture. I am not only disappointed but also saddened by the behavior and the bad tone in which they answered me.
Reply from FamilinParis
Written by the Familin'Paris team
Good morning, Madam, We are very surprised by this comment. We answered you by email as soon as we received your request. We indicated that we were sorry because the refund is not possible, but that our partner would come back to you to propose a change of date.
- A very pleasant moment of conviviality.
Written by Fabienne CLOUET, on 27-09-2022
Yes, I would definitely recommend this activity to others, especially for children and teenagers.
- A nice moment
Written by Virginie Garnier, on 21-09-2022
Great moment around the chocolate with Maïté who is top. Good products
- A beautiful afternoon
Written by Fabienne, on 17-09-2022
. Playful and enchanting setting. Very pleasant staff, animator more than adorable and patient with the children. My little girl was able to examine and touch all the game characters on display and the pretty carousel under the benevolent eye of the staff. My little girl was more than happy with her afternoon and to leave with her creations. Clean aprons would have been appreciated :-)), which doesn't take away from the great time we had in this beautiful place. . No difficulties during the reservation and during the activity. . I recommend and have already recommended this activity and we are thinking of doing it again.
- Anna loved her "chocolate" afternoon
Written by Anna Garçon, 09-09-2022
Very good atmosphere. I recommend this activity, ideal by gloomy weather!
- Wonderful
Written by W. Blau, on 30-08-2022
Loved the place. Great location. Nicely designed hotel. Decent breakfast. The staff has been fantastically competent, kind and welcoming throughout our stay.
- Chocolate Experience
Written by Catherine DESROCHES, on 29-08-2022
following the description of the activity we expected a little more sophisticated achievements while knowing that it is aimed at children This does not take anything away from Hugo's kindness The children were happy!
- Delicious and fun!
Written by samiritatc, on 03-08-2022
It was fun and the chocolates were delicious.
- A great experience.
Written by Sandrine , on 28-07-2022
My 7 year old son came back delighted. A team with the small care. A pleasant welcome.
- Very nice welcome. My granddaughter was delighted.
Written by Chantal BOUIN, on 18-07-2022
Staff with the small care. Fun activity for young and old gourmets!
- Great activity!
Written by Louis HUBERT, on 09-05-2022
I went with my two nephews who loved this activity ! The lady who took care of them was very pleasant, educational and very professional! She took the time to show us and answered all our questions! I would just add a more theoretical part on how chocolate is made, what the machines are used for, the volume, the ingredients, the utensils, etc.
- Very nice workshop
Written by Michele Agin on 29-04-2022
Hugo is a very pleasant and educational animator. You can see that he loves his job and that he is eager to share his love of chocolate. I went with my 13 year old daughter who loved it. We left with delicious and very personalized creations ???????? Thank you Hugo ????
- Friendly activities
Written by Prisca , on 23-04-2022
Overall the activity was appreciated by the children, the decor is cool. The staff is pleasant Points to review : - provide disposable aprons or gloves, - to systematically propose a hand washing before and after it would be great in terms of hygiene, The children leave with chocolate stains, not great. The location and signage difficult to find the store.
- TO BE AVOIDED
Written by PASCALE ANDRÉ, on 15-04-2022
Uninteresting! We were the only ones with my little girl... no atmosphere, no organization (not even an apron, we take out the clothes stained with chocolate), nothing ready. The young man who was there had to improvise. It was however specified in the announcement that it was animated by a MOF. We were far from that! Disappointing to pay 50€ for so little. I do not recommend it.
- Expensive and not very interesting workshop
Written by Lily, on 28-03-2022
Very nice animator but short and expensive workshop, without much interest in terms of design. And the cleanliness of the kitchen leaves something to be desired. I would not recommend this workshop.
- .WORKSHOP 5 YEARS
Written by Dominique TSADIROGLU, 10-03-2022
My granddaughter really enjoyed this workshop but it's a shame that the chocolate cups are not the size of the children because without the adults, they can't participate in filling the molds. The professional on the ad is wearing a hat and a glove which was not the case during the workshop and the animator lacked pedagogy with the children (workshop 5 years old). The fridge left me perplexed, not very nice to see, messy storage and hygiene left something to be desired.
- Interesting workshop
Written by Marie Christine Papin , 10-03-2022
In fact we do not make or work the chocolate it comes out of a chocolate fountain. And the action of the participants consists in receiving the chocolate wanting in the different moulds and our action is limited to the decoration of the lollipops and beggars by the various ingredients at our disposal. More suitable for children.
- Nice
Written by Souad Hornn, on 11-02-2022
Very good atmosphere, good explanations and very easy to do for a child. My 5 year old son really loved it. The decoration is very nice. I highly recommend this workshop.
- At the top
Written by Crystelle Turmel, 02-02-2022
It was great thanks to manon for her kindness and her pedagogy!
Latest articles