A visit led by a history buff
All public
A guided tour with "The man who brings cemeteries back to life".
Where Père Lachaise cemetery (in the 20th arrondissement)
Who is it for? All audiences, families, ideally with pre-teens and teens
duration 2h30 approximately
Your memory guide Thierry Le Roi
Meeting place At the entrance to the cemetery on rue des Rondeaux, at the Gambetta gate.
Metro Gambetta station (line 3)
Do not get off at Père Lachaise station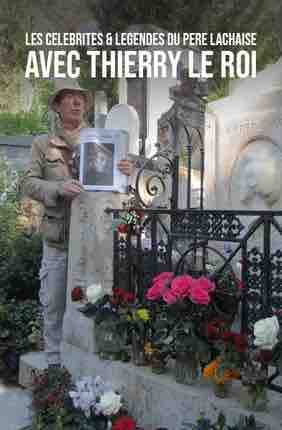 Père Lachaise is 44 hectares of green space where celebrities and the illustrious rest. Thierry Le Roi has been passing on memories for over 20 years.. He knows the nooks and crannies of this very special cemetery. With him, each grave is transformed into a living tableau Piaf, Henri Salvador, Honoré de Balzac, Jim Morrison, Frédéric Chopin, Yves Montand, Simone Signoret, Pierre Desproges, Oscar Wilde and many others... He's an outstanding storyteller, historian and entertainer... (Black) humorThis guided tour of one of Paris's greatest institutions was full of emotion and tenderness.
The press speaks about it...
Télérama "Thierry Le Roi, official guide, is a man of many words! Anecdotes abound. An enthusiastic guide and a conquered audience!"
Release - Dressed in a multi-pocket jacket, his Panama hat proudly screwed on his head, Thierry Le Roi doesn't exactly have a casual look. And he sets the tone as soon as we enter the cemetery: he invites us on a "necropolitan safari" through Père-Lachaise. "
Le Figaro Mute as a grave? Unless you lend him a voice. Thierry Le Roi, star of Père Lachaise "
Le Point - Thierry Le Roi knows his Père Lachaise like the back of his hand, and tries to show it off in an original way.
Guided tours in and around Paris