It's fun, it's original! Up to 6 people on board the Tuk-tuk
The tuktuk (pronounced touktouk) is the modern version of the pousse pousse. Coming from Asia, this vehicle is halfway between the electric coach and the motorized tricycle! It is a really nice way to getting around Paris, to discover the city or even of celebrate his birthday or his EVJF ... Ideal with children or friends, you will love it!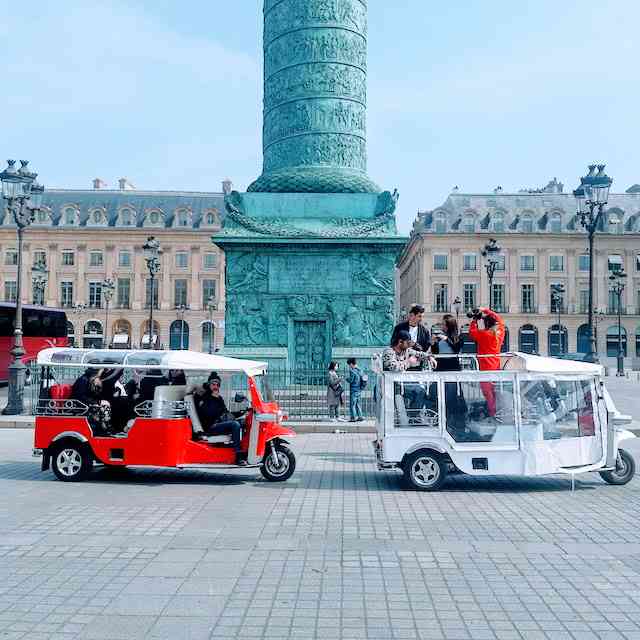 Departure and return : place de la Concorde
The tours are guided. The drivers drive very quietly and safely. Drivers know the tricks to avoid traffic jams
Tuk-tuk tour rates
1h30 tour from 135 ? (4 persons) to 155 ? (6 persons)
2 hour tour from 160 ? (4 persons) to 200 ? (6 persons)
Tower of 3h from 220 ? (4 persons) to 265 ? (6 persons)
Tour of 4 hours : 330?
Supplement of 20 ? per Tuktuk if night tour (between 5pm and 2am).
The courses
There are several routes:

from 1h30 to 3h according to your choice. It's every day of the year.
There are also night tours All tours can be organized at night to enjoy the illuminations of Paris. Between 9pm and 2am, add 20? for the night tour. You can take food and drinks with you during the night Tuk Tuk tour.
personalized offers (for a birthday, an EVJF ...)
visits for a whole day ...
Choose the date and time. We will confirm availability quickly (less than 48 hours). The transaction is debited only after validation
DAY RATE
NIGHT RATE
3 Tuk-tuk tours to visit historic Paris and see his must-see monumentsIts main avenues and its emblematic sites.
1 Tuktuk tour of 1h30 minutes
This tour allows you to see most of the great monuments and emblematic districts of Paris, except Montmartre.
This is the tour we recommend with children if you want to show them Paris in a playful way
Route: Place de la Concorde, Avenue des Champs-Elysées, Petit Palais, Grand Palais, Pont Alexandre III, Esplanade des Invalides, Champs de Mars, Eiffel Tower, Trocadero, Arc de Triomphe, Avenue des Champs-Elysées, Assemblée Nationale, Boulevard Saint Germain, Saint-Germain-des-Prés, Panthéon, Latin Quarter, Notre-Dame de Paris, Louvre, Opéra, Place Vendôme
---
1 Tuk tuk tour of 2 hours: the tour rather focused on the Left Bank
This tour is a great success. It allows you to discover the charm of the Left Bank
Detail of the course In the heart of the city, you will find the cozy 7th arrondissement, then the 6th and its characteristic animation, the small streets of Saint-Germain-des-Prés, the place Furstemberg, the street of Buci, the Odeon, then the Latin Quarter with the Pantheon, the place of the Contrescarpe, the arenas of Lutetia, the Great Mosque. Then further south, the charms of the 13th from the Gobelins, the Butte aux Cailles and the Cité Universitaire
---
1 Tuk tuk tour of 3 hours: the grand tour of Paris
All the famous historical monuments in 3 hours!
This 3-hour tour is done at a leisurely pace that allows for a few short photo stops
Detail of the course Place de la Concorde, avenue des Champs-Elysées, Petit Palais, Grand Palais, Pont Alexandre III, Esplanade des Invalides, Champs de Mars, Eiffel Tower, Trocadero, Arc de Triomphe, avenue des Champs-Elysées, Assemblée Nationale, boulevard Saint Germain, Saint-Germain-des-Prés, Panthéon, la Sorbonne, St-Michel and the Latin Quarter, Notre-Dame, Le Louvre, l'Opéra, Place Vendôme, le Moulin-Rouge, le Sacré Coeur and Montmartre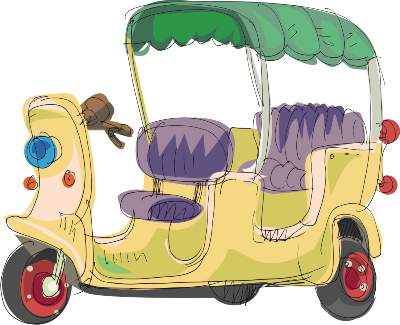 Find the list of our reviews
- An unforgettable moment
Written by Micheline H., on 04-02-2023
We did the night tour (two adults and two children) with a very attentive driver. He made sure that the tour brought us to the Eiffel Tower when it was glittering, it was magnificent. We had excellent explanations on the city and its monuments. I recommend this experience, it will remain one of our best memories in Paris.
- Nice moment
Written by Laure S., on 06-01-2023
the + : the visit of Paris illuminated by night and the possibility to choose the tour's route the - : lack of explanations on the monuments we saw which makes the visit a bit "flat
-
Written by Marie O, on 02-01-2023
Super visit nice driver. Thank you to Franck for this pleasant stroll fed with very instructive comments for our children
- CLEAR
Written by ALAIN DRUON, on 31-12-2022
Everything suited us perfectly. Driver extremely good, very smiling, pleasant, knowing well the beautiful monuments of Paris. Activity that we have already recommended to our family, although Parisian, but... and that we recommend to our friends.
- Everything was perfect. Thank you
Written by helene ruffel, on 30-12-2022
Great time spent in family, for a visit by night at the foot of the monuments, with listening to our proposals to make this moment attractive for our 2 children aged 9 and 11 years (Christmas illumination). the more in December the plaid, great idea
-
Written by Camille C, on 22-12-2022
I want to thank you for the performance last Friday. The group really enjoyed the tuktuk ride.
- Very beautiful course very well commented
Written by Philippe Destailleur , on 14-11-2022
We had a very nice visit of Paris, very complete with a competent and friendly driver who knows Paris and its history well.
- Electric vehicle ride through the main moments of Paris
Written by Timothée MARY, on 09-11-2022
The pluses: pleasant and helpful driver. Electric vehicle. Circuit with the main monuments. Minuses: the guide should improve his knowledge on the monuments.
- Valentin at the TOP
Written by Elodie & Cie, on 07-11-2022
In spite of a capricious weather, we spent an excellent moment. Valentin is TOP. We recommend +++.
- Great experience!
Written by Virginie Gélis, on 31-10-2022
Great evening stroll. In one hour and a half, we discovered the city and its most beautiful monuments. Perfect to start a stay in Paris. Experience to be repeated.
- Unorganized
Written by sebastien perrin, on 27-10-2022
It was proposed to us at the time of the reservation to come to seek us with our hotel but not of tuktuk at the hour envisaged. I call the number indicated in the confirmation, no answer. We wait on the sidewalk with the 3 children and after 15 min, the organizer asks us what is the reason of the call, I explain him and answers me of the tacotac that the tuktuk had a technical problem, that it must be changed and will arrive in 30 min. 1h15 later, our tuktuk finally arrives, the very nice driver tells us that he was waiting at the usual collection point, that we didn't warn him that we had to come to quai de grenelle but that he is not surprised by the problem which often happens? and that he is the only one who has to manage these inconveniences due to his boss. I blame the boss for taking us for fools, for not assuming his mistake and for lying to us about a technical problem. If he had assumed his mistake and apologized, I would not have written this review.
Reply from FamilinParis
Written by the Familin'Paris team
Good morning, Sir, We are very sorry about this incident and understand your dissatisfaction. This is the 1st time that Tuktuk has misjudged the pick up location. We will forward your message to the person in charge, who I hope will get back to you. Kind regards. Familin'Paris
- Great activity
Written by Sophie Balestra, on 26-10-2022
We had a great time and we are very happy to have chosen this activity. It's perfect with children and allows you to see Paris differently and to rest your feet a bit!
- Top!
Written by Flavie Arnoult, on 11-10-2022
A beautiful walk with a very pleasant guide
- Excellent moment combining discovery and fun
Written by La Bretagne, on 04-10-2022
Excellent moment shared in family - orchestrated by Christophe, our guide knowing, convivial, a little nervous by moments? but so endearing. As a fine sleuth, on an afternoon of Techno - Parade, Christophe has completely revised the order of the initial route to allow us not to miss a crumb of the experience. The whole thing was combined with a story combining the big and the small. A real treat. To be recommended without moderation.
- Tuktuk Spanish tour
Written by Marcia, on 03-10-2022
The driver was very kind and patient, I really appreciate his effort to show us the city in spanish. Nevertheless, I wouldn't recommend the tour in Spanish, it would be better in French for sure. The tour in tuktuk is a funny and nice experience, it allows to see the main attractions of Paris in record time in a funny way. FYI the tuktuk is not as nice as the one of the pic shown on the web site.
- Original
Written by Olivier MICHEL, on 26-09-2022
Fun and original. Very simple reservation and very good contact. A big thank you to our driver "Raphael" for his calm, his attitude and his calm driving. Super available. I highly recommend this activity.
- Very good Interesting comments. The person was available, pleasant and must like his work
Written by Martine SIVADIER, on 18-09-2022
A little delay at the beginning due to the heavy traffic that day Otherwise very good To be recommended
- Good relaxing moment
Written by Philippe GOSSELIN, on 13-08-2022
The advantages - Easy and reassuring booking (company with street name, insurance, authorizations,...) ; - Very concerned about the well being of the customers (sun protection canvas following strong heats); - Use of bicycle paths if necessary to avoid traffic jams; - Meeting point and schedules respected; - Electric vehicle ; The - - The amplification doesn't work anymore because it's already the 5th tour of the city (hence the need to listen to what I say); - Comments a bit basic, even if it is our 1st visit;
- Top experience in Paris
Written by Valentina Geria, on 10-08-2022
The tour was EPIC! Our guide was super, he was kind and super friendly. Paris in tuktuk with Family in Paris was the best experience done in these 4 days in France. Highly recommended if you want to discover the city having fun.
- Nice discovery
Written by Jean-Marie BOUHIER, on 08-08-2022
Ideal for young children to discover the main monuments
- Fair
Written by LOUISETTE SICARD, 06-08-2022
The sound system is too weak, it is difficult to hear the explanations.
- Great experience!
Written by Nadine Cottet, on 05-08-2022
Discovered and booked by internet very simply. RV on time. Very pleasant accompaniment with comments on the various places. Choice of the circuit. Another way to discover this magnificent capital. Do not hesitate.
- Perfect
Written by Marie-Hélène COTTREEL, on 02-08-2022
Yes, (as a Parisian) I highly recommend this activity. Well thought out tour to see or review the most famous monuments of Paris and the atmosphere of certain neighborhoods.
- Very good
Written by Henri Huynh, on 25-07-2022
Guide at the top, very secure, belt for the children at the top!!!
- Interesting
Written by IMED MAALEJ, on 17-07-2022
I liked the guide's explanations about the different monuments visited. I recommend it.
- Our Tuktuk driver was...
Written by Celine, on 12-07-2022
Our Tuktuk driver was warm and friendly. We had the opportunity to choose our music by connecting to his speaker and not having to suffer the music choice of another was a really good experience for this tour of Paris by night. Even in summer, bring a sweater! Our driver was open to requests and allowed us to see neighborhoods that we would not have visited on foot. I highly recommend this unique experience that delights children and adults alike.
- Paris en Famille, Pentecost 2022.
Written by Pascale Escalle and her family on 09-06-2022
An exceptional experience with Miro and his Tuk-Tuk Sylvia. Discovered Paris safely, an extraordinary knowledge of the history of all the monuments. Thanks to her knowledge, she was able to avoid the traffic jams to make us discover beautiful streets. Well-chosen photo stops and a remarkable availability. We recommend without worry, reservation via the site with appointment given immediately, easy to find and without delay. Again, a big thank you to Miro, a very rewarding moment.
- very nice personalized visit
Written by Jérôme Martin , on 30-05-2022
Thank you Valentin
- Fun!
Written by Valérie Mondou, on 29-05-2022
The Tuktuk ride is quite fun and suitable for young and old, the fact that you are not crammed into a big bus and enjoy a private ride is a plus. There are belts to ensure the safety of all (we did the ride with 10 years old children). The fact that the Tuktuk is very small allows us to access small streets and to visit certain neighborhoods with a different perspective and to weave through the traffic more easily! Congratulations to our driver! Nevertheless, you should not take this trip hoping to have a guided tour, because despite his great kindness our driver did not speak French very well and his explanations were very limited. On our Tuktuk, there was a Bluetooth speaker to put the music of our choice from our smartphone, it was quite fun to drive on the Champs Elyssées to the sound of Joe Dassin's music and to sing at the top of our lungs: Aux Champs Elyssées..... (Long live the clichés, but you're either a tourist or you're not!) We took the ride around 8:00 pm, the city lights were slowly coming on and for our comfort a large blanket to protect us from the cold was provided. Everybody had the smile and will keep a nice memory of this stroll.
- Comments are gone
Written by Mathilde, on 28-05-2022
The idea of a visit of Paris in Tuc tuc is very nice and allows to circulate easily in the streets of Paris. On the other hand for the explanations it is not that! because very difficult to hear the driver if we are not installed just behind him. What a pity because this problem could be solved by headphones like in the tourist buses which make the tour of Paris.
- Great!
Written by Laura Tolub, on 28-05-2022
Great experience with the kids! Abraham was our driver, helpful, nice, good driver Bravo
- Great family time
Written by Cedric Delannoy, on 12-05-2022
An unusual way to visit Paris with your family. Our 3 children were delighted, our guide was great. We felt safe. Before starting, she asked us about our wishes of visit in order to personalize the planned route (1h30 visit). She took the time to stop for photos where we wanted. The visit was punctuated with details and anecdotes about the monuments or districts we crossed. We booked the day before without difficulty on the site. The appointment was fixed near the obelisk, our guide was punctual. This activity is not cheap, we have to admit it for a family of 5. But we have no regrets, we had a great time as a family, another way to discover the Parisian heritage!
- Great experience!
Written by Alessandra, on 02-05-2022
We had a great time. Abraham was great, super nice, told us anecdotes. We were able to stop several times to take pictures. Great family experience. I recommend it!
- Perfect activity with children
Written by Marie-Claire BERTHET, on 25-04-2022
A one and a half hour walk that the children really enjoyed and that allowed them to discover the tourist sites in a playful way The guide Abraham was particularly friendly and helpful, many thanks to him
- Blée experience
Written by Christophe Parnaudeau, on 20-04-2022
Very nice experience with very good advice from our guide Benedicte! To be done again
- Very good formula with children.
Written by Jean Bertrand, on 10-03-2022
Very good service and our guide Bruno was perfect and very helpful. Excellent formula for families with children.
- Ideal way to discover PARIS
Written by Hélène MESPLEDE, on 25-02-2022
The driver is really TOP, he took the time to make us visit the most popular places of PARIS by explaining us the history of every monument we visited. He stopped at our request in front of the sites to take pictures. We keep a wonderful memory of our stay and highly recommend this trip in TUK-TUK
- Nice walk in Paris.
Written by Marianne Inocencio, on 23-02-2022
Interesting and personalized tour. Our guide was very attentive and offered us interesting photo stops and explanations. No problem for the reservation and I recommend this tour.
- Very nice activity to discover Paris
Written by jael FETET, on 01-12-2021
Ideal activity with children. Thanks to Abraham for his attention, which made this visit even more exceptional
- 1 hour and 30 minutes walk
Written by HELENE , on 28-11-2021
we were convened for 1:45 pm and in the bus 1/2 hour before I receive a message as that there was a breakdown thus appointment at 4 pm; I refused and we arrived to have appointment at 3:15 pm ..... It was freezing cold and we waited frozen!!!! in the car we were very cold and we only wanted to go back! but the tour itself is good, the person who spoke to us was very good. yes to recommend without small children
- Excellent!
Written by Alexandre Currit, on 19-11-2021
No negative points. Very nice driver and perfectly on time. A very original way to visit Paris, very comfortable, especially in good weather. Excellent service, very original! The price is perfectly adapted to the service.
- Awesome tuk tuk tour with Isaac !!!! ????????????
Written by Stéphanie Rodin, on 10-11-2021
The driver Isaac was exceptional he made this tour of Paris unforgettable!!!
- Great for a 1st discovery of Paris
Written by elisabeth Picq, on 07-11-2021
To do!
- Experience to avoid
Written by BRUNO PUECHLONG, on 02-11-2021
Except for a small ride in a Truck Truck which amused the children. Few explanations, by a very nice guide, but who hardly spoke French, and knew very little about Paris. And inaudible in the middle of the traffic. Experience to avoid absolutely.
- GENIALE !!!!
Written by AGNES LARA, 02-11-2021
We had a great time with Abraham who guided us through PARIS in a remarkable way and with a lot of kindness, anecdotes, and attention! I highly recommend this ride in TUK TUK
- Very pleasant and fun evening activity!
Written by JACOB, on 01-11-2021
Do not hesitate to book this great and fun electric evening ballade, across Paris and its highlights. Our host was very courteous and was delighted to share the insider Parisian tips and stories of all the famous monuments. Thank you very much!
- Original and personalized visit
Written by Anne B., on 31-10-2021
Easy to book.our guide (Abraham) was very friendly.tour of the monuments with stops for photos when we wanted. Recorded comments available if desired.
- EXCELLENT!!!
Written by BERNARD LAUBY, on 28-10-2021
We wanted our little girls to see Paris differently. We were not disappointed and they loved it. Our guide, in spite of the difficulty of the language, explained us very well the visit. The weather was perfect, everything is necessarily better with the sun...... We recommend this way of visit.
- TOPISSIM
Written by Florence SAUVETRE , 02-10-2021
Everything was perfect, except the weather but I can't blame you. The driver was great, speaking in Russian English French, to explain us the different monuments, he was adorable. And the tour of the proposed monuments was a treat. I recommend to 1000%
- Tuck Tuck withdrawal planned
Written by Anne-louise de Trogoff, on 24-09-2021
Very disappointed by the pb of Tuck Tuck which was to take my grandchildren home. The driver of the big Tuck Tuck was very helpful
- Very good
Written by therese cheradame, on 13-09-2021
Super walk and explanations with our driver guide on the main monuments of Paris. He was on time. Perfect
- Nice walk
Written by Adrien , on 20-08-2021
Nice stroll in the streets of Paris, what is very pleasant is the little noise of the tuk tuk since it is electric. Very unfortunate the driver spoke almost no French so it was difficult to get explanations on the monuments and architecture Organization not very precise, we had made a payment on line. At the end of the tour, the driver asked us for the payment .... for a short while, a little bit of fear
- Very pleasant visit of the main Parisian sites.
Written by Alain BLU, on 19-08-2021
Very nice ride with a nice and friendly driver. His choice of songs was very judicious and everyone sang in the tutuk.
- Very pleasant visit of the center of Paris
Written by pascale Duhamel, 18-08-2021
Very nice with young children. Stops on request to take pictures. Thanks to our guide Edery Abraham for his kindness. I recommend this experience.
- Driver toppissime!
Written by MS, 08-08-2021
Great experience! Driving the tuk tuk in the Parisian way, a few scares but we arrived safe and sound! And our guide gave us explanations and didn't hesitate to stop in front of the most sumptuous monuments to take our picture. Very nice. Many thanks
- Top!!!
Written by LAURENT CANDELIER, on 07-08-2021
Excellent way to visit Paris. Our driver Bruno is an excellent tour guide who met our expectations. Very pleasant moment through Paris and in the time with this very beautiful and original guided tour
- Great trip
Written by Amine Batel, on 21-07-2021
Very good experience. Serious website, the owner of the company was very friendly and the driver was really nice, he adapted the tour to our desires and offered us several times to stop and take pictures. I recommend without hesitation.
- Original and charming
Written by Isabelle MARTIN, on 18-07-2021
Very pleasant to pass quietly in front of the emblematic monuments of Paris. Lovely driver. A very good experience
- Great!
Written by Bertrand Dugardin, on 17-07-2021
Our Tuk-Tuk ride in Paris was really great! We know Paris very well, but thanks to our great guide we learned a lot more ! The electric Tuk-Tuk, it's really great, quiet and comfortable...
- very nice experience with a top driver for his driving in Paris!
Written by Alexandra Colin, on 14-07-2021
- What we enjoyed was discovering places in Paris that we didn't know before. Moreover, the comments of our guide were funny and instructive! - no difficulty to book or during the activity - we recommend this very fun activity with teenagers as well as with older people (we were 72 years old that day and she had a lot of fun).
- To do
Written by georges Gonzalez, on 17-06-2021
The driver was very friendly. The protective tarpaulins, even when raised, hindered the visibility a little. The meeting place was not precise enough (place de la Concorde, but this one is very big and there are other providers) Quite a complete visit.
- nice experience to discover Paris differently
Written by adelaide lopes on 01-06-2021
++ : beautiful ballad, important monuments, active and present guide adapting the route - ++ : guide who changed at the last minute, so he was not aware of the 2 hours we had booked, not very adapted to the rain that fell during the trip a little expensive for what it is ... but it remains an experience to do at least once.
- Great
Written by julie PLEUVRET, on 22-05-2021
A very nice, playful and enriching walk. Our guide was very keen to please us. Ideal for the hunting of space invaders.
---
Visit Paris differently :
---