It's fun, it's original! Up to 6 people on board the Tuk-tuk
The tuktuk (pronounced touktouk) is the modern version of the pousse pousse. Coming from Asia, this vehicle is halfway between the electric coach and the motorized tricycle! It is a really nice way to getting around Paris, to discover the city or even of celebrate his birthday or his EVJF ... Ideal with children or friends, you will love it!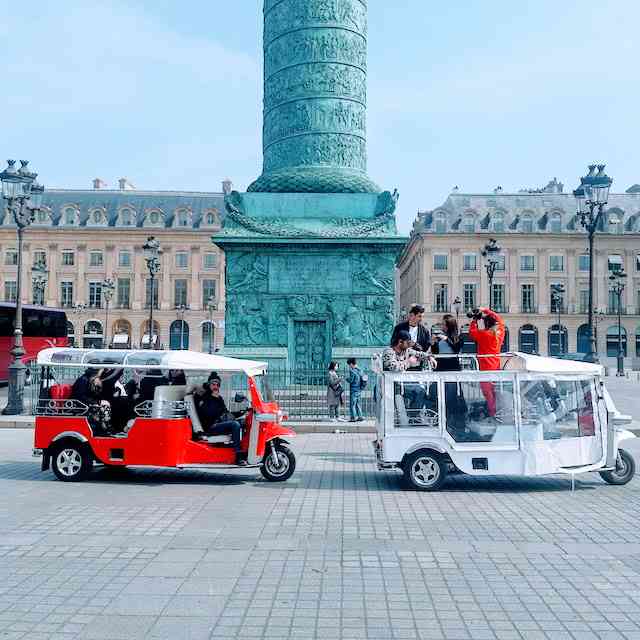 Départ et retour : place de la Concorde
The appointment can be made elsewhere in Paris for an additional fee of 20 euros. This option is offered at the last step of the booking process.
Les visites sont guidées. Les conducteurs conduisent très tranquillement, en toute sécurité. Les conducteurs connaissent les petites astuces pour éviter les embouteillages
Les tarifs des tours en tuk-tuk
Tour de 1h30 : de 95 ? (3 personnes) à 135 ? (6 personnes)
Tour de 2h : de 120 ? (3 personnes) à 180 ? (6 personnes)
Tower of 3h : de 170 ? (3 personnes) à 245 ? (6 personnes)
Free : for the 1st child under 12 years old. Au moment de la réservation, si vous avez 1 ou plusieurs enfants de moins de 12 ans, deduct 1 person from the number of passengers. Attention : pas plus de 6 personnes dans le Tuk Tuk
Free: for children under 5 years old. When you make a reservation, count the number of passengers who have free access to the bus.
Extra charge of 20 ? per Tuktuk if night tour (between 9pm and 2am).
The courses
There are several routes:

from 1h30 to 3h according to your choice. It's every day of the year.
There are also night tours All tours can be organized at night to enjoy the illuminations of Paris. Between 9pm and 2am, add 20? for the night tour. You can take food and drinks with you during the night Tuk Tuk tour.
personalized offers (for a birthday, an EVJF ...)
visits for a whole day ...
Choisissez la date et l'heure. Nous vous confirmons la disponibilité rapidement (moins de 48h). La transaction n'est débitée qu'àprès validation
TARIF JOUR
TARIF NUIT
3 Tuk-tuk tours to visit historic Paris and see his must-see monumentsIts main avenues and its emblematic sites.
1 Tuktuk tour of 1h30 minutes
This tour allows you to see most of the great monuments and emblematic districts of Paris, except Montmartre.
This is the tour we recommend with children if you want to show them Paris in a playful way
Route: Place de la Concorde, Avenue des Champs-Elysées, Petit Palais, Grand Palais, Pont Alexandre III, Esplanade des Invalides, Champs de Mars, Eiffel Tower, Trocadero, Arc de Triomphe, Avenue des Champs-Elysées, Assemblée Nationale, Boulevard Saint Germain, Saint-Germain-des-Prés, Panthéon, Latin Quarter, Notre-Dame de Paris, Louvre, Opéra, Place Vendôme
Price : 1 to 3 pers. : 95? | 4p. : 115? | 5p. : 125? | 6p. : 135?
---
1 Tuk tuk tour of 2 hours: the tour rather focused on the Left Bank
This tour is a great success. It allows you to discover the charm of the Left Bank
Detail of the course In the heart of the city, you will find the cozy 7th arrondissement, then the 6th and its characteristic animation, the small streets of Saint-Germain-des-Prés, the place Furstemberg, the street of Buci, the Odeon, then the Latin Quarter with the Pantheon, the place of the Contrescarpe, the arenas of Lutetia, the Great Mosque. Then further south, the charms of the 13th from the Gobelins, the Butte aux Cailles and the Cité Universitaire
Price : 120? | 4p. : 140? | 5p. : 160? | 6p. : 180?
---
1 Tuk tuk tour of 3 hours: the grand tour of Paris
All the famous historical monuments in 3 hours!
This 3-hour tour is done at a leisurely pace that allows for a few short photo stops
Detail of the course Place de la Concorde, avenue des Champs-Elysées, Petit Palais, Grand Palais, Pont Alexandre III, Esplanade des Invalides, Champs de Mars, Eiffel Tower, Trocadero, Arc de Triomphe, avenue des Champs-Elysées, Assemblée Nationale, boulevard Saint Germain, Saint-Germain-des-Prés, Panthéon, la Sorbonne, St-Michel and the Latin Quarter, Notre-Dame, Le Louvre, l'Opéra, Place Vendôme, le Moulin-Rouge, le Sacré Coeur and Montmartre
Price : 1 to 3 pers. : 170? | 4p. : 200? | 5p. : 225? | 6p. : 245?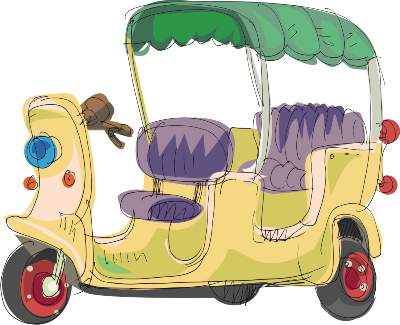 Find the list of our reviews


Activité très sympa pour découvrir Paris
Écrit par jael FETET, le 01-12-2021
Activité idéale avec des enfants. Merci à Abraham pour ses attentions, qui a rendu cette visite encore plus exceptionnelle


promenade de 1h 30
Écrit par HELENE , le 28-11-2021
nous avons été convoqué pour 13h45 et dans le bus 1/2 heure avant je reçois un message comme quoi il y avait une panne donc rendez-vous à 16h ; j'ai refusé et nous sommes arrivés à avoir rendez-vous à 15 h 15 ….. Il faisait un froid de canard et on a attendu gelés!!!! dans la voiture nous avions très froid et avions qu'une envie de rentrer !!! mais le circuit par lui-même est bien, la personne qui nous parlait était très bien. oui à recommander sans petits enfants


Excellent!
Écrit par Alexandre Currit, le 19-11-2021
Aucun point négatif. Chauffeur très sympa et parfaitement à l?heure. Une manière super originale de visiter Paris, très confortable, en particulier par beau temps. Excellente prestation, très originale! Le prix est parfaitement adapté à la prestation.


Tour génialissime en tuk tuk avec Isaac !!!!????????????
Écrit par Stéphanie Rodin, le 10-11-2021
Le chauffeur Isaac a était exceptionnel il a rendus ce tour de Paris inoubliable !!!


Super pour une 1ère découverte de Paris
Écrit par elisabeth Picq, le 07-11-2021
A faire!


Expérience à éviter
Écrit par BRUNO PUECHLONG, le 02-11-2021
Hormis un petit tour de manège en Truck Truck qui a amuser les enfants. Peu d'explications, par un guide très gentil du reste, mais qui ne parlait à peine français, et ne connaissait que très peu Paris. Et inaudible au milieu de la circulation. Expérience à éviter absolument.


GENIALE !!!!
Écrit par AGNES LARA, le 02-11-2021
Nous avons passé un agréable moment avec Abraham qui nous a guider dans PARIS d'une manière remarquable et avec beaucoup de gentillesse, d'anecdotes, et d'attentions!!! Je recommande vivement cette ballade en TUK TUK


Very pleasant and fun evening activity!
Écrit par JACOB, le 01-11-2021
Do not hesitate to book this great and fun electric evening ballade, across Paris and its highlights. Our host was very courteous and was delighted to share the insider Parisian tips and stories of all the famous monuments. Merci bien!


Visite originale et personnalisée
Écrit par Anne B., le 31-10-2021
Facile à réserver.Notre guide (Abraham) était très sympathique .visite des monuments avec arrêts pour photos quand nous le désirions. Commentaires enregistrés à disposition SI on le désire .


EXCELLENT !!!
Écrit par BERNARD LAUBY, le 28-10-2021
Nous avons voulu faire voir Paris autrement à nos petites filles. Nous n'avons pas été déçu et elles ont adoré. Notre guide, malgré la difficulté de la langue, nous a très bien expliqué la visite. La météo était parfaite, tout est forcément mieux avec le soleil…… Nous recommandons ce moyen de visite.


TOPISSIME
Écrit par Florence SAUVETRE , le 02-10-2021
Tout était parfait, sauf la météo mais je ne peux pas vous en vouloir. Le conducteur était formidable, se débrouillant dans un français anglais russe, pour nous expliquer les différents monuments, il était adorable. Et le tour des monuments proposés nous a régalé. Je recommande à 1000%


Désistement du Tuck Tuck prévu
Écrit par Anne-louise de Trogoff, le 24-09-2021
Très déçue par le pb du Tuck Tuck qui devait prendre mes petits enfants à domicile . Le conducteur Du grand Tuck Tuck a été fort serviable


Tres bien
Écrit par therese cheradame, le 13-09-2021
Super balade et explications avec notre chauffeur guide sur les principaux monuments de Paris. Il était à l l'heure. Parfait


Balade sympathique
Écrit par Adrien , le 20-08-2021
Balade sympathique dans les rues de Paris, ce qui est très agréable est le peu de bruit du tuk tuk vu qu'il est électrique. très dommage le chauffeur ne parlait quasiment pas français du coup compliqué pour avoir des explications sur les monuments et architectures Organisation peu précise, nous avions fait un paiement en ligne. Fin du tour le chauffeur nous demande le paiement …. un court instant un peu de frayeur


Visite très agréable des principaux sites parisiens.
Écrit par Alain BLU, le 19-08-2021
Très belle promenade avec un chauffeur sympathique et gentil. Son choix de chansons était très judicieux et tout le monde chantait dans le tutuk.


Très agréable visite du centre de Paris
Écrit par pascale Duhamel, le 18-08-2021
Très sympa avec de jeunes enfants. Arrêts sur demande pour faire des photos. Merci à notre guide Edery Abraham pour sa gentillesse. Je recommande cette expérience.


Conducteur toppissime !
Écrit par MS, le 08-08-2021
Super expérience ! Pilotage du tuk tuk à la parisienne, quelques frayeurs mais arrivés sains et saufs ! Et notre guide nous a donné des explications et n'hésitait pas à s'arrêter devant les monuments les plus somptueux pour nous prendre en photo. Super sympa. Grand merci


Top!!!
Écrit par LAURENT CANDELIER, le 07-08-2021
Excellente façon de visiter Paris. Notre chauffeur Bruno est un excellent guide touristique qui a bien répondu à nos attentes. Moment très agréable à travers paris et dans le temps avec cette très belle visite guidée très originale


Super balade
Écrit par Amine Batel, le 21-07-2021
Très bonne expérience. Site Web sérieux, le patron de l'entreprise à été très sympathique et le chauffeur était vraiment gentil, il a adapté le circuit à nos désirs et nous a plusieurs fois proposé de nous arrêter pour prendre des photos. Je recommande sans hésiter.


Original et charmant
Écrit par Isabelle MARTIN, le 18-07-2021
Très agréable de passer tranquillement devant les monuments emblématiques de Paris. Chauffeur adorable. Une très bonne expérience


Great!
Écrit par Bertrand Dugardin, le 17-07-2021
Notre balade en Tuk-Tuk dans Paris était vraiment géniale ! Nous connaissons bien Paris, mais grâce à notre super guide nous avons encore appris plein de choses !! Le Tuk-Tuk électrique, c'est vraiment génial, silencieux et confortable …


expérience très sympa avec un chauffeur au top pour sa conduite dans Paris!
Écrit par Alexandra Colin, le 14-07-2021
– ce qui nous a plu, c'est de découvrir des endroits de Paris que nous ne connaissions pas encore. De plus, les commentaires de notre guide étaient drôles et instructifs! – pas de difficulté pour réserver ni pendant l'activité – nous recommandons cette activité très fun aussi bien avec des ados qu'avec des personnes plus âgées (nous fêtions les 72 ans ce jour là et elle s'est beaucoup amusée).


A faire
Écrit par georges Gonzalez, le 17-06-2021
Le conducteur était fort sympathique. Les bâches de protection même relevées gênent un peu la visibilité. Le lieu de rendez-vous n'étaient pas assez précis (place de la Concorde, mais celle-ci est très grande et il y a d'autres prestataires) Visite assez complète.


belle expérience pour découvrir Paris autrement
Écrit par adelaide lopes, le 01-06-2021
++ : belle ballade, monuments importants, guide actif et présent adaptant le parcours — : guide qui a changé à la derniere minute, du coup n'était pas au courant des 2h que nous avions réservé, capote pas très adaptée à la pluie qui est bien tombée pendant le trajet un peu cher pour ce que c'est .. mais cela reste une expérience à faire au moins une fois.


wonderful
Écrit par julie PLEUVRET, le 22-05-2021
Une ballade très sympathique, ludique et enrichissante. Notre guide avait très a c?ur de nous faire plaisir. Idéal pour la chasse aux spaces invaders.
---
Visit Paris differently :
---