- NEW -
Will you be able to put together 57 million urgently needed books and change French history?
In Versaillles (78)
All audiences (from 8 years old)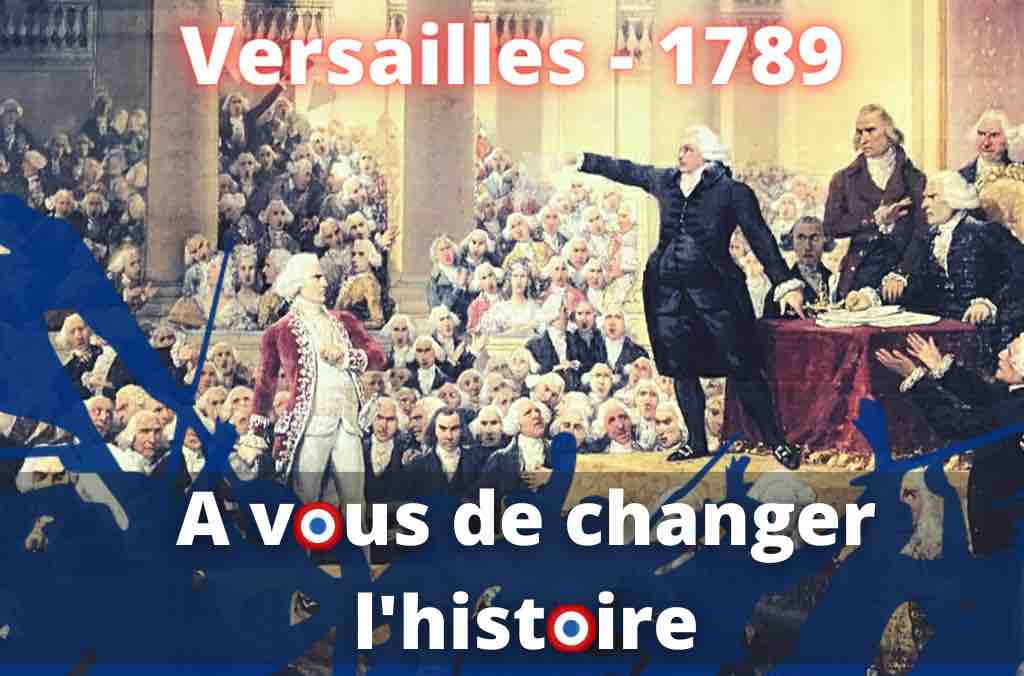 Info on the Investigation Trail Game
duration : 2 h
Point of interest The Hôtel des Menus Plaisirs, the Salle du Jeu de Paume, the former Hôtel des Affaires étrangères and the Hôtel de la Marine.
Meeting place In front of the Place d'Armes statue in front of the Château de Versailles (Versailles - 78)
Rate : from 25 euros
Who is it for? All public (from 8 years old), families, TeamBulding, seniors, schools and extracurricular activities
Language French and English (we would be glad to see you soon in 1789 at Versailles!)
Free for children under 8 years old
Warning the Palace of Versailles and its park are not part of the course.
The historical treasure hunt "2 hours in 1789, where you change history" is a team game (we recommend teams of 6-8 max.).
Same price as direct!
The context...
Mirabeau has a mission for you.
he said "it's not a question of leading the revolution that's already been made, but of holding it back", so he's asking you to do just that: get together 57 million pounds in order to save France bankruptcy
For this a code exists and is hidden in Versailles. Thanks to it, an American sovereign wealth fund can be set up to save France. But the Americans don't want you to find this code...
Yet this fund exists. It had been negotiated in secret during the American War of Independence, which made us friends of the New World but ruined France, leading to the Revolution.
The route of the treasure hunt...
Take a tour of the historic Versailles district, where the 5 months that changed the history of France took place.
See the Hôtel des Menus Plaisirs, the Salle du Jeu de Paume, and the former Hôtel des Affaires étrangères et de la Marine.
A course of about 2.5 kms
Deferral conditions
You can postpone your participation until 24 hours before the date of the game.
All it takes is one e-mail or phone call
Deferral is free of charge
Your challenge!
Will you be able to save France from bankruptcy and change history?
You have 2 hours to find a code hidden in Versailles that will allow you to unlock the 57 million needed to hold back the Revolution!
Don't panic, your guide will be there to help you if you get lost or stuck.
To round off this treasure hunt in style...
Rendezvous in the Cour des Senteurs
A verbal joust is proposed
A tasting of Versailles chocolate or a mystery macaroon awaits you.
A reproduction of a historical engraving or an archival plan of Versailles - to be framed - will be offered to all participants.
Our opinion on this Investigation Trail Game
In the same vein asVersailles Revolution tour"the interactive guided tour, this new fun and historical treasure hunt will help you discover the city of Versailles in a whole new way.
Immerse yourself in 1789! rediscovering the 5 months that changed history from May 5 to October 5 and 6, 1789 ...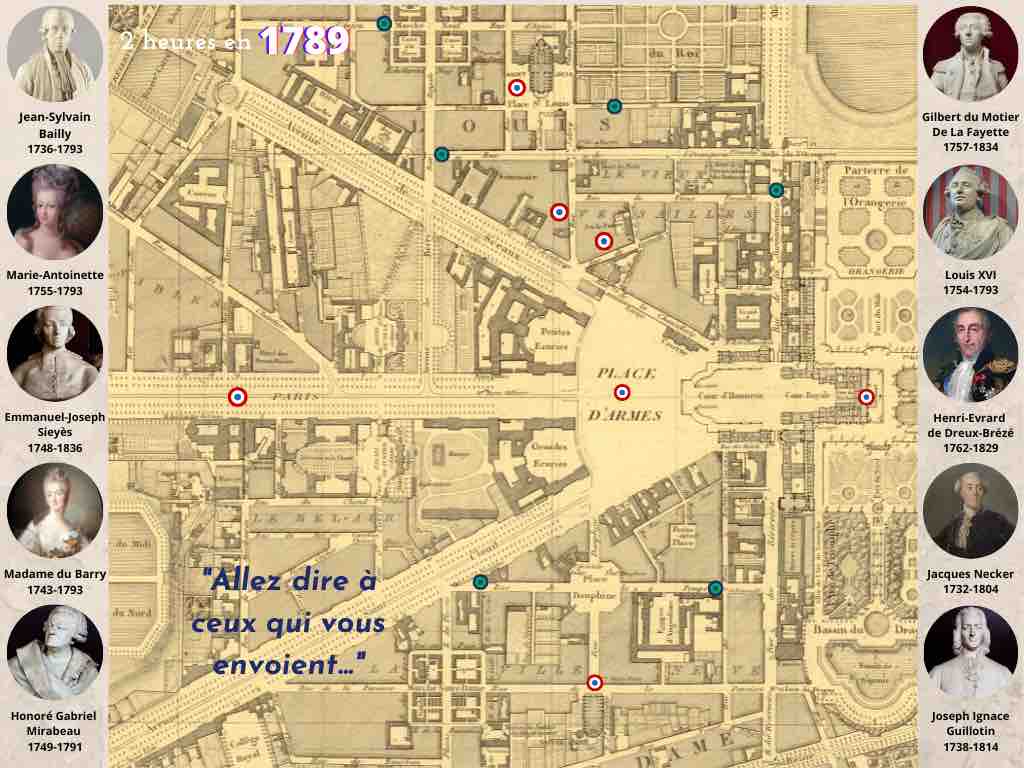 Find the list of our reviews
- Very good moment of history
Written by Eric PERRET, 20-09-2023
Our pleasant guide Baptiste concocted a history tour of Versailles, an original subject with anecdotes and comments that brought the theme of the visit to life. Recommended for all ages. Jessica, Corinne and Eric
- Top notch!!!
Written by Stéphane Leroux-Laborde, on 13-09-2023
Very good treasure hunt. Would recommend. Great for families and colleagues. Ideal for learning about the history of Versailles and the Revolution.
–
Written by MARYLIN GILANT, on 25-08-2023
Baptiste and his partner are excellent, patient, very professional and captivating. Thanks to both of them. Too bad the price is so high.....for 5 people, that's a hefty budget. Too expensive, unfortunately.
- Very nice experience!
Written by Florence, on 17-07-2023
An escape game to discover that the revolution also began in Versailles, with many traces still visible today! Our guide, Baptiste, was very friendly and made sure we had a great time! To be repeated!
Our treasure hunts in Paris and Versailles
What to do in Yvelines with your family ?