A treasure hunt on the Butte Montmartre
Team game (2 to 6 people)
All audiences (from 10 years old)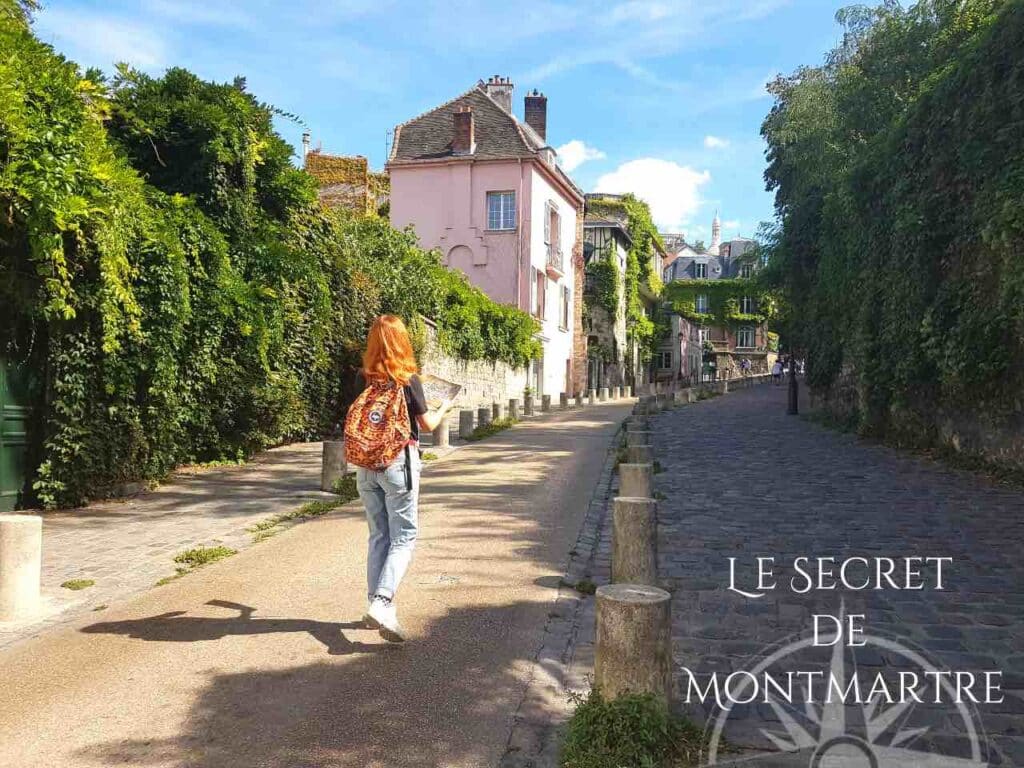 Rate
29 euros per participant for individuals (adult or youth)
35 euros per participant for TeamBuilding
Free for children under 9 years old
The Pitch of "2 hours to discover the secret of Montmartre
1935 - An old artist discover a fabulous treasure hidden since the French Revolution under the Butte Montmartre.

After having spent a good part of it, he decides to hide what is left somewhere in the neighborhood by leaving indices in its notebooks.

2019 - The notebooks of the artist have been found but it is impossible to decipher the secret... It is up to you, experienced investigators, to do everything possible to find the treasure of Montmartre !
Practical information
It is a historical treasure hunt that takes place outdoors
Place : the Montmartre district
This game is played in teams : ideally 6 participants max. per team, but it's fun from 2 people
Duration of the game : 2h
Meeting place : 10, rue de la Bonne, Paris 18ème
Language in French and English (for a treasure hunt in English, it will be necessary to send an email to the organizer a little before the date so that she can provide an envelope in English)
---
Course of the treasure hunt
You are welcomed by your interviewer-trainer
He will introduce you to the story, give you all the essential documents for the smooth running of the game and will organize the teams (if needed)
With the game bookThe game will last 2 hours, with 8 riddles to solve, the objective being to get to the final stage as quickly as possible (without getting lost)
Point of interest : the Montmartre hill
The investigator-trainer will select the winning team
A little surprise will be waiting for you at the arrival but we won't tell you more!
During the game, you can call your investigator at any time to help you if you are stuck
---
Privatization (school, extracurricular, CE, rallies, EVJF, EVG...)
For schools and extracurricular activities (schools, leisure centers, youth associations, town halls): from 10 years old (end of primary / secondary / high school)
For schools and extracurricular activities: free for adults (teachers, organizers, etc.), accompanying adults, etc.
For the organization of rallies, family outings (CE), adult groups, EVG, EVJF
Request for quotation / information : Contact us
Find the list of our reviews
–
Written by Vannitsen, on 27-05-2023
A lovely afternoon in Montmartre as a team. Chloé was completely in character, passionate and dynamic. A game that made us discover this beautiful neighborhood in a whole new way!
–
Written by johanna, on 15-11-2022
We spent a great day with friends discovering Montmartre! Chloe is passionate about what she does and enjoys telling you stories about the neighborhood and its history. The game allowed us to discover Montmartre from a new angle by paying attention to elements that we would never have seen without her. 100% of good humor, fun and a very well done game that I recommend with my eyes closed!
–
Written by Laurence, on 13-11-2022
Thank you Chloe for this beautiful organization and this playful and cultural discovery of the Butte Montmartre! My 9 year old daughter loved it and did very well... we won ???? ! We warmly recommend it !
–
Written by CBF, on 13-11-2022
Excellent time spent in the heart of Montmartre! We discovered the formula with our 2 children (8 and 13 years old) and everyone was conquered, we intend to do it again for other emblematic Parisian places. Bravo and thank you to our 3 actors!
–
Written by Sophie, on 12-11-2022
Great family game
–
Written by Lucile, on 08-08-2022
A fabulous experience! Chloe's treasure hunt is THE perfect way for kids and teens to discover Montmartre while having fun as a family! A great memory and an experience that I recommend to all families who want to visit this beautiful part of Paris!
–
Written by Judith, on 12-07-2022
Ms. Chloe is a true Montmartre and Pigalle enthusiast. Her game is challenging yet fun and a source of pride for the children who find the clues and treasure. Our host gave us additional historical information and suggestions for drinks and dinner in the neighborhood.
–
Written by Lorena, on 24-05-2022
A great day with Chloe, who made us discover the Montmartre district in a different way! I loved this game and its history, thank you again for sharing your passion with us ! To be done again!
–
Written by Mathilde, on 19-05-2022
Really a great time, Chloe is very involved to make sure we have a great time. I was able to discover Montmartre in a different light. It was really a great experience.
–
Written by J. P, on 05-05-2022
Thank you for this discovery of Montmartre... Thank you to Chloe for her welcome and also for all the information about this eventful past that she knew how to communicate to us with brio
- Escape Game in Montmartre
Written by Jennifer EDLER von Graeve, 28-04-2022
This activity really allowed us to discover Montmartre from a different angle. The organizer is nice and attentive. However, the price is really high for this kind of activity: 15 euros / person would have been enough. At 30 euros / person, I expect to have the game digitized on a tablet or at least to be able to write on the map but no ....
–
Written by Nathan, on 25-04-2022
The investigation is very well created, telling real facts, in a fun way so that the whole family will enjoy it. I really enjoyed looking for all the clues scattered around Montmartre that are used to solve the puzzle and find the treasure. However, rest assured! The terrain is relatively easy to navigate, we take advantage of it to walk around. We learn a lot of things throughout the investigation, and crisp anecdotes told at the end of the adventure by Chloe.
For fans of Escape Games and treasure hunts
What to do in the Montmartre district?