WINTER PROMOTION: -15% ON ALL TICKETS (until March 31, 2023)
1 day pass, 2 day pass or 3 day pass
You can get on and off the bus whenever you want
? Buses with 100% clean energy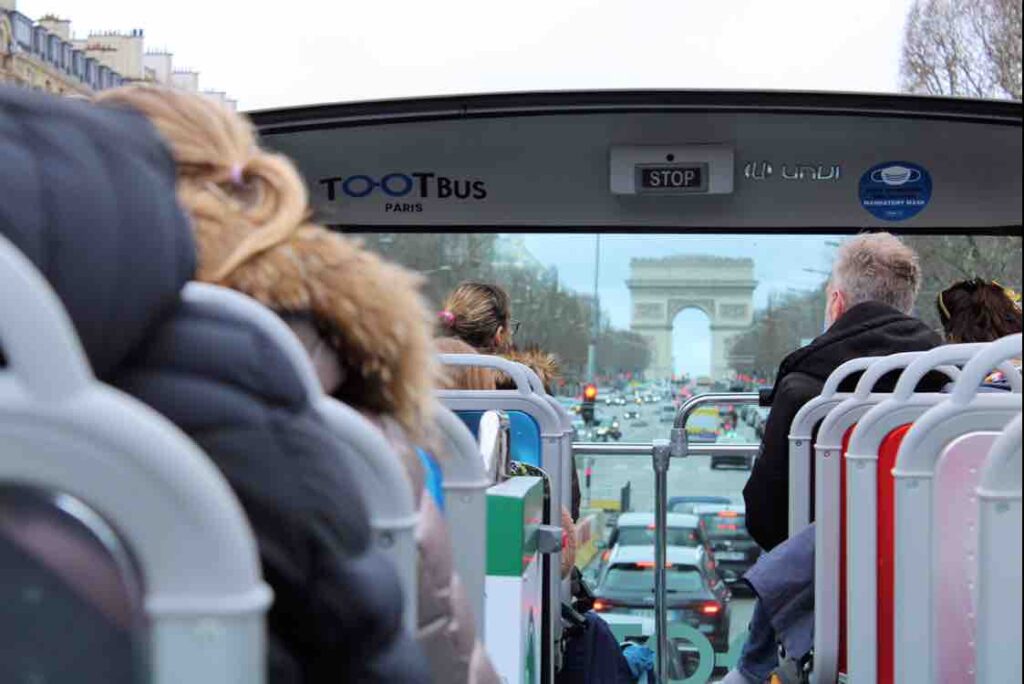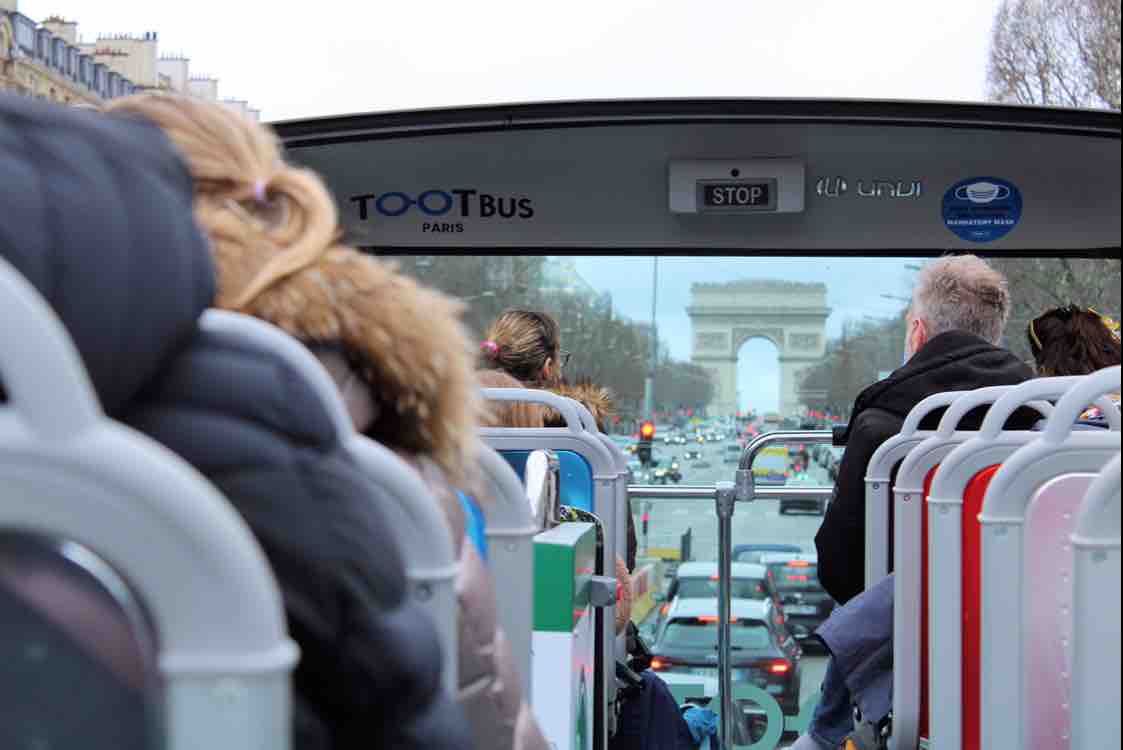 Hop on Hop off tourist bus
It is about double-decker panoramic buses with an open top deck
Bus hop on hop off You can get in and out freely, wherever and whenever you want
12 stops of your choice : Opera ? The Louvre ? Orsay ? Concorde ? Champs Elysées ? Trocadero ? Eiffel Tower ? Alexander III Bridge ? Madeleine
The duration of the complete tour (without descending) : about 2 hours
Thanks to this very complete tour, you will discover most of the Paris districts and of course all the unavoidable.
3 options 1 day pass or 2 consecutive days pass or 3 consecutive days pass
Audio comments French, English, German, Italian and Spanish
Audio commentary for children: French, English
All buses have a discovery platform to take advantage of good weather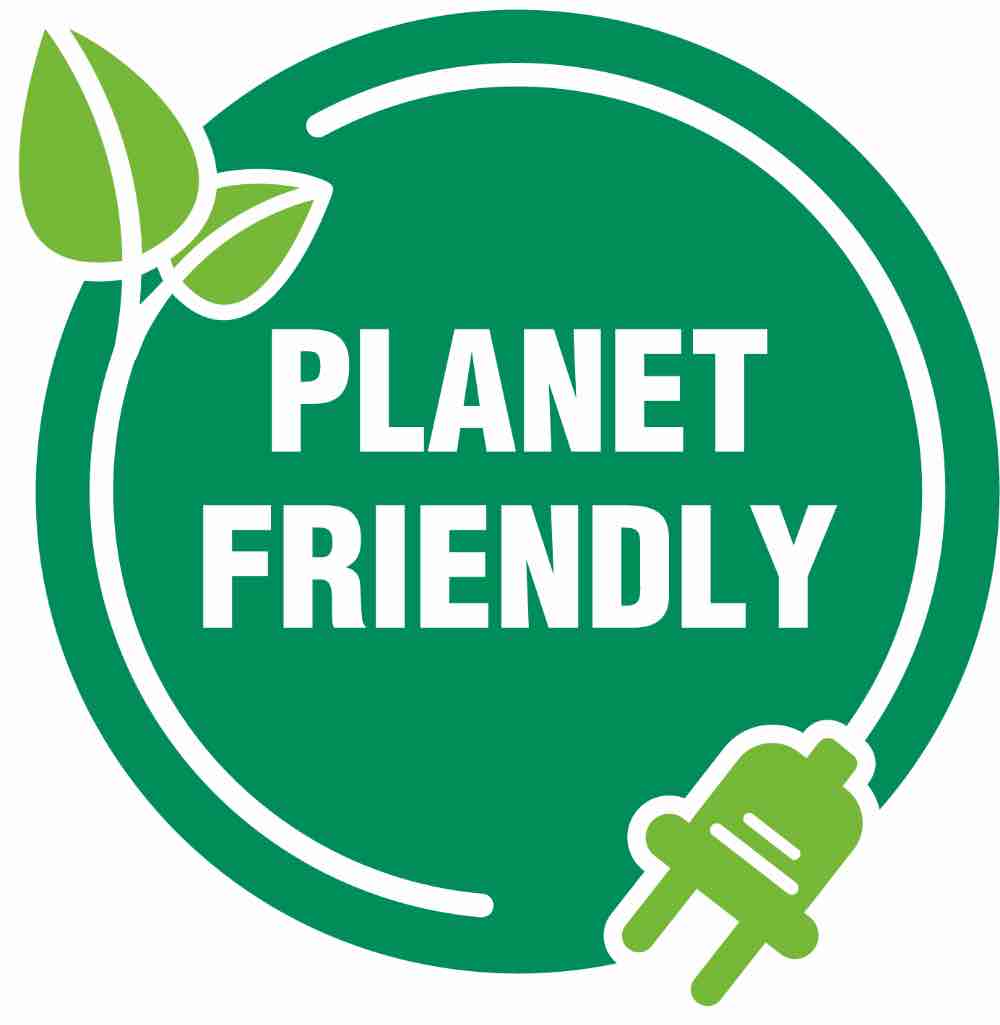 The buses run on clean 100% energy (electricity or gas).
Free for children under 4 years old
Practical information
Every day from Monday to Sunday
First departure at 9am (Opéra station)
Last departure At 4:30 p.m. (last full shift with an end of service at 7 p.m.) or 8:30 p.m. depending on the season
You start your journey at the stop of your choice. It is not necessary to start at Opera
Frequency at stops : 15 min
Free : for children under 4 years old
Non-dated passes (valid for 6 months from the date of purchase) / Non-nominative
2 or 3 day pass They must be used consecutively (2 days in a row or 3 days in a row)
Terms of receipt and validity of tickets
As soon as your payment has been made, you will receive your e-ticket immediately by e-mail
Present it to the bus driver at the stop of your choice, directly with your smartphone or in printed form.
If you have a smartphone, it is not necessary to print your E-ticket
Tickets are valid on the day and time of your choice, without reservation
Ticket validity: valid for 24 hours (a ticket scanned for the first time at 11am will be valid until 10:59am the next day. Same principle for the 2-day pass
Tickets valid for 6 months from the date of purchase
Non-cancellable, non-refundable tickets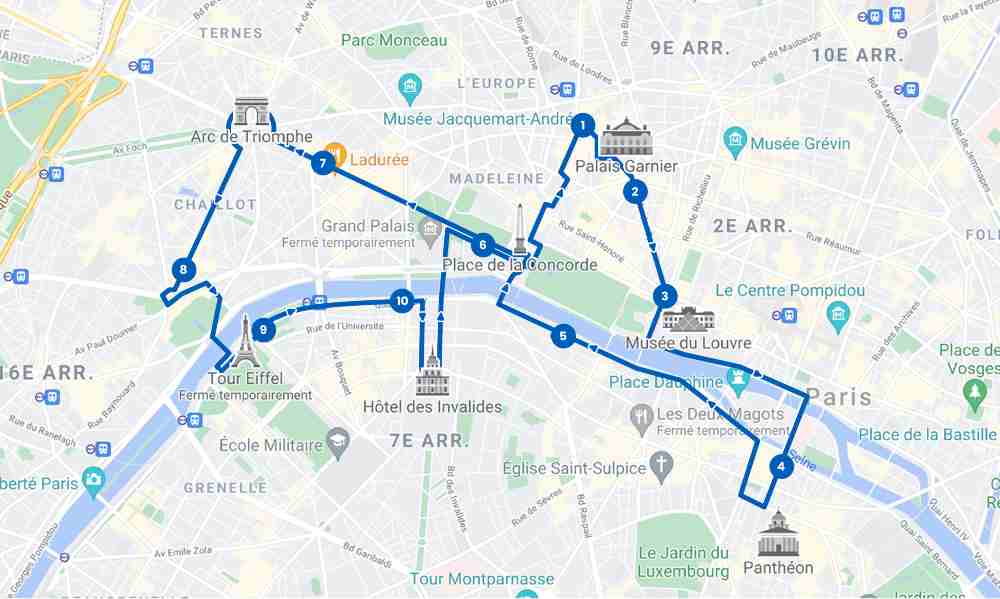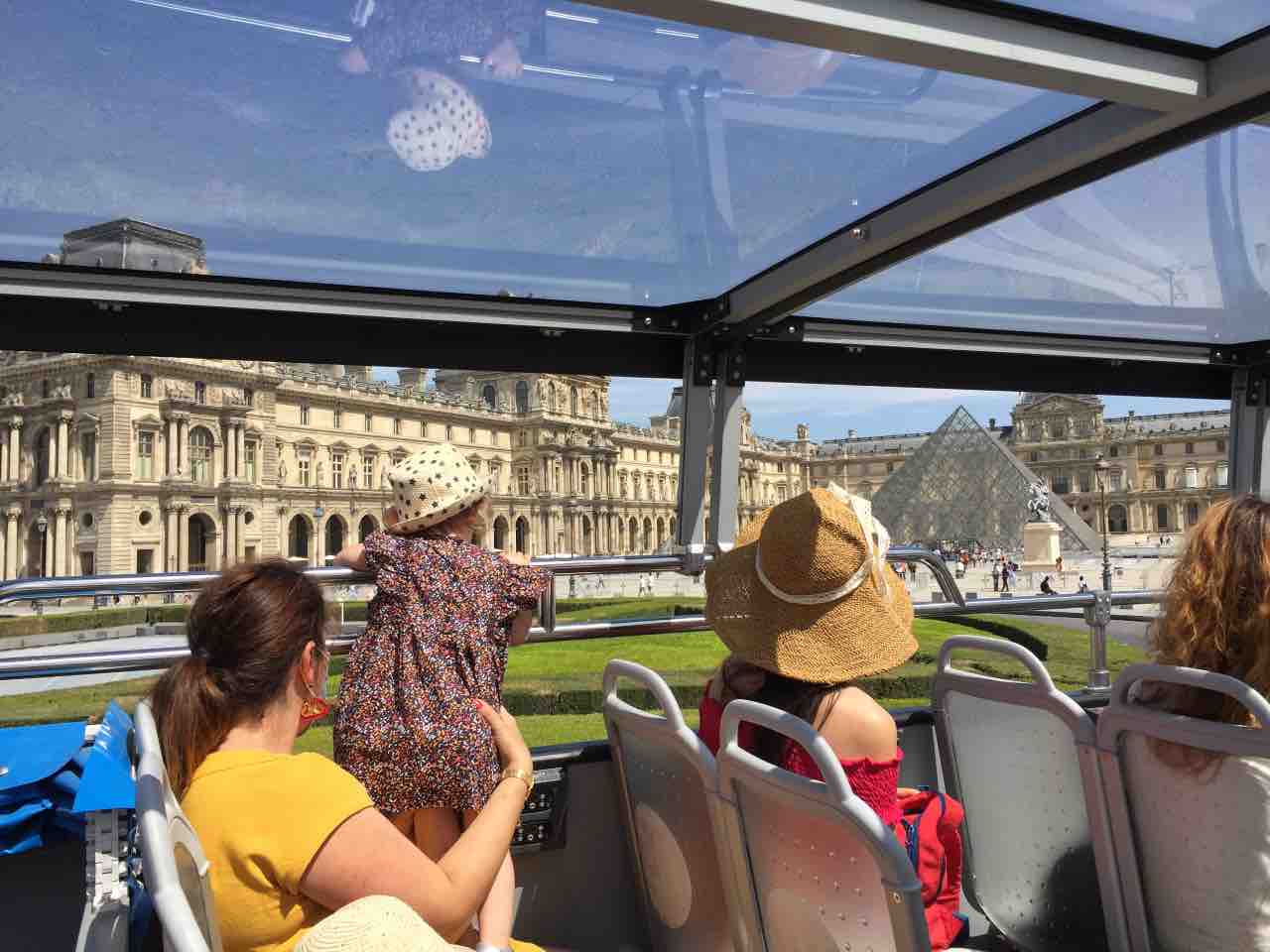 Find the list of our reviews
- insufficient, often inappropriate comments....completely ludicrous and also inappropriate music!!!
Written by marie duparc, on 28-11-2022
Wacky and inappropriate comments and music!!!
- To be improved
Written by Gilles Feurgard, on 26-03-2022
As this is a "FAMILY" tour, it would be a good idea to provide booster seats for children under 8 years old, as they can't see much when sitting down.
- FIRST TIME
Written by FREDERIC BLANCHET, on 27-02-2022
DISCOVERY OF PARIS VERY PLEASANT WITH CHILDREN
- PERFECT!
Written by Marine JAOUEN, on 21-08-2020
Easy online booking, Frequent buses, with friendly drivers! I recommend without hesitation!
- To do with young children to discover Paris for the first time
Written by Sylvain Foscolo, on 14-01-2020
I recommend, to do with children to see a maximum of monuments. It's practical to be able to get off and on the bus whenever you want. On the other hand, there are not enough comments in the audio guide and the STOP signs are not always very visible.
- means
Written by david schafierus on 24-12-2019
I arrived around 5:30 pm and they tell me that it's the end of the bus circuits !!!! I find that early especially in Christmas period where there are a lot of tourists so many requests! and they give me tickets for the next day that I find good but I already had the boat-fly to do the next day and I had to go back the next day too so tight planning! I had to cancel the boat-fly and do the open tour... Now that it's in december on the 2 floor of the bus it's very cold we stayed on the second floor and visit the time we had left and on the whole it was good! I note that they don't give us the helmet at the beginning, they don't offer it to us!
- bus tour of paris with young children
Written by virginie burret, on 06-11-2019
we chose to visit paris with open tour to avoid our children to walk too much. it was a great idea! the drivers were very nice; and we were able to find buses easily every time! over 2 days we saw the whole of Paris! the only negative points are: the GPS which announces the arrival of the next bus at the stop does not always work very well, the place of the stops is not always obvious to find, the buses are not all well covered and it rained a lot during our stay...
- Good option to visit Paris with children
Written by Lucie, on 03-11-2019
Lack of explanations in the comments, long blank periods. No particular difficulty. Yes, I would recommend
- See the main part
Written by FK, on 01-11-2019
Great fare but it is not specified anywhere (at least, I did not see it) that you have to validate the tickets at the store on Auber street before getting on the bus... It should be clearly indicated.
- Medium
Written by Loic Cardoso Moreira, on 01-11-2019
Average overall. Lots of waiting and clogging. A little expensive in the end considering the time spent and usage.
- to see Paris from the top of the bus is an experience that marks
Written by Bernard Mesqui, on 01-09-2019
fully prepared to recommend it
- Paris bus
Written by genevieve VOLPI, on 01-09-2019
Buses with a covered floor for rainy days are missing
- Well organized tour that allows you to see all the monuments and to go down where you want. Very good day.
Written by monique guenot, on 01-09-2019
Problem at the time of recording in the bus the pass bought on Internet. I recommend this activity we spend a very good day.
- Good experience
Written by Nolwenn CHEREL, on 01-09-2019
By going through your site I was able to get a discount. Very appreciable. You just have to know that you have to go through the store to validate the tickets. Have a nice visit
- Very good way to rediscover Paris
Written by AUDREY BRASSART, on 01-09-2019
The application allows to move very easily and the waiting time is limited by the presence of many buses easily locatable. The stop in front of the Gare du Nord allowed us to move exclusively with the bus and to stop frequently by changing line. The cleanliness of the buses is average but the drivers were all pleasant in general and we had to face only one change of bus for lack of driver and a waiting time of 20 min thus very satisfied with this service.
- Very good. Do not hesitate.
Written by yazid, on 09-08-2019
Very good. The information on the products offered is well presented. The prices are also cheaper than what we have seen elsewhere for the same service. The little extra, no delivery to the hotel or by mail, it is an electronic ticket that you can print directly. Do not hesitate.
Discounted activities and outings
6 ideas for unusual outings in Paris