- IMMERSIVE EXHIBITION -
From April 22 to May 7, 2023
At the Atelier des Lumières
Place at the Atelier des Lumières (11th)
Date April 22 to May 7, 2023
schedule 11 a.m. to 7 p.m.
When : every day of the week
schedule 10am to 5pm on weekdays, 10am to 9pm on Saturday and Sunday, until 6pm on Sunday
Nocturne Friday and Saturday
Age: for 7 to 77 years old, as for the Tintin albums
Free for children under 5 years old
Tintin, the immersive adventure
After its success in 2022, the immersive exhibition "Tintin, the immersive adventure" returns to the Atelier des Lumières during the Easter vacations
A colorful aesthetic experience that pays tribute to the heroes of Hergé, Tintin, Snowy, Captain Haddock, Professor Sunflower to name a few
On the 4000m2 space of the Atelier des Lumières, we travel in the 24 albums
A year of work to discover Tintin and his little friends projected on 8m panels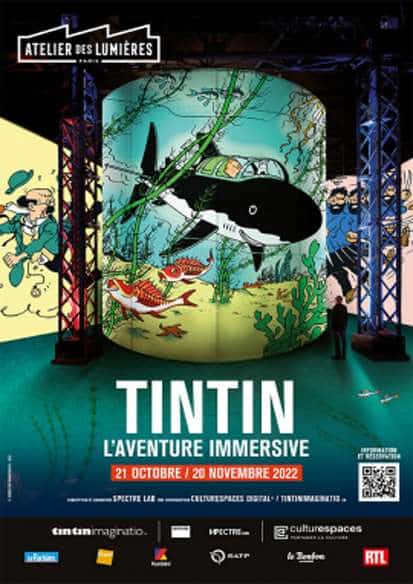 The Atelier des Lumières, a cultural place in Paris
The Workshop of Lights opened in the spring of 2018 in a former smelter in the 11th arrondissement of Paris. This very large exhibition space is perfectly suited to the ambitions of this new Parisian cultural venue.
The founding principle is put technology at the service of the artistic tradition by appropriating classical pictorial works to make them into gigantic video projections.
It is another way to organize exhibitions, to discover art, it's amazing and it will please the young publicfor sure!
In a space of 2000 m2 and 10 meters high, Van Gogh's works are projected on the floor, the ceiling and the walls.
It is a visual shock, the colors explode. A music accompanies the projection. We are plunged into a sound and light XXL size. More than 3000 images set in motion by 140 laser projectors make this immersive art.
THESE EXHIBITIONS THAT ENCHANTED US
Exhibitions in Paris at the moment or soon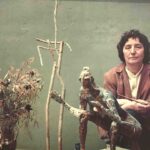 Until June 12, 2023