- CONTEMPORARY THEATRE-
Until June 18, 2023
WE LOVE a creative staging, which invites to travel
AGE : for 10-15 year olds
DATE :

until June 18, 2023
DURATION: 1h20
LOCATION: at the Lucernaire theater (Paris 6e)
"When we want something, the whole Universe conspires to allow us to realize our dream"Paulo Coelho
Following a dream that reveals the existence of a hidden treasure, Santiago, a young Andalusian shepherd, decides to undertake a journey.
This journey leads him from Andalusia to the foot of the pyramids, through Tangier and the Sahara desert. This initiatory journey will lead him to meet the Alchemist.
He will teach her to listen to her heart, to read the signs of fate and, above all, to follow her dream.
Based on the novel by Paulo Coelho, a marvelous philosophical tale for the child in every being
The press speaks about it...
THE PROVENCE - Three actors, two men and one woman, walk around in this adaptation of Paulo Coelho's novel: it is touching
TELERAMA - It is a masterpiece. The unreal tale becomes real while remaining unreal.
TELERAMA - A performance of great accuracy from which we emerge enveloped in images of elsewhere and dreams of escape. A favorite, for young and old.
THE PROVENCE - An epic well done. It is touching.
ATLANTICO - A family show, both entertaining and thought-provoking, which will be appreciated by everyone according to their affinities. A success.
FROGGY'S DELIGHT - Excellent. The spectator is carried away by the strength of the tale. The actors are remarkable. The adaptation for the theater is very successful.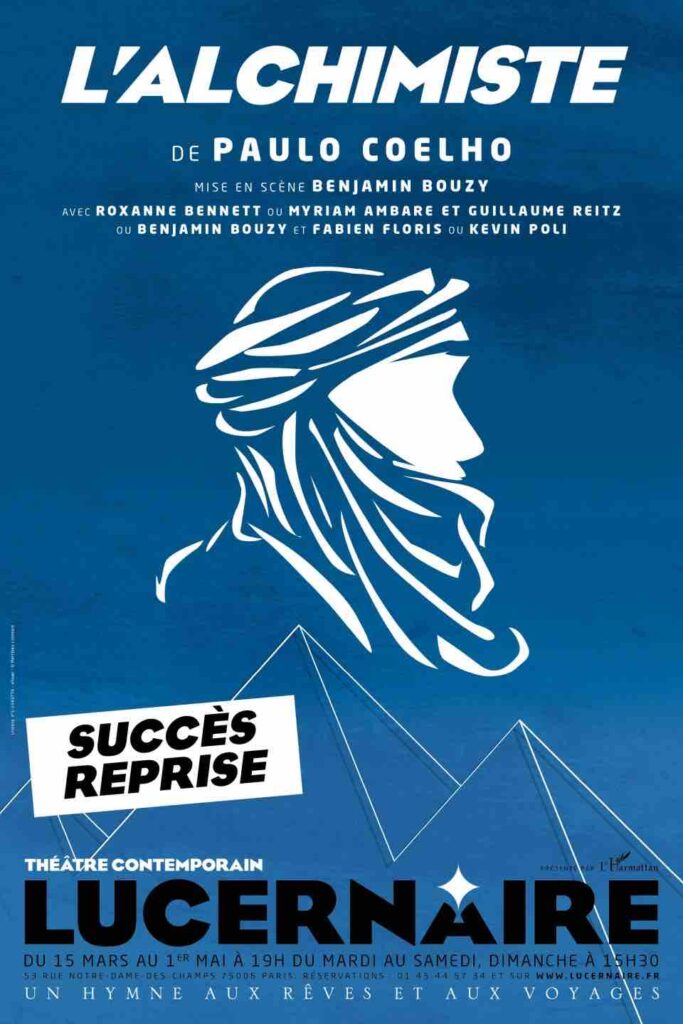 Find the list of our reviews
- very pleasant show
Written by Fabienne KRAVETZ, on 09-05-2023
the show is excellent no problem for the reservation already done, I recommended the show
Ideas for activities with teenagers in Paris