East of ParisThis zoo, dedicated to biodiversity, is about 40 km from Paris. The aim is to awaken children to nature and their relationship with the world.
The animations and activities of the Zoo Bois d'Attilly
Fauna and flora
At the Zoo of the Bois d'Attilly, you will discover more than 300 animals coming from the 5 continents (76 species of mammals and birds).
A park of more than 25 hectares with lakes, hundred-year-old oaks and a constant respect for the environment
Special events organized at Christmas, Halloween or Easter
Good to know: the wild animals returned at 6 pm
WE LOVE: the 5 missions of the Zoo du Bois d'Attilly
Education and pedagogy
To arouse the curiosity of children and adults
Protecting nature and biodiversity
Respect the well-being of the animals
Develop research programs, such as working on animal psychology or animal conservation
Guided tours
These are privatized guided tours accompanied by a caretaker
You will discover the history, the evolution, the habitat, the food, the reproduction of some animals chosen on the 5 continents of our planet.
The guide will talk about their relationship with humans and our own behavior towards these animals
Duration of a guided tour: 1h30 to 2h
Price: 80? per group
From 1 to 30 people
Educational workshops (from 3 years old)
These workshops are led by "Adventurers of Life", friends of animals and children
3 workshops are proposed: "Feeding wild animals" (from 5 years old), "The 5 continents" (from 3 years old), "The great adventure of life" (from 7 years old)
Duration of a workshop: 1h30
Price of a workshop: 125? excluding admission
By reservation only (call 01 60 02 34 34)
Caretaker for a day (from 9 years old)
4 hours in complete immersion with a caretaker with the program, daily tasks, cleaning, feeding, improvement of the environment of the animals
Adult rate: 200?
Children's rate: 100? (from 9 years old)
Supplement for accompanying adults: 50 ?
Remember to bring your picnic basket
Pack a picnic lunch if time permits. Areas are provided for lunch (tables and benches).
My birthday at the Zoo du Bois d'Attilly
A VIP visit during which children will be able to approach certain animals to feed them
Snack (drinks included)
Inflatable games
The child who celebrates his or her birthday will receive a small gift from the Zoo
Duration: 3 hours (from 1:30 to 4:30 pm)
Minimum: 6 people (children and / or adults)
Prices: 20 ? per child and 25 ? per adult (zoo entrance included)
Free for the child who celebrates his or her birthday
Free for 1 accompanying person if it is a group of children (min. 6 children)
Prices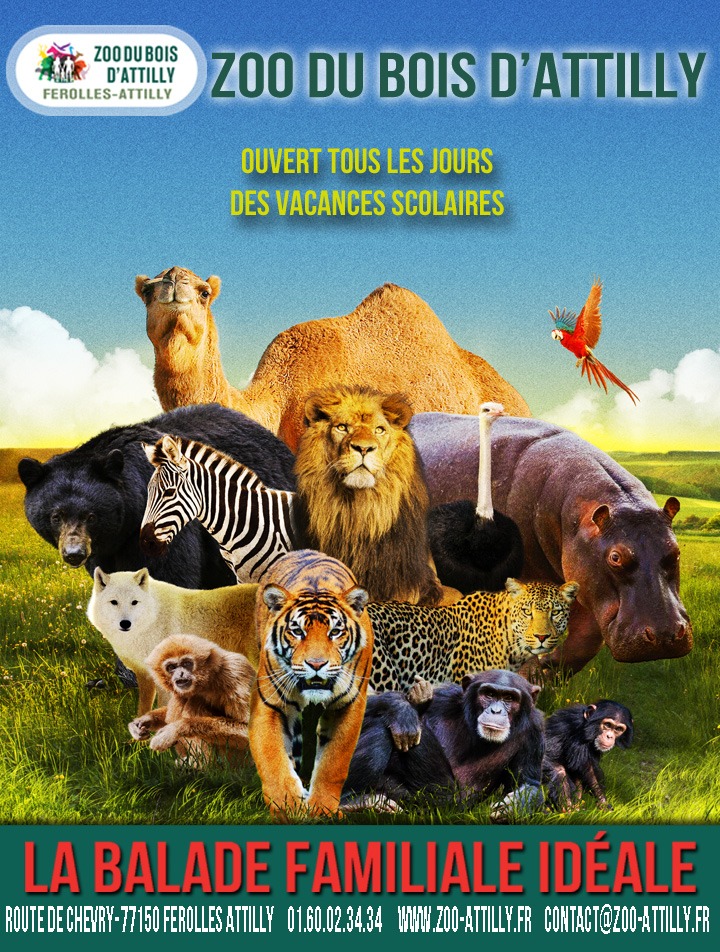 Adult ticket: 16,50 ? (over 10 years old)
Child ticket: 9,60 ? (from 3 to 9 years old)
Family Package : 45 ? (2 Adults and 2 Children)
Additional child on Family Pass : 8,5 ?
(Free for children under 3 years)
For information The Zoo du Bois d'Attilly accepts bank cheques, vacation cheques, sodexo cheques, credit cards, balad77 pass and wonderbox cards
IDEAS FOR LEISURE ACTIVITIES IN PARIS AND THE SURROUNDING AREA: