The weekend of 23rd and 24th and 30th and 31st January
Pour les lève-tôt (de 7h30 à 9h30)
En raison du couvre-feu à 18h, Thoiry Zoo a modifié ses horaires pour que les familles pour continuer à profiter des Lumières Sauvages.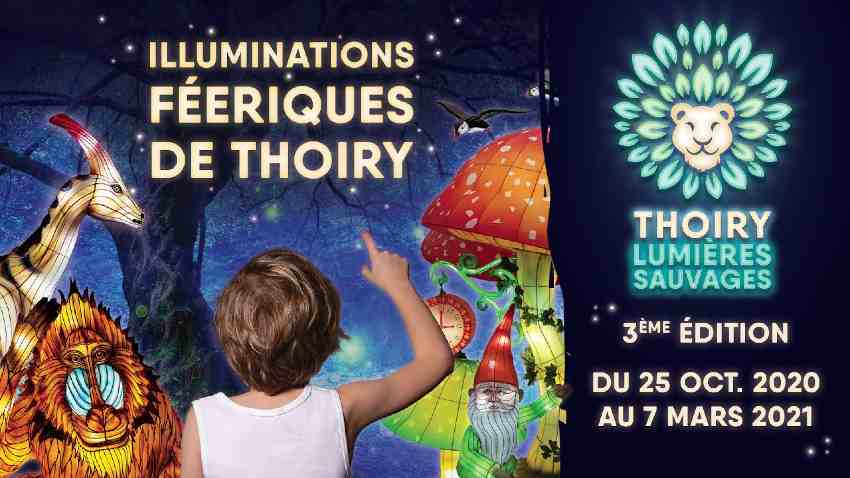 Les Éveils Féeriques des Jardins de Thoiry : les Lumières Sauvages
De 7h30 à 9h30, les 23, 24, 30 et 31 janvier 2021

Changement d'horaires en raison du couvre-feu à 18h !

For the 3rd consecutive year, Thoiry presents the Wild Lights, a fantastic light show!

These are illuminated animal sculptures placed in the gardens of the park's castle.

Sur un parcours d?environ 1,5km qui traverse les jardins du château, vous pourrez admirer des oeuvres lumineuses et fantastiques ainsi des milliers de lanternes représentant des animaux, des plantes et des personnages illuminés. Une balade onirique et féerique !
Si vous n'avez pas eu le temps de prendre votre petit déjeuner, vous pouvez acheter une box gourmande au prix unique de 6?
Le Safari du Thoiry est ouvert de de 14h à 18h (dernières entrées à 17h)
Des tarifs spéciaux pour ces visites sont proposés :
– Illuminations seules adultes 15? / enfants 13?
– Safari et illuminations 23? adultes / 19? enfant