WE love : A very effective entertainment
Age: from 12 years old
DATE: Until April 12
Location: The Palace (Paris 9th)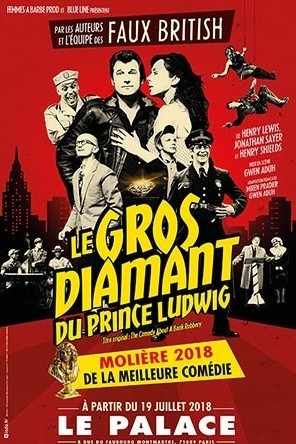 The big diamond of Prince Ludwig, a very successful entertainment
Prince Ludwig's Big Diamond is a hilarious show, with a very effective staging. It is a very successful entertainment.
It is not very fine, but the result is there, it is a big joke, a zany comedy. Molière for the best comedy 2018.
Eleven overexcited actors, thirty costumes and six impressive sets for a show inspired by the films noirs of the 1950s.
The British director

Gwen Aduh had already received the Molière for best comedy in 2016 for Faux British ((still showing at the Théâtre Saint-Georges).

This time, in Prince Ludwig's Big Diamond, it's about a bank robbery led by real tough guys in the America of the 50's, with some live musiciansA couple of unintelligent cops, some convicts on the run, a pickpocket who's too honest?
Everyone gets involved, from the mobsters to the manager. Who's going to rip off who?
It is very well done thanks to a staging full of findsThere are twists and turns, doors that slam like in Feydeau, funny jokes and an anthology scene where the stage goes from a horizontal to a vertical position?