The Flöz family: Dr Nest
a fascinating and incredibly original theatrical experience that will not leave you indifferent
Age : from 8 years old
Date: Until February 2
Place : Théâtre Monfort (Paris 15e)
Dr. Nest: the new creation of Familie Flöz
The Familie Flöz company (founded in Berlin in 1996) stages a theater that combines the burlesque of mask theater, dance, acrobatics and clowning.
It is a theater of mime, without words, to keep only the visual play, the sounds and the music. Familie Flöz masters the art of saying everything without words.
With their new show Dr. Nest, Familie Flöz takes us into the world of a psychiatric hospital to show the narrow line between normal and abnormal, between conscious acts and impulses. Contrary to what one might imagine, the hospital setting is not sad, but it is an opportunity to work on the representation of bodies in movement.
A show that was a great success with the critics.
Featured plays for youth: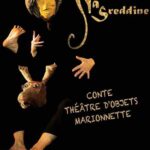 WE LIKE : beautiful masks and a show full of poetry AGE : from...