For families with children aged 9 to 14
Guided tour of the Louvre's Department of Greek Antiquities
This visit is led by guides specialized in Mythology and Antiquity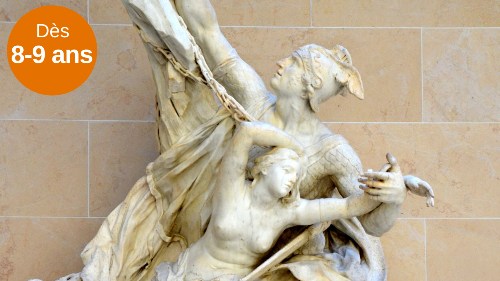 Pitch of the visit "Heroes of Greek mythology in the Louvre?
The objective of this guided tour of the Louvre Museum is to show the childrenin a playful way, ?the Greek miracle?
It presents ancient Greek sculpture by relying onr ?the exploits of the gods of ancient mythology
It is a question of understanding why Greek sculpture is so famous and why this period will mark so much the artists in the course of time
The tour guide will answer questions such as "Why did Herakles do 12 labors?" / "How did Perseus kill the Gorgon?" / "How did the gods help them?" / "How did the Greeks represent their gods, their heroes?" / "Why did the gods accede to men's desires as they did to Pygmalion?"
A discovery of Greek antiquity through mythology and its heroes within the reach of the youngest but also very instructive for parents, grandparents or accompanying persons
A small booklet will accompany the children throughout the visit
Individual visit " Heroes of Greek mythology " (rates and info)
-10% on the price of the guided tour with code FAMILINPARIS
Adult rate : 37* (including admission to the Louvre Museum)
Child rate : 17? (entrance to the museum is free for children)
20 to 22 participants maximum per visit
Duration of the visit : 1h30
Meeting place Location : Louvre Museum ? RV Group reception (under the Great Pyramid)
Visit in French
No waiting for tickets
* If you are exempt from paying admission to the Louvre (Friends of the Louvre card or other), choose a child's ticket and indicate on the form the age of the child, "Exempt adult" and the type of exemption.
What to do in the Louvre district?