The new gourmet spot for sweet street food
On site or to go
In the Halles district (Paris 1st)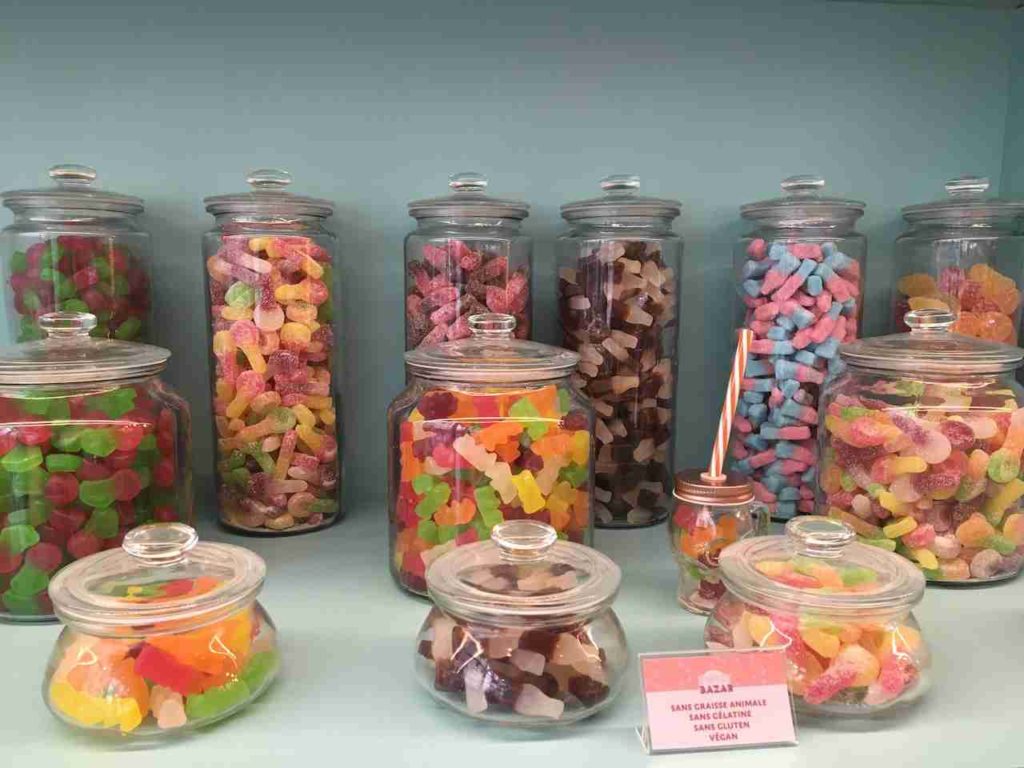 Sweet Bazar : so sweet, so fun, so good, so natural?
A little thirsty! Smoothies, iced coffees, milkshakes, lattes and other hot or cold drinks?
A little hunger! Waffles (revisited), pies (seasonal), cakes, cookies?
A little desire for sweetness! Chocolate bars (made to order), candies, popcorn, ice cream?
At Sweet Bazar, we favour natural products, brown sugar, made in France and short circuits
The chocolate is 100% pure cocoa butter. (and from sustainable agriculture) and organic sweets (without animal gelatin)
Children (or parents) will be able to compose their chocolate bar (made to measure) with top quality products, in less than ten minutes! With dark or milk chocolate, you choose your topics (candied fruits, dried fruits, chocolate chips to name a few) according to your desires
All the proposed recipes are thought and imagined by thehe pastry chef, Sandrine Baumann-HautinAmbassador of the French Dessert Championship 2021.
To be consumed on the spot (for a snack break after the visit of the Museum of Illusion) or to go
The place is spacious and children can come and go, climb on the swing or sit on one of the horses on the carousel.
Sweet Bazar's pastry workshops ???
Workshops of 1h30 around chocolate and pastry
For children and adults (from 5 years old)
The workshops are led by professional pastry chefs and chocolatiers
These workshops are fun, greedy and are done in the joy and good mood
from 25 to 60 euros per workshop
Find the list of our reviews
No opinion for the moment.
Sweet Bazar is also a store of delicacies and accessories
Beautifully presented products, at a very low price for yourself or as a gift
We cracked the "Petits Buturres" as when we were little, the big jars of Pop Corn for the home movie sessions, the little cookies in their colorful packaging?
A special "Birthday Party" section with accessories, candles that should please moms
With children in the Halles district