At the Château de Maisons-Laffitte (78)
Until December 17, 2023
WE LOVE : a unique family show freely adapted from the tale "Beauty and the Beast
DATES until December 17, 2023
HOURS Fridays at 7.30pm, Saturdays at 3pm and 7.30pm, Sundays at 3pm and 7.30pm
AGE : from 4 years old
DURATION : 1h
RATE from 6€
Place at the castle of Maisons-Laffitte
Free for children under 3 years old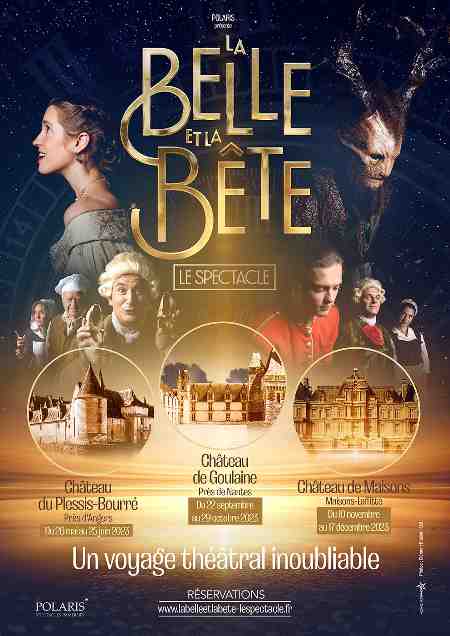 ---
The immersive show "Beauty and the Beast
This show is performed by professional actors and 500 extras. The costumes and sets are absolutely beautiful.
Once upon a time, there was a sumptuous castle in which lived a frightening beast and where time had mysteriously stopped. The spell seemed unchangeable, until the day a young lady pushed the door of the castle...
Follow Beauty, and you too will enter the heart of this fairy tale that has lasted through the ages. More than a castle, discover a real enchanted palace: a dark underground, a snow-covered forest, a sumptuous dinner by candlelight... In one turn of the clock, Beauty and the Beast lead you from the bustling kitchens to the ball given under the crystal of the hundred-year-old chandeliers.
Experience the enchantment of Beauty and the Beast, from their meeting to their love, in the heart of a castle like you've never seen before, straight out of the tale. A unique family show through an unexpected journey where you will alternate between breathtaking scenery.
Ideas for outings in the Yvelines