The new Cirque Gruss show
THE SHOW "Excentrik"
WE LOVE : of the circus with a touch of madness and eccentricity
AGE: for all, from 4 years old
DATE: show over
DURATION: 2 hours
LOCATION: on the lawn of Reuilly (Paris 12ème)
"Excentrick", the new show of the Circus Gruss
A fantastic, dreamlike universe that tells a true story
This show seeks to respect the traditional circus codes that the public loves by adding a little dose of madness and eccentricity...
Among others, there are tightrope walkers, trapeze artists and especially Mr. Loyal who will be present throughout the show
An original music and a live orchestra with 10 musicians
The show lasts 2 hours
It is recommended to arrive 45 minutes in advance.
Children under the age of 3 will be seated on their parents' lap.
OTHER CIRCUS SHOWS :
class=uagb-post__inner-wrap>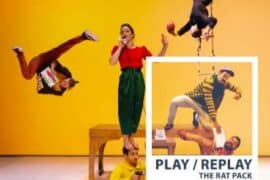 class=uagb-post__inner-wrap>
class=uagb-post__inner-wrap>
class=uagb-post__inner-wrap>
class=uagb-post__inner-wrap>
class=uagb-post__inner-wrap>
class=uagb-post__inner-wrap>