WE love : an original exhibition, very playful and interactive
Age : for 7 to 11 years old
Duration: until November 18
Location: Cité des Sciences à la Villette (Paris 19e)
Receive your E-ticket on smartphone
Exhibition really very playful and very interactive. A great success.
This is an expo where we have fun and where we learn a lot! Discover the physics, chemistry, mathematics, geology, biology that are hidden in the literature of tales like The Three Little Pigs, The Adventures of Pinocchio, Little Red Riding Hood or Alice in Wonderland! Based on ten classics of children's literature, the exhibition explores the science present in each story through thirty fun and interactive experiences.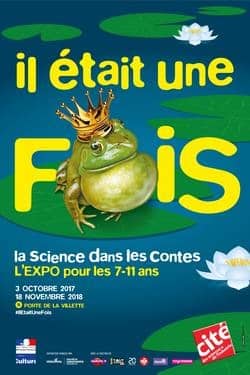 An exhibition where science is explained in a very original and very educational way, around 10 fables:
So with Pinocchio, the children will learn to doubt. Do not believe everything you see or hear. With The 3 little pigsit is the construction techniques and the resistance of the materials that are studied. Little Red Riding Hood is about explaining that colors can affect emotions and it's an opportunity to look at the biology of wolves (sight, hearing, food, smell). With Ali Baba and the 40 thievesIt is the world of mathematics that is at stake, and in particular the question of whether a 3-digit code is more secure than a 2-digit code... With the tale of Cinderella, the reflection revolves around notions of surface and volume. Hansel and Gretel naturally addresses the world of cooking and biology around chocolate. The Princess and the Pea discusses tactile sensibility and the world of mites, fleas and bed bugs. Alice in Wonderland is focused on the problems of optical illusions. Snow White and the 7 Dwarfs questions the emotions behind the expressions of a face, the nuances of skin color, and wonders why sneezing or why yawning is contagious. Around the story of Jack and the magic bean children are made aware of ecology and biodiversity. We discuss the problem of our daily water consumption to feed us, and biodiversity with an impressive collection of beans: 40 varieties of 5 different species.