Musical show ? For all, from 3 years old
Scarlett: voted best show for young audiences 2020
Scarlett is a fairy tale and poetic that addresses the theme of difference and autism
It is an intelligent show that opens the reflection on the difference, the meaning of life and happiness
The show tells the story of Scarlett who lives in the Land of Rainbow, a world full of colors. However, Scarlett is different, she is all in black and white, so everyone laughs at her.
To escape from this hostile world, Scarlett has a little bag made of stars with magic candies inside. Every night, she eats a magic candy and hop! She flies to the other side of the sky, behind the clouds. There, it is her own world where she does what she wants, only what she wants?
Until the day she loses this precious key to her world of illusions. She, who has never spoken to anyone, sets out on a great journey to find it. On her way she meets strange characters, all prisoners of their fears and doubts. By helping them, by loving them, she heals herself little by little...
It is a musical show with songs, viola, accordion, guitar and clarinet. Each instrument illustrates the different colors of the Rainbow country and the moods of Scarlett
The show is punctuated by a subtle balance between dialogue, songs and music
Musical shows in Paris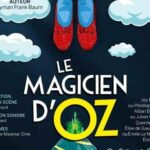 A classic with mythical songs ? For the 4 -8 years old