WE love : l'originalité, l'humour, la virtuosité de cette troupe de cirque contemporain
Age : for all, from 10 years old
Duration: from November 28 to December 21, 2018
Location: Theater of the 13th Art (Paris 13th)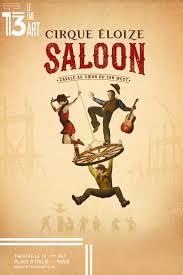 SALOON, the new circus show Eloize
The circus Eloize is one of our favorite circus companies. Quebec circus known as "contemporary", the circus Eloize, created in 1993, is characterized by his humor, his poetry, his originality and of course his virtuosity. He is famous for his really spectacular numbers: Cyr wheel, straps, Korean board, hand-to-hand, Chinese pole and jugglers. All staged in a very humorous and original way. In our opinion, a show of quality not to be missed. Ideal with children from 10 years. The younger ones may prefer the traditional circus.
SALOON: An acrobatic and musical comedy inspired by the rich heritage of the Wild West
For the show SALOONCirque Éloize is inspired by the legacy of the American Wild West. It takes as a backdrop Far West America at the time when the SALOON becomes theater of stories and crazy situations. It is the pretext for Cirque Éloize to revisit with jubilation Wild West imagery and colorful characters (the player, the stranger, the sheriff, the dancer, the keeper ...). Behind the casement doors of the Saloon d'Eloize, une dizaine de personnages s'apprêtent à enchaîner les situations les plus ébouriffantes, au son de la musique folk. Thus the beauty of the saloon turns heads, the cowboys solve their duels with acrobatic acrobatics ... The music of American folk very present in this show, gives it the tunes of western cabaret. A show of 1:30 to see family absolutely.