HEART STROKE
For everyone, from 10 years old
Rémi Larrousse, the confidences of an illusionist
WE LOVE : an absolutely bluffing mentalism show
AGE : for everyone from 10 years old
DATE :

until May 7, 2023

HOURS: Tuesday - Saturday: 9pm; Sunday: 6pm
DURATION: 1h20
PROMO Until March 30, 2023: Tuesdays, Wednesdays and Thursdays: adult ticket at 20€
RATE : 11.50€ child or youth rate - 23€ adult weekday rate - 27€ adult weekend rate
LOCATION: Théâtre du Lucernaire (Paris 6e)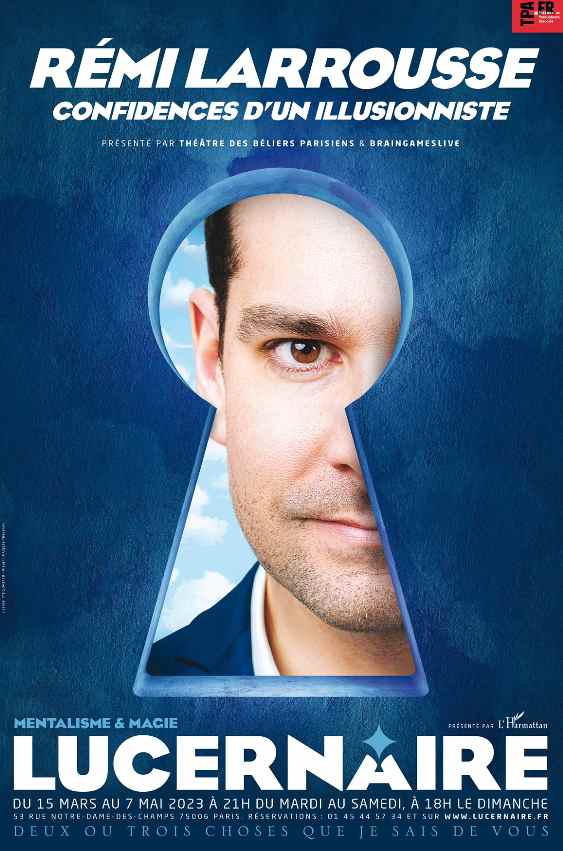 New show by Rémi Larrousseone of the best mentalists of the moment
Worthy successor of David Copperfield and Arturo Brachetti, He was awarded the 2014 Golden Mandrake, the highest distinction awarded to an illusionist
He has a crazy charm, an amazing dexterity
Rémi Larrousse really reads our thoughts, manipulates our brain and the whole room is bluffed
At the end of the show, the audience stays to discuss to try to understand how Rémi Larrousse can read our thoughts!
In this new show, Rémi Larrousse reveals some of the behind-the-scenes aspects of his discipline. He shares some secrets about the mechanics of magic and reveals the illusions that guide our lives.
We won't tell you more so that you remain as surprised as we are
You will LOVE it!
Free seating
We advise you to arrive about 20 minutes before the start of the performance so that you can be seated at the place of your choice
The Familin'Paris team's opinion
We were literally "glued" and bluffed by the show! Rémi is a magician, illusionist and mentalist who takes us into poetic, hypnotic and mysterious experiences. A nicely theatrical setting for this interactive show. We loved it! A father, sitting in front of us, a fan and regular of magic shows, confided to us that it was the best show he had ever seen!
Find the list of our reviews
- very good show
Écrit par alain hérault, le 14-05-2023
Très bon spectacle, bonne interaction avec le public. Petite salle, l'ambiance est familiale. On ne voit pas le temps passer. Je le recommande vivement pour un super souvenir de paris. Merci à Mr LAROUSSE qui nous attendait pour nous saluer en fin de spectacle.
– Excellente soirée en famille, bluffant !
Écrit par DAPHNE GROLEAU, le 10-05-2023
excellente expérience, je garde précieusement le lien pour ce site pas de difficulté particulière à la réservation ni à l'arrivée Oui, je recommande
– Bravo ! À voir absolument !
Écrit par Annie H., le 10-05-2023
Un vrai grand magicien, très pédagogue qui vous fait des vraies surprises! ! Bravo ! Je recommande chaleureusement ce spectacle
- Excellent evening
Écrit par Elo fleurette , le 08-05-2023
Séjour en famille à Paris, réservation sur le site sans difficulté. Spectacle parfaitement adapté à la famille. Petit théâtre nous étions tout proche de la scène. Ambiance très conviviale. Le spectacle canon , avec de l'humour et surtout nous étions bluffés ! Je conseille
- We had a great time as a family
Written by Naoufal Hougga, on 06-05-2023
The magician transported us into his universe, the atmosphere was really mysterious, the tricks are super elaborate and still today I am amazed
- Magic Abracadabra
Written by Elise Huellou , on 23-04-2023
Great evening, I really recommend it. My children of 7 and 9 years old as well as my parents and myself loved it. So for the whole family from 7 years old. He makes the audience participate and we really don't understand anything that happens to us. And moreover he is sympathetic at the end he takes the time to discuss with his public.
- Excellent evening
Written by Christophe Mauny, on 23-04-2023
What I liked: ease of ordering tickets + price welcome at the theater warmth and conviviality of a small room quality of the show and of the artist Rémi Larrousse What I didn't like: nothing except not being able to go on stage, for the experience.
- Nice
Written by Eléonore Bruchez, on 22-04-2023
Very good.
- Fabulous
Written by Virginie FAGART, on 17-04-2023
Fascinating for young and old. A great illusion show To see without hesitation.
- Nice outing!
Written by Julie, 16-04-2023
I recommend this outing. My 13 year old son and I were bluffed by Rémi Larousse. Nice outing at a small price.
- Bluffing
Written by Annita, on 23-03-2023
Incredible show. Absolutely amazing. Not to be missed. I want to go back and try to understand how it is possible!
- Unbelievable!
Written by Jérémy, on 22-03-2023
A very beautiful, disturbing and absolutely stunning show! A lot of poetry and mysteries and a superb staging. Thank you Rémi for this beautiful moment!
Ideas for outings with teenagers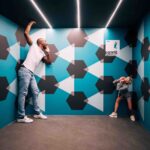 BOOK ON LOVE: the most offbeat family experiences - Your photos will...