WE love : his poetry and his virtuosity. Attention: final show
Age : for all, from 5 years old
Duration: From September 26 to December 30
Location: Espace Chapiteaux, Parc de la Villette (Paris 19ème)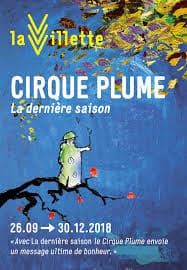 The Circus Plume presents its farewell show: The Last Season
On the program of last show of Cirque Plume you will find: umbrellas, shadow puppets, the moon, colour games... So much for the decor. For the spectacular Wire, aerial hoop, Chinese mast, acrobatics on the ground, contortion... 14 artists, musicians, dancers, burlesque characters, half-man, half-animal, lead the audience into the colourful poetry of the seasons. of the seasons. "The Last Season" takes us into the magical world of the forest. Reflection on nature, the seasons seasons and the planet in danger, but above all poetic, humorous and virtuoso show. A 1h50 show.
Cirque Plume, one of the pioneers of the new circus
Since 1984, the Circus Plume revolutionizes the art of circus. His touch, his signature music, rhythm, colours and always poetry. Cirque Plume is a whole atmosphere atmosphere, with its artists of all ages, its jazz music on which the acrobats levitate, its dreamlike with feathers falling like snowflakes. Today, its founder is approaching 70 years old and wants to give way to young people. Transmission is assured, for our greatest pleasure, the circus has become an art form in its own right.