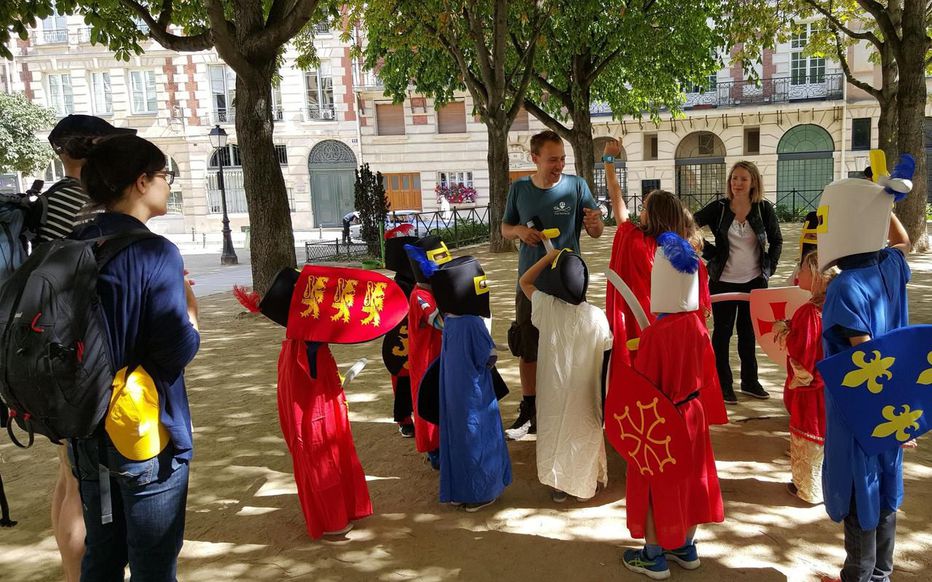 Guided tour "Costumed stroll, Ancient Paris".
For a birthday party / With the family / For schools or after-school programs
The children will discover Ancient Paris (in the Latin Quarter): the Lutetia arenas which were used as a fighting area for gladiators, the famous Cluny baths, ancient baths used by the Roman citizens...
Children love to dress up. As Gauls and Romans, they are more attentive to the stories told by the guide
It is a fun and fun way to discover Antique Paris
Points of interest of the visit : the Latin Quarter at the time the city of Lutetia. We start at 50 BC and we walk around during the 1st century.stcentury
This visit can be done on the occasion of a child's birthday. You can also privatize it for an outing for one or more families. It is perfect for an outing of leisure center, school or for a youth association
This tour is outdoors. The sites, monuments and buildings are not visited but their history is told
Disguises for 6/11 year olds
of the costumes (disguises) full of Gaulish / Gallic and Roman / Roman will be loaned to children who wish
Loan ofaccessories (shields, swords ...) for children who do not want to disguise themselves
Disguises put on top of clothes, no need to undress
Useful information
Age : from 6 years old
VR Location metro Jussieu
duration 1h30 (about 2km)
Visit provided by professional guide-lecturers (in French or English)
Mandatory presence of at least one adult during the visit if it has been booked for a group of young people
Frequently Asked Questions
Can we cancel the visit if we have an impediment? You will find the cancellation conditions on the website of our partner (click on BOOK)
Can the ride be done with a child in a stroller? Yes, without worry. It's an excursion in the street. We can take baby
And in a wheelchair? There are stairs on the course. In this case it is necessary to inform the organizers before the visit
Are adults disguised? No, costumes are only for children. But nothing prevents you from doing the same if the heart tells you
Can children keep the costumes at the end of the visit? Unfortunately no, it will be necessary to return them to the guide at the end of the visit!
---
Nice guided tours in Paris
To do in the Latin Quarter...