- NEW -
An immersive journey where reality becomes illusion!
WE LOVEThe offbeat family experiences - Your photos are going to be a hit on Instragram!
FOR WHOM: for everyone, ideal for ages 4 and up, great for teens
WHERE Paradoxe Museum (Paris 9)eGrands Boulevards district)
OPENING DAYS : every day
HOURS 10 a.m. to 10 p.m.
DURATION : 1h30
FREE for children under 4 years old
TO KNOW last entry 2 hours before closing time
TO KNOW : there's a store and a café on site
A trail of 90 interactive experiences where reality is completely turned upside down. Children love to experience these unexpected worlds where ... everything you see in real life could be fake! Be careful, your brain will play tricks on you! A 100% Instagrammable activity. Your photos will be astounding!
🛍️ Save when you buy 2 attractions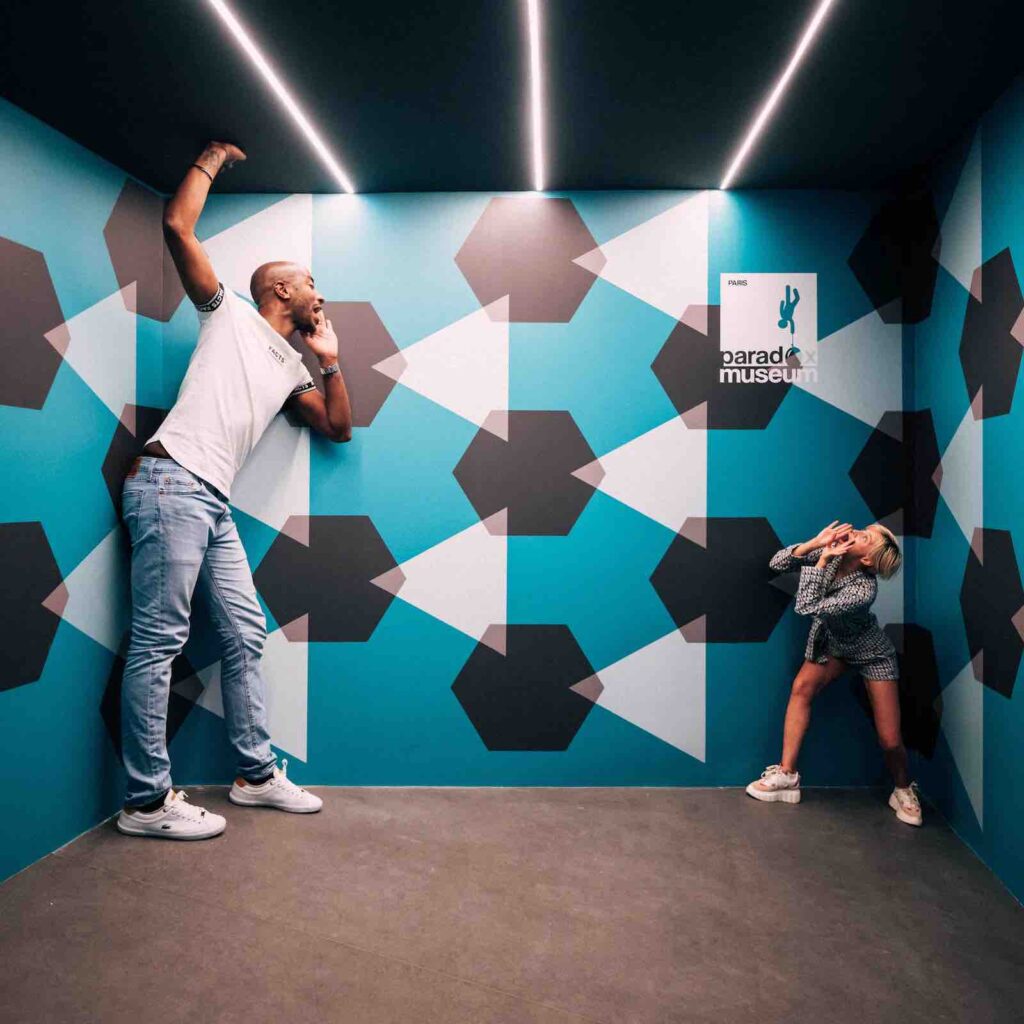 A world where everything is upside down!
Paradox Museum, 1700m2 installation and 90 illusion experiences that will blow your mind
With family or friends, you'll love it. The idea is to put ourselves in a situation and with a smartphone is even more fun. The photos are amazing
Come and discover a world where bodies are severed, where a piano answers your questions, where by magic (illusion) you become invisible, where children become adults and parents become children...
It's the 5the Museum Paradox in the world after Stockholm, Oslo, Barcelona, Miami and Limassol in Cyprus! And ahead of this runaway successA dozen more openings are planned this year, including in London, Berlin and Chicago!
The Museum Paradox Paris East the world's largest with 1700m2 installation on 3 levels and 90 experiments called "exhibits", including 15 are exclusive to France
The principle of this play area is based on the phenomenon of illusion and your natural ability to visualize space.
Visitors share experiences that are both engaging and fun, and enjoy highly innovative technologies using mirrors, scenery and Artificial Intelligence. Kids love!
Among the exhibits, try the "Face Blender ! Where, thanks to a process and by placing yourself face to face by aligning the faces, you end up with the nose and mouth of the person you're looking at!
Or try "Paradox piano is to find yourself in a conversation with a piano! An A.I. answers you with music...
The intricate interplay of mirrors will make you lose all sense of space! Discovering yourself in a mirror upside downwhile you have down to earth ! And disappear like the invisible man with a suit!
Paris Insolite en famille
What to do in the Grands Boulevards area?