- GUIDED TEEN TOUR OF THE LOUVRE -
From 13 years old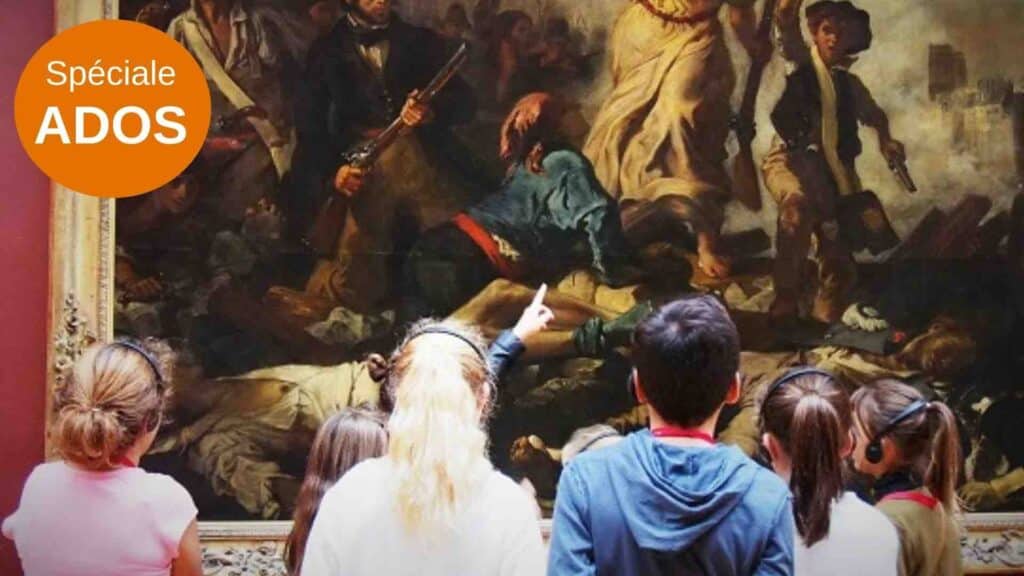 1 – WE DO NOT ACCEPT LONE CHILDREN (unaccompanied by an adult).
2 - YOU MUST BOOK A TICKET FOR EVERY PARTICIPANT (children and accompanying adults).
Date in red the session is sold out
Date in green : Places are still available 🙂 Please note that if you are unable to select the desired number of tickets on the same order, there are not enough seats available overall -> choose another session.
The "Louvre masterpieces explained to teenagers" tour
A a wonderful visit that allows teens to discover and understand the essential works of the Louvre Museum
Art history explained to teenagers thanks to a journey among the most famous works of the Louvre Museum
In 1h30This guided tour allows you to discover the masterpieces of the Louvre, from antiquity to the 19th century
During this guided tour, teens will see the most important works in the Louvre. In particular the Victory of Samothrace, the Venus de Milo, The Mona Lisa, Liberty guiding the people, the coronation of Napoleon...
An exciting visit during which they not only discover the works but also learn to identify its historical elements in a tables, to co understand the message that the painter wanted to convey (or the sponsor of the painting) and they practice use their analytical skills
An exciting visit at the pace of teenagers If they feel like discovering a work that was not on the program, no problem... the lecturers know the Louvre like the back of their hand...
This tour is available as a group or private visit.
Rates and information for scheduled visits
20 to 22 participants maximum per visit
duration : 1h30
Meeting place : Richelieu passage under the arcades outside (do not enter the museum)
This visit is animated by guide-lecturers
An adult seat is necessarily associated with a child seat.
Visit in French
Privatization
Who is it for? : school, extra-curricular, birthday, family privatization...
Rate From 250 euros per visit
Increase of 20% on Sundays and holidays
Number 25 people max (adults and/or children)
Visit in French or English
For schoolchildren: from the first grade / primary school
Find the list of our reviews
- Very interesting. But a little fast
Written by nathalie edery, 25-10-2023
It was very interesting. The kids really enjoyed it. It wasn't a foregone conclusion. We finished 15 minutes early. It's a shame we didn't get to see an extra work.
Family visits in museums
Unusual outdoor family visits
What to do in the Louvre district?