- GUIDED TOUR FOR YOUNG PEOPLE -
Starting from 7 years old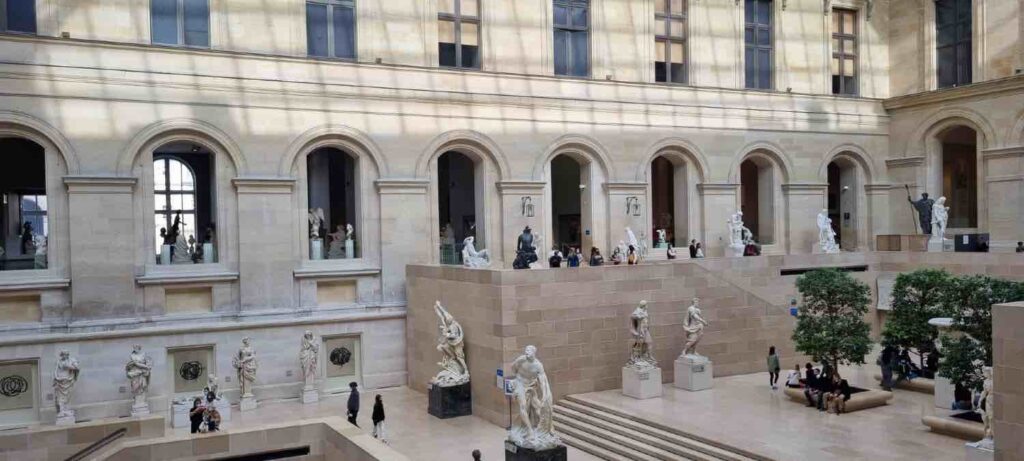 1 – WE DO NOT ACCEPT LONE CHILDREN (unaccompanied by an adult).
2 - YOU MUST BOOK A TICKET FOR EVERY PARTICIPANT (children and accompanying adults).
Date in red the session is sold out
Date in green : Places are still available 🙂 Please note that if you are unable to select the desired number of tickets on the same order, there are not enough seats available overall -> choose another session.
The "Louvre Masterpieces Explained to Children" tour
A wonderful visit that allows children to discover and understand the essential works of the Louvre Museum
Art history explained to children thanks to a journey among the most famous works of the Louvre Museum
In 1h30, this family tour allows you to discover the masterpieces of the Louvre, from antiquity to the 19th century
During this guided tour, children will see the Victory of Samothrace, the Venus de Milo, The Mona Lisathe Liberty guiding the people, the coronation of Napoleon...
An exciting visit during which the children not only discover the works but also learn to identify the historical elements in a painting, to understand the message that the painter (or the person who commissioned the painting) wanted to convey and they practice using their analytical skills
This visit is programmed as a group visit and as a private visit
Rates and information for scheduled visits
20 to 22 participants maximum per visit
duration : 1h30
Meeting place : Richelieu passage under the arcades outside (do not enter the museum)
This visit is animated by guide-lecturers
An adult seat is necessarily associated with a child seat.
Visit in French
Privatization
Who is it for? : school, extra-curricular, birthday, family privatization...
Rate From 250 euros per visit
Increase of 20% on Sundays and holidays
Number 25 people max (adults and/or children)
Visit in French or English
For schoolchildren: from the first grade / primary school
Find the list of our reviews
– Palpitant
Écrit par Isa , le 28-11-2023
Notre guide Sonia a réussi à maintenir l'intérêt des enfants (et des parents) pendant 1h30, en donnant des informations très simples, accessibles aux plus jeunes et d'autres plus détaillées, avec des anecdotes vraiment palpitantes. Je regrette la partie explicative sur la statue de l'Hermaphrodite avec des commentaires sur le genre, ce n'est pas le lieu pour cela, les enfants sont trop jeunes et d'ailleurs ils n'ont pas accroché.
- A child-friendly approach focusing on a few major works from the Louvre. Fun and accessible to children.
Written by JBS, 21-11-2023
Offer as described
- Very satisfied
Written by Françoise BESNIER, 21-11-2023
I appreciated Marine's commitment to the children, her ability to listen, her pedagogy in bringing the visit to life, and her knowledge.
- Great guide!
Written by Ne De Domecy , on 14-11-2023
Very good guide, patient and friendly with the children. She kept them interested and involved. I recommend her!
- Great
Written by Julie B., on 07-11-2023
Thanks to our guide Pauline. Children and parents loved discovering and rediscovering the Louvre by night. A must-do.
- Awesome!
Written by Alice Jakool, 06-11-2023
We had a great time with our guide. The children were captivated throughout. She was very educational, patient and clear in what she said. Even the parents learned a few things! I highly recommend using her services and we appreciated +++ the private entrance to enter the Louvre without having to queue and the free pass for children in front of the barrier to appreciate the Mona Lisa up close.
- To do!
Written by MOUSSOUNI , 31-10-2023
The explanations were clear and fascinating. The kids (and parents) loved it!
- Educational and fun
Written by Aurelia DIENG, 31-10-2023
Good setting: geographical, historical and artistic. Rich, easy-to-understand explanations
- Very informative
Written by Christian Prugnit, 30-10-2023
The visit to the Louvre was particularly interesting for the whole family. Pauline, our guide, captured everyone's attention, helping us to discover and retain the elements of several works, and making us forget the crowds. The visit was very child-friendly. We'll be sure to choose other themes for our next visits.
- Great!
Written by Hélène DESPRETZ, on 29-10-2023
Incredible visit and discovery of the Louvre's masterpieces with Pauline! The kids and I were so captivated that it went by too quickly! The stories were captivating, the explanations complete but simple, and we felt like following Pauline for hours! I recommend 300% for young and old!
- Very good
Written by Nathalie SBIRRAZZUOLI, 28-10-2023
I found this tour very interesting. Our guide Astrid was top notch, friendly, poised and very educational. Thank you
- A rich experience for children and their parents
Written by sandrine morin, 28-10-2023
Do it again!
- Extremely interesting visit with a passionate tour guide
Written by chantal Tostin, 28-10-2023
I have recommended to friends
- Very good
Written by Fanny COURTESOLLE, 27-10-2023
Very noisy space Pleasant guide for all children.
- A great experience
Written by Julie RUHL, on 27-10-2023
I highly recommend the guided tour for families. Astrid the guide adapted the explanations to the children's ages. She used guessing games to make the visit more interactive with us. The works we saw were varied. At the start of the tour, Astrid asked us what we wanted to see. This enabled her to tailor the tour to our requests. The organization of the visit (ticket office, short queue entrance, audiophone, etc.) was also a plus for us as tourists.
- Suitable for my age and very interesting
Written by Hila SHARON, on 27-10-2023
Yes
- The best way to approach the LOUVRE
Written by Jacques VILLARD, on 27-10-2023
Friendly welcome, quality equipment, we were able to follow the explanations without embarrassment despite the noise of the crowd. A great way to discover this great museum. Clear explanations, amusing anecdotes, our 10-year-old daughter loved remembering all the difficult words! This visit was a major part of our stay in Paris. Many thanks.
- Very nice tour, interesting and well suited to children.
Written by IRMA PISCINA, 24-10-2023
We had no problem booking tickets, welcoming the group or running the tour. A very enjoyable and enriching experience.
- A very successful Experience!
Written by Bénédicte de Normandie , 24-10-2023
All of us, children and adults alike, were delighted with our guided tour of the Louvre's masterpieces explained to children. We enjoyed everything, from the organization (simple, clear and efficient) to the visit, thanks to our guide Cyril, who helped us discover or rediscover these masterpieces with anecdotes, challenges, humor, a tiny pinch of firmness and a lot of kindness to make this visit go as smoothly as possible. Many thanks to Cyril and familin'Paris for this wonderful cultural experience.
- Very satisfactory
Written by Xavier Vandame, 24-10-2023
I highly recommend this discovery of works of art, made accessible thanks to the enthusiasm of our guide, Pauline.
- A very nice visit
Written by Diana, 23-10-2023
We really enjoyed this guided tour, which is designed for children and adults alike. The guide is very interesting, tells us the stories behind the works and even organizes a little game.
- Very good family time
Written by Eva Sauli , 23-10-2023
Very good visit with a fascinating and captivating guide for young and old alike. I would recommend it without hesitation.
- Best guided tour of the Louvre Museum
Written by Caroline Tran-Van, 23-10-2023
The plusses: punctuality, clear information on safety and the organization of the visit, the quality of the information provided, the pedagogy and the quality of our interactions with the guide (Cyril), we went a little over schedule. The minuses: very low, so of course I'd advise all parents or grandparents who want to show off the Louvre to book a visit with Ludo &Sophie.
- Great to do!
Written by Vincent DENIZART, 23-10-2023
Very enjoyable visit for children and parents alike! Cyril made the visit fascinating! We recommend
- BRAVOOOOOO
Written by Alexandra BOHUON, 23-10-2023
An excellent morning. The guide's speech was perfectly adapted. The group was a good size. A huge bravo for Cyri.l and the organization of this rich moment. I highly recommend it.
- A fabulous experience
Written by Graziella LAMARRE, 22-10-2023
My children, aged 14 and 11, and I had a fantastic time! Pauline, our guide, had a lot to do with it: she was smiling, patient, passionate and able to share her knowledge.
- Very nice experience!
Written by Isabelle Sichanh, 21-10-2023
For their 1st visit to the Musée du Louvre, my 8 and 11 year old daughters loved it. Pauline captured their attention with fabulous stories and anecdotes linked to the masterpieces we visited. We had a fantastic afternoon that made us want to come back again to admire and discover other magnificent works.
- Beautiful
Written by Indeza Dzhogleva, 20-10-2023
Excellent visit. Our 10 and 11 year old daughters loved it. It's practical and fun in 1h30. Perfect.
- Friendly, captivating guide
Written by Marianne RAMIARAMANANA, 18-10-2023
Very friendly guide, who knows how to talk to children and keep them interested. Highly recommend.
- SUPER EXPERIENCE AND SUPER SPEAKER!
Written by Chloé HARDON, 11-10-2023
A very pleasant and instructive experience for young and old alike.
- Good
Written by anne libault, 10-10-2023
very pleasant tour guide, good for children. The only problem was the meeting point when the museum staff got overzealous and told us to go somewhere else.
- Great experience, the kids loved it!
Written by Camille Z, 03-10-2023
It was a great experience, we had the tour guide just for us, she knew how to captivate the children (which is not easy with mine...), and find ways to present the works in a fun way. For a first experience at the Louvre, it was a success and even made us want to discover new routes. I highly recommend it 🙂
- to discover
Written by Anne MASSAUX, 02-10-2023
Well organized, very precise and a very professional guide, clear and pleasant to follow. The beginning of the tour, on the primitive foundations of the Louvre, was less exciting for children, it seems to me. An essential introduction, no doubt, but a shorter one wouldn't be a bad thing. My grandson, aged 11, didn't think the tour was well suited to children younger than 7/9, whereas he understood the guide very well, asked her (too many) questions and still wanted to know more. However, bravo to the guide who was a great listener and answered questions at a child's level. A great experience, and one that will make you want to explore the Louvre even more.
- informative, child-friendly and fast
Written by Severine LEBRUN, 28-09-2023
I enjoyed the guided tour because the guide interacted with the children, asking them questions. The fact that we had audioguides meant we could hear her clearly. However, I found the tour short and we couldn't get into the room where the raft of the jellyfish was housed because it was closed - too bad for us!
- Beautiful
Written by Moussa SYLLA, 28-09-2023
Service to be recommended
- A success and a good family memory
Written by Sebastien HUGELSébastien Hugel, 28-09-2023
Very fun and suitable for children (duration, route). Great to have easy entry to the museum and be guided through the hits!
- VERY GOOD!
Written by Delphine MERCIECA, on 25-09-2023
Great activity and, above all, an excellent, fascinating speaker! Thank you Pauline, for our children but also for us parents, you managed to capture the attention of the whole group. Do it again!
- Very nice outing
Written by MARILYN MAURELLI LUDMANN, 20-09-2023
We at 100% recommend this great outing with the kids. The guide is great, the place is magical... in fact, we just want to do it again!
- Very nice performance
Written by Audrey MAZOU, 19-09-2023
The visit was very well organized and our guide managed to interest my daughters in the works we saw. The tour was very well organized and flowed smoothly. I recommend our guide, whose passion succeeded in conveying emotion and interest to my children.
- A very interesting tour for children!
Written by Noémie, 13-09-2023
Very interesting visit for the whole family, the guide kept our children (and adults) captivated! The only downside was the location of the RV at the start. I was a bit worried about missing the tour, since the Passage Richelieu is rather long, with lots of traffic! I asked passing families and other guides... and finally found people who were doing the same tour; they received a text describing the guide! I never got that text (maybe because we don't live in France, so we don't have a French number? Maybe because I didn't book directly with Sophie and Ludo). Maybe the guides should have a sign with them indicating their tour/company? Otherwise, it was a great tour!
Reply from FamilinParis
Written by the Familin'Paris team
Hello, madam, We're very sorry about this. You should have received a text message with the guide's phone number. The guides do have a distinctive sign so that you can find them easily.
- Disappointing
Written by Florence BAROS, on 12-09-2023
Unsatisfactory value for money Program changed 48 hours in advance... difficulty obtaining new tickets for the Louvre.
- Excellent performance!
Written by Evelyne BaILLON, 05-09-2023
The hostess was very pleasant and approachable. My granddaughter was able to talk to her. The explanations were very clear. I highly recommend this activity!
- the guide
Written by marisol LUVET, 01-09-2023
The guide was perfect. very attentive to the needs of both adults and children. lots of interaction with the children. She was very knowledgeable about her subject. It was a great experience and I'd recommend it a thousand times over. thank you
- Disappointed we heard nothing
Written by Magali Paulet, 01-09-2023
No microphone or headphones to listen to the speaker. Very difficult to follow with all the noise. Would not recommend
- Fun guaranteed
Written by Elise GUET, 30-08-2023
The guide is very friendly and very good with children. Her explanations are very playful. It was a very good first experience at the Louvre for my daughters and it made them want to come back. We all had a great time. We all had a great time. We'd like to do the same kind of tour at Versailles, do you plan to do this soon?
- A child-friendly guide
Written by Thierry MASURE, on 29-08-2023
The guide was very cheerful. The commentary was child-friendly. We saw 11 famous works from the Louvre.
- My Grandson was delighted!
Written by Sophie FABRIS, 24-08-2023
Perfect guide (Marine?) despite forgetting the helmets. She took responsibility for this malfunction, which was not her fault. No worries about booking. I recommend this activity and will do it again for my grandson's next visit, if the masterpieces presented are different, of course. Thank you
- A visit to the Louvre with a 7-year-old girl
Written by Annick Maury, 19-08-2023
A great experience, with a very child-friendly guide who raises awareness of the importance of art and discovering works of art.
- It's a pity that a technical incident prevented us from listening properly.
Written by Christelle Aquin, 15-08-2023
We had a great guide, but unfortunately the operator had forgotten his microphone and our headsets, so visiting the Louvre in these conditions was a real feat! The guide wasn't helped by the people present that day, but it's a shame that no solution could be found for her, given the number of audio guides available to the public. After the navy, our guide was super passionate and very gentle with the children.
- Nice visit!
Written by Tania, 31-07-2023
A very pleasant visit, thanks to Marine, who was happy to answer even the most difficult questions 😉 Possible improvement: have a high visual cue to quickly see where Marine is in the crowd.
- It was a very pleasant and instructive walk, my grandson loved it.
Written by francine Letellier, 30-07-2023
What I didn't like was not Marine, who taught us a lot, but the Louvre, which didn't allow us to get close to the Mona Lisa, the staff having ordered us to leave the room when we hadn't even been able to face the painting; I think that's scandalous; As for the rest, we were able to appreciate the works chosen by Marine and some of her favorites. It's an activity I'll certainly be doing again when my next grandson is 7. Thank you for this initiative
–
Written by Anne Wurtz, on 25-07-2023
This guided tour was of the highest quality Not only was the guide very, very pleasant, she was also extremely professional throughout the visit. The children really enjoyed it I highly recommend LUDO&SOPHIE and encourage them to continue. Thank you and bravo
- Really good!
Written by Nicolas KASANIN, 24-07-2023
Well suited to children. The Guide was professional and educational. My two little girls (7 and 12) were delighted and interested. Only downside: price a little high for the adult ticket.
- Excellent, recommended to 100%
Written by Hélène Blanchot, 24-07-2023
Concept, duration, format: absolutely perfect for young (and not so young) audiences. A highly educational speaker who knows how to interest children. Only difficulty: the meeting place, as the Passage Richelieu is nowhere to be found. Fortunately, the speaker had indicated her cell phone number in a text message and ......on was back to back!
- Excellent.
Written by Jessica Hovnanian , 07-23-2023
Perfect for the whole family! Very kind and knowledgeable speaker.
- Disappointed
Written by Patricia Mercurio, 15-07-2023
I couldn't find the people responsible. I'm 100% sure I was in the right place. I got there 25 minutes early and stayed 30 minutes later and nothing!
- Ieezitte
Written by Lauredzrseence SZEROKOSC, 13-07-2023
No response to my emails. I could not go to this activity k asked to change my reservation and no answer. ....
- Thank you very much.
Written by Julie de La Cotardière de La Cotardière, 06-07-2023
All right!
- Heat and stress
Written by Daniel RUMEAU, 30-06-2023
Bad experience: the guide didn't give us any instructions on how to regroup after the bags had been secured. As a result, we didn't know where she had gone, so we searched EVERYWHERE under the pyramid, but came up empty. She did her tour without a name, didn't even call us, nothing. Not satisfied.
Reply from FamilinParis
Written by the Familin'Paris team
Hello Sir, We are very sorry for your bad experience. We will contact our partner and get back to you as soon as possible. Kind regards
- Our untraceable guide to safety
Written by VALERIE A., on 30-06-2023
Meeting point with the guide at the indicated place and time for around twenty people, including children of course. No distinctive signs such as caps, badges or name stickers were provided. After passing through the security checkpoint (barely a "follow me, let's go"), she passed in front, waiting for no one, and after descending the escalators to the bottom of the pyramid, it was impossible to find our guide. She disappeared with part of the group. Me and another part of the group were looking for stress and heat... phone unreachable. Several messages left in vain. Ad hoc solution: join the next group for an unrelated visit. But we'd come a long way for the Louvre, so we did it anyway. When I think back on it, they really don't care about their customers.
Reply from FamilinParis
Written by the Familin'Paris team
Dear Madam Your guide was present at your appointment with an orange shopping bag as indicated on your tickets. You're entering the Louvre with a group, so it's normal to be careful not to lose your guide... Unreachable by phone? We've talked on the phone and done everything we can to help you reach your guide. We offered you the chance to join another group (so we had to buy tickets to the Louvre for you) so that you could join another tour and not lose everything. We don't understand your harsh assessment when our hotline responded to you and found an alternative solution to make your visit a success. Kind regards
- Súper way for children to enjoy artworks
Written by Nikolina N, 23-06-2023
I recommend 100% and many thanks to Nathalie.
- Very interesting guide
Written by Caroline, 21-06-2023
The children were captivated by the guide. The choice of May was probably not a good idea, as the museum was packed. If I had to do it all over again, I'd go in November.
- We'll be back
Written by JEANNINE HEC, 16-06-2023
It was our first time. We'll definitely be back, as the service was of excellent quality and our grandson was given some wonderful historical and artistic references. Thanks to Emilie for her work and her warm welcome.
- Perfect
Written by Anne-Sophie Lampert, 13-06-2023
The guide was very interesting, and the kids really took to his explanations. I recommend it without hesitation! It's a pity we have to wait for latecomers when we take a group tour...
- Great visit!
Written by Marion, 12-06-2023
A friendly guide who knew how to captivate the children, who were all lip-synchronized throughout the visit. A good time for a first visit to the Louvre with children.
- great
Written by Maud Mertens, 12-06-2023
yes, to be recommended
- I recommend it!
Written by Yann Yhuel , 12-06-2023
It was very child-friendly, and an excellent introduction to the richness of the museum. What's more, it was all done in good spirits.
- Ideal for a short discovery tour
Written by Timothy Hirter, 05-06-2023
Very nice tour and good explanation from the guide, who was well-suited to children. Only downside...the meeting place is not well indicated!
- Great guide!
Written by lucille , 05-06-2023
Bravo to the guide for the tour. Smiling, full of anecdotes, knowledge and patience, it's a real pleasure and game for children and adults alike! With pragmatism and derision, he manages the vagaries of the group, the delays, the problems, the rigidity of the Louvres staff, the hordes of tourists. Thank you, Cyril!
- To do!
Written by AC, 31-05-2023
Very nice initiation for the children Relevant comments (even for parents), well-run organization. Top We recommend it.
- My niece loved it!
Written by LAURENCE GAUBERT, on 28-05-2023
The only downside: the meeting point was not sufficiently explicit, we had trouble finding our guide - it would have been nice to send us a phone number to reach her ... thank you.
- Not for teenagers
Written by GERALDINE Létangletanf , on 25-05-2023
What I didn't like: the headphones were of poor quality, so we couldn't hear much of what the speaker was saying. The speaker didn't address my two teenagers at all and concentrated on the children.
- Interesting visit
Written by Sandrine PORTE, on 22-05-2023
Very interesting visit, explanations of the guide rich, simple, quite within the reach of children. The guide was ready to answer all the questions. A small drawback, my 8 year old son had a little trouble following the explanations in the audiophone only. He really had to be next to the guide and see her speak to understand everything.
- Very good experience
Written by Stéphanie Ramboasolo , on 22-05-2023
The children really enjoyed it (6, 10 and 12 years old). What we liked: the anecdotes and stories of the guide around each work (mythology, historical framework of each work, etc.) +the choice of works What we didn't like: the phase of gathering the families at the beginning which proved to be quite long (problem of identification of the passage richelieu for some) As well as the monopolization of the guide by only one child of the group. Point of vigilance on the attention paid to the whole public. To be recommended.
- Louvre
Written by Senad Zulcic , on 22-05-2023
You can't hear the microphone very well and the person is a bit too fast
- GREAT!!!
Written by SOPHIE SIALELLI, 16-05-2023
Perfect
- Great experience
Written by Cannelle BARRIER, on 27-04-2023
This visit is great to start the Louvre with the kids. The tour is efficient and exciting, not too long, not too short. The guide mixes the level of information to capture the attention of different ages of children and even adults.
Family visits in Paris