For children from 8 years old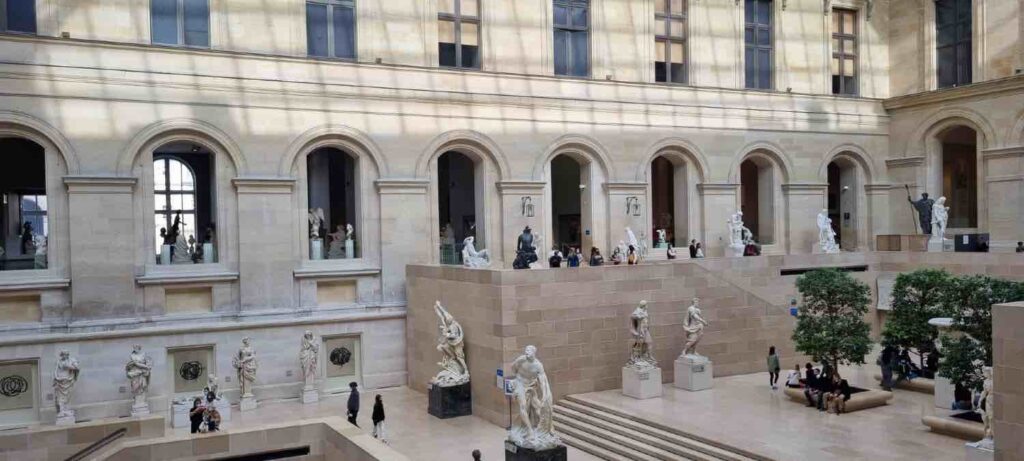 The "Louvre Masterpieces Explained to Children" tour
A wonderful visit that allows children to discover and understand the essential works of the Louvre Museum
Art history explained to children thanks to a journey among the most famous works of the Louvre Museum
In 1h30, this family tour allows you to discover the masterpieces of the Louvre, from antiquity to the 19th century
During this guided tour, children will see the Victory of Samothrace, the Venus de Milo, The Mona Lisathe Liberty guiding the people, the coronation of Napoleon...
An exciting visit during which the children not only discover the works but also learn to identify the historical elements in a painting, to understand the message that the painter (or the person who commissioned the painting) wanted to convey and they practice using their analytical skills
This visit is programmed as a group visit and as a private visit
Rates and information for scheduled visits
20 to 22 participants maximum per visit
duration : 1h30
Meeting place : Richelieu passage under the arcades outside (do not enter the museum)
This visit is animated by guide-lecturers
An adult seat is necessarily associated with a child seat.
Visit in French
Privatization
Who is it for? : school, extra-curricular, birthday, family privatization...
Rate From 250 euros per visit
Increase of 20% on Sundays and holidays
Number 25 people max (adults and/or children)
Visit in French or English
For schoolchildren: from the first grade / primary school
Find the list of our reviews
- Ideal for a short discovery tour
Written by Timothy Hirter, 05-06-2023
Very nice tour and good explanation from the guide, who was well-suited to children. Only downside...the meeting place is not well indicated!
- Great guide!
Written by lucille , 05-06-2023
Bravo to the guide for the tour. Smiling, full of anecdotes, knowledge and patience, it's a real pleasure and game for children and adults alike! With pragmatism and derision, he manages the vagaries of the group, the delays, the problems, the rigidity of the Louvres staff, the hordes of tourists. Thank you, Cyril!
- To do!
Written by AC, 31-05-2023
Very nice initiation for the children Relevant comments (even for parents), well-run organization. Top We recommend it.
- My niece loved it!
Written by LAURENCE GAUBERT, on 28-05-2023
The only downside: the meeting point was not sufficiently explicit, we had trouble finding our guide - it would have been nice to send us a phone number to reach her ... thank you.
- Not for teenagers
Written by GERALDINE Létangletanf , on 25-05-2023
What I didn't like: the headphones were of poor quality, so we couldn't hear much of what the speaker was saying. The speaker didn't address my two teenagers at all and concentrated on the children.
- Interesting visit
Written by Sandrine PORTE, on 22-05-2023
Very interesting visit, explanations of the guide rich, simple, quite within the reach of children. The guide was ready to answer all the questions. A small drawback, my 8 year old son had a little trouble following the explanations in the audiophone only. He really had to be next to the guide and see her speak to understand everything.
- Very good experience
Written by Stéphanie Ramboasolo , on 22-05-2023
The children really enjoyed it (6, 10 and 12 years old). What we liked: the anecdotes and stories of the guide around each work (mythology, historical framework of each work, etc.) +the choice of works What we didn't like: the phase of gathering the families at the beginning which proved to be quite long (problem of identification of the passage richelieu for some) As well as the monopolization of the guide by only one child of the group. Point of vigilance on the attention paid to the whole public. To be recommended.
- Louvre
Written by Senad Zulcic , on 22-05-2023
You can't hear the microphone very well and the person is a bit too fast
- GREAT!!!
Written by SOPHIE SIALELLI, 16-05-2023
Perfect
- Great experience
Written by Cannelle BARRIER, on 27-04-2023
This visit is great to start the Louvre with the kids. The tour is efficient and exciting, not too long, not too short. The guide mixes the level of information to capture the attention of different ages of children and even adults.
Family visits in Paris