Theater
From 5 years
Until December 30, 2023 Then resumption in February 2024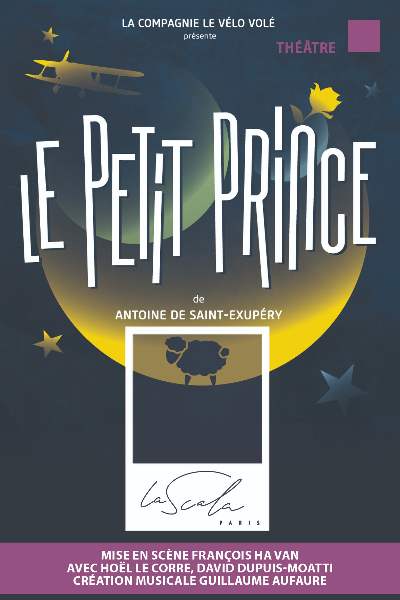 WE LOVE a stunning adaptation of Antoine de Saint Exupéry's magical text
AGE for all, from 5 years old
DATES : until December 30, 2023 - Then resumption in February
HOURS at 11 a.m. - some dates at 2 p.m.
PRICES from 22€ to 36€
DURATION : 1h05
PLACELa Scala (Paris 10e)
---
The little Prince
Antoine de Saint-Exupéry's masterpiece for your children to discover
"The Little Prince is a children's book written for grown-ups," said Antoine de Saint Exupéry.
It is a philosophical fablean ode to life where snakes, roses and foxes talk, where anything is possible
A little background A plane breaks down in the Sahara. The aviator, a thousand miles from any inhabited place, meets a child from the stars...
This child, the Little Prince, tells the aviator where he comes from, and gives his interpretation of the essential things in life: friendship, love, encounters, loss, the preciousness of human relationships...
There's something for all ages in this show where 2 actors deliver a tender and invigorating adaptation, very faithful to Antoine de Saint Exupéry's masterpiece.
---
The Little Prince: what the press has to say :
Théâtrorama : "Captivated from beginning to end. Such beauty leaves no one indifferent."
The Muse: "Magical and moving. A beautiful adaptation, faithful to Saint Exupéry's text from beginning to end."
Une Plume Vous Parle : "Children and grown-ups alike will be touched to the core... A breathtaking scenography."
Reg'arts : "The staging is mischievously rhythmic." "
La Provence: Hoël Le Corre's bluffing performance is outstanding, as he rises to the challenge of perfectly embodying the Little Prince. We're spellbound. We recommend it a thousand times over.
Vaucluse Matin : "A very accomplished show.
Find the list of our reviews
- Very good
Written by Beatrice Kowalski, 30-10-2023
Tres belle pièce bin interprétée Restau tres bien .. frais et treq bon rapport qualite/peix
Children's theater in Paris