L'Expo photos à hauteur d'enfant pour les 5-12 ans
WE love : une expo photos conçue pour les enfants
Age: for 5 - 12 years old
DATE: jusqu'au 26 juillet 2020
Location: CentQuatre (Paris 19th)
Rate : FREE
Little Circulation, l'expo photos pour les enfants
Chaque année, à l'occasion du festival de photos "Circulation" au CentQuatre, les enfants ont droit à leur propre exposition : "Little Circulation".
Little Circulation(s) présente les mêmes séries que dans l?exposition principale mais avec une scénographie sur panneau adaptée au jeune public.
La visite de l'exposition est rendue ludique et créative grâce aux jeux proposés autour des oeuvres exposées : jeu de mémoire, jeu des 7 différences, jeu de la pièce manquante, jeu qui les transformera en scénographe en herbe?
A game book est enfin mis à la disposition des enfants avec des questions et des énigmes à résoudre sur place ou à la maison.
La ciné-cabane ? pour découvrir le travail vidéo des photographes et stimuler la sensibilité et l?éveil artistique.
The playground ? la photographie devient un véritable terrain de jeu et d?expérimentation. Les nouvelles activités de little CIRCULATION(S) placent les enfants et les parents au coeur de la création : Puzzle géant, photographies à colorier, jeux de construction et de mémoire etc.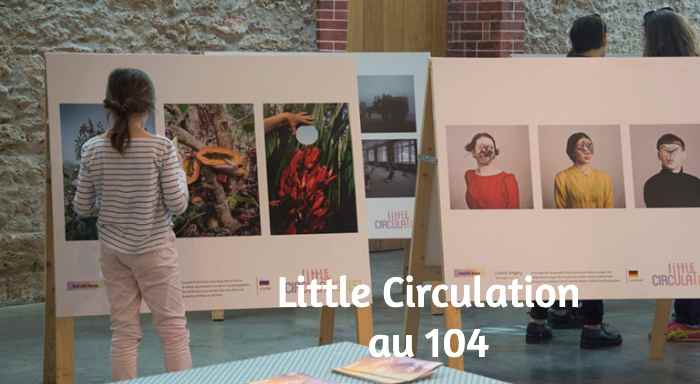 The Photo Studio Circulation (s)
Tous les week-ends, pendant la durée du festival Circulation(s) (saur le week-end du 11 et 12 mai), vous pouvez to be photographed with family or friends by a professional photographer.
Every weekend, un studio photo éphémère permettra de renouer avec la pure tradition des studios photos du début du XXème siècle.
You leave with un tirage signé et unique.
Chaque week-end, un photographe différent et un univers différent.
Ainsi, vous pouvez choisir de vous faire tirer le portrait dans un joli noir et blanc ou dans une composition proche des portraits de famille traditionnels du début du XXe siècle, ou vous pouvez choisir de vous faire photographier par de véritables artistes avec des propositions décalées.
Tarif : 59?, 1 tirage inclus.