One of Shakespeare's greatest romantic comedies
A love triangle
WE LOVE family-friendly Shakespeare, a joyful, musical classical comedy (with live musicians)!
AGE : From the age of 8
DATE :

until August 27, 2023
DURATION: 1h10
HOURS: 6:30 p.m. Wednesday to Saturday - 3 p.m. Sunday
LOCATION: at the Lucernaire theater (Paris 6e)
PLUS : meeting with the artistic team on Friday, June 23, 2023 after the show
Shakespeare's "Twelfth Night": a modern staging, a laugh-out-loud play
It's a baroque work, where all genres mingle, at once reverie, drama and comedy. A Shakespeare masterpiece!
The story takes place in Italy, in a city where Duke Orsino, who is in love with Oliviaa beautiful and wealthy countess who rejects his advances...
A storm causes a ship to sink, Viola and Sébastientwins, are safe and sound. But they are stranded at two different places on the coast, while ignoring the fate of the other
ViolaShe thought she was alone and without her brother's protection, disguises himself as a man under the name of Césario and enters the court in the service of Duke Orsino as his servant
The Duke entrusts Césario (Viola in male drag) with the task of of his love, Olivia, the woman he covets but ... everything goes wrong ... the passions intersect and genres mingle ...
Shakespeare's play challenges relationships between men and women, and questions identity and gender ...
Benoît Facerias' staging of "La Nuit des rois" gives way to imagination of the spectator, to daydreaming but also to the laugh and song
This is a very accessible show (from age 8), a comedy that will appeal to all audiences, including the very young.
The press speaks about it...
OUEST FRANCE– It's funny, fast-paced, deep and fine!
THE DÉFISHING – Shakespeare dusted off.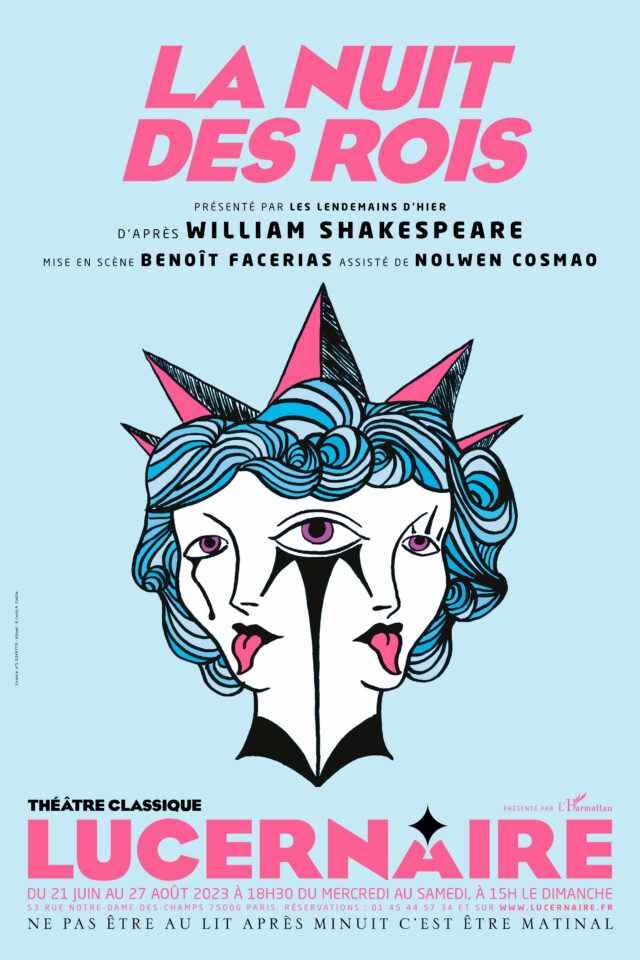 Find the list of our reviews
- good 5-star room
Written by Odette Guenault, 28-08-2023
My granddaughters, aged 12, 10 1/2 and soon to be 9, really enjoyed the show, because at that age they understood the whole thing, but perhaps didn't grasp all the subtleties. The younger ones laughed thanks to the good staging. I doubt that these youngsters understood Shakespeare's theme unless parents explained all of Shakespeare's messages to them. Not recommended for children under 9.
- Excellent show
Written by Hg, 26-08-2023
Magical moment thanks to the actors and integral staging! A bawdy song not really in the text... nor for families!?
- A show full of humour and twists and turns!
Written by Celine , 01-08-2023
A funny, fast-paced show, with excellent, inventive actors and a great way for children to immerse themselves in Shakespeare's world.
- Impeccable!
Written by Florence ARNOLD-RICHEZ, 22-07-2023
Everything was perfect!