WE love : Highly effective entertainment
Age : from 12 years
DATE: Until April 12
Location: The Palace (Paris 9th)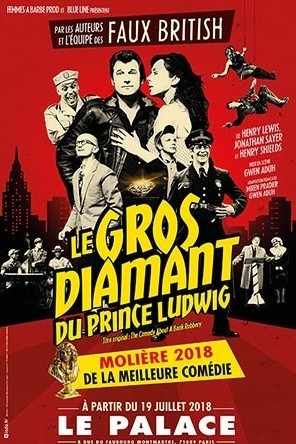 The big diamond Prince Ludwig, a very successful entertainment
The big diamond Prince Ludwig is a hilarious show, with a very effective staging. It's a very successful entertainment.
It's not very fine, but the result is there, it's a big joke, a crazy comedy. Molière of the best comedy 2018.
Eleven energetic comedians, thirty costumes and six impressive sets for a show inspired by the black movies of the 50s.
The British director

Gwen Aduh had already been awarded the Molière for Best Comedy in 2016 for the Faux British ((still playing at the Théâtre Saint-Georges).

This time, in Prince Ludwig's Big Diamond, it is about a bank robbery led by real broken arms in the America of the 50s, with some live musicians, mates not smart, jacks on the run, a pickpocket too honest ...
Everyone goes there, mobsters to the director. Who will scam who?
It's very smoothly done thanks to a staging full of finds, twists, doors slamming like at Feydeau, jokes and a panache of anthology where the plate goes from a horizontal state to a vertical position ...