Workshops and DJ sets: everyone on the dancefloor!
Free
Wednesday, September 20, 2023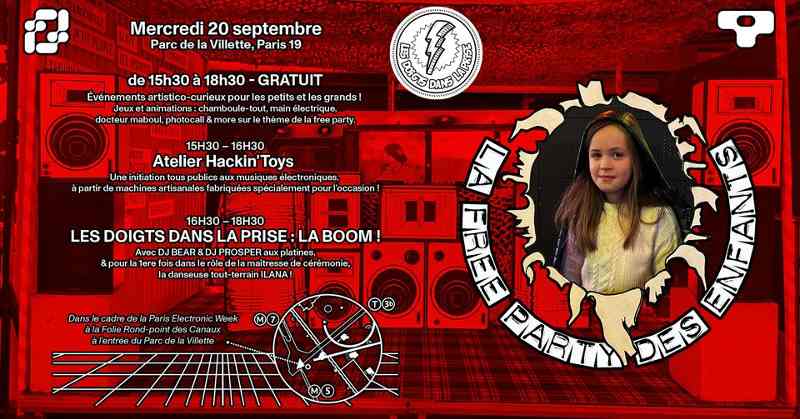 The children's FREE PARTY, an artistic and curious event
It is Aprem for young and old at Paris Electronic Week
And it's free for everyone!
WE love this event free and see young and old get their groove on!
Date Wednesday, September 20, 2023
schedule from 3:30 to 6:30 p.m.
Age : for all
Free : for all
Place : to the Parc de La Villette (Paris 19th) – at the foot of the Folie du Rond-Point des Canaux, at the entrance to the park
Before you hit the track, there's Before! with homemade games such as chamboule-tout, electric hand, mad doctor (we love it!) and a photocall with a free party theme!
But there will also be ...
3:30 - 4:30 pm HACKIN'TOYS workshop will be an opportunity for all audiences to learn about electronic music with homemade machines!
And ... off we go to have the time of our lives on the track!
4:30 - 6:30 p.m.: "Fingers in the Grip: The BOOM! - with hyper-professional guest DJs, just like for the grown-ups, who'll be mixing in a shaker: punk, rock, electro, reggaeton, pop hits. There'll even be a female dancer as mistress of ceremonies to get young and old alike moving!
Children's Free Party is :
HOUSE & DECO GAMES BY RADIKAL UTOPIA - FINGERS IN THE SOCKET
DJ BEAR & DJ PROSPER at the turntables,
and in the role of mistress of ceremonies : ILANA !
And around La Villette, there are plenty of things to do and see, such as :