WE love : It's the children who make the show.
Age: for 4 - 12 years old
Duration: Until April 18
Location: Le République (Paris 3rd)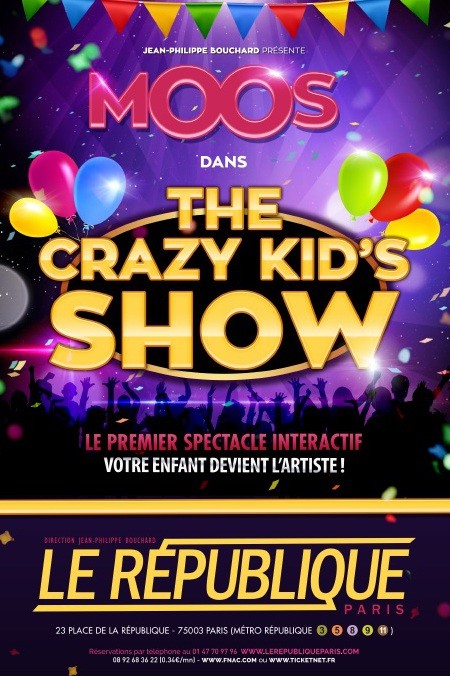 Moos the Crazy Kid's Show, the real interactive show
Moos the Crazy Kid's Show is an interactive show where children "act".
In contrast to the classic shows for "well-behaved children", it is the children who do the show. They participate, sing, dance, open up to each other through different challenges which allow to discover the team spirit.
The principle, a musical match consisting of 2 teams and their captains. The different teams will compete in several events, encouraged by the public: Crazy Quiz, dancing on the Crazy Kid?s Dance, interludes sung in karaoke, Battles dance, the Voice, Mickael Jackson contest, hip-hop dance demo?

The Crazy Kid's Show is an interactive show, which takes place at 70 % standing.

With Moos the Crazy Kid's Show, there is something for every child, whether they are 4 or 12 years old
At first, the big kids are a little scared of the little ones being in the room. But the match show has some events for the little ones and some for the big ones.
Moos pays special attention to making room for everyone.
We will appreciate the

he music is carefully selected so that children can find their favorite hits. As a result, the hits follow one another, and the little ones love it. And the parents too!
In our opinion, Moos dusts off the children's show and offers a real moment of sharing and fun in family.