The beautiful smooth pear of the prince of Motordu
WE LOVE : it is funny, intelligent and poetic
AGE : from 4 years
DATE: until May 21, 2023
DURATION: 50 minutes
RATE : from 13,50€
LOCATION: Théâtre du Lucernaire (Paris 6e)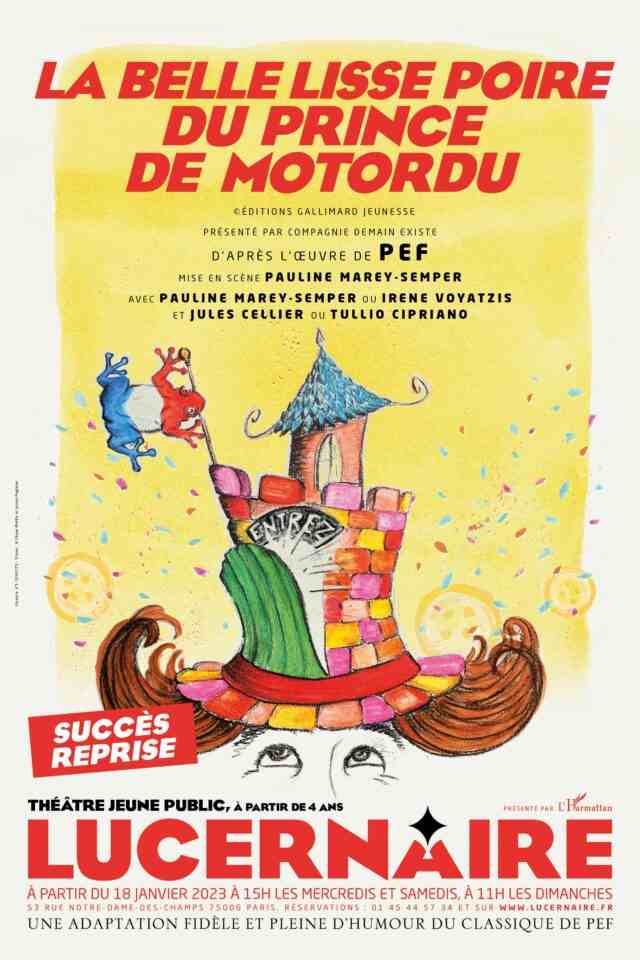 After last year's great success, this intelligent and funny play for young audiences is being revived
The Prince of Motordu leads a peaceful existence in his hat He plays pies with his cushions in the danger room, has snowball fights, leads his flock of buttons to pasture...
The beautiful smooth pear of the prince of Motordu is a play full of humor and poetry, mixing songs, jokes and word games
The company Demain Existe revisits this colorful story!
Young and old are trained to the rhythm of language pirouettes , from the magic of words which invites us to enrich ourselves together with the originality of each one.
Mischief and laughter guaranteed!
This is a delightful, faithful and humorous theatrical adaptation of Pef's classic children's book
A 50 minute show
Find the list of our reviews
- My 5 year old daughter loved it and so did I. Very good game and theme. I recommend it.
Written by ELISE CORBE, on 05-05-2023
Ras. Perfect
- Very nice show
Written by Gilbert de VAUMAS, on 01-05-2023
Very nice show for children, well-paced, and good acting. The children enjoyed it very much.
- THE BEAUTIFUL SMOOTH PEAR OF THE PRINCE OF MOTORDU
Written by PATRICIA DE PEYRELONGUE, 24-04-2023
Hello, What a pleasure it was to see The Beautiful Smooth Pear of the Prince of Motordu with our granddaughter and what a wonder. She had the book signed by Princess Dézécolle who was so amazed to see her so close. A big thank you to Familin' Paris that I did not know and thank you to the company that I strongly recommend even for adults. Thank you
- Topissime
Written by Myriam CHAUMAT, 18-04-2023
Great show, nice discovery. With a 4 year old who laughed a lot at the jokes and a 9 year old who loved the word games. The parents also had a great time. 1 hour neither too short nor too long and actors available at the end of the show, it was a very nice family moment. Thank you
- Very funny!
Written by Amélie GAUDIN, on 15-04-2023
A great play very well performed; the theater is beautiful! I highly recommend it! I just didn't quite understand why the last ones to arrive were the best placed... (1st row)?! Thanks to all otherwise!
- Superb show. Actors at the top.
Written by Nathalie MAURIN-GLASSET, on 08-04-2023
We recommend this show. The duration is perfect for children from 5 years old.
- A perfect service
Written by Nelly Serkisian , on 25-03-2023
I recommend without reservation For the quality of the show, for the meeting with the actors The kindness of Olivia who changed our reservations twice. 5/5
- Great piece.
Written by Alix La balme, on 07-03-2023
Sensitive staging and great acting
- Not to be missed!
Written by Sab M. on 06-03-2023
My 5 year old daughter loved it. I saw her laughing and having fun. Traitors will definitely love it too. The actors play very well. This will be a memorable moment in our holidays!
- Very good moment
Written by Jean-Jacques Poup, on 05-03-2023
My 4 year old daughter loved it and the book She had a good laugh I recommend it
- Great!
Written by Marie-Pierre Joachy, 03-03-2023
It was perfect. This show, the location, the book sale at the exit. My only regret, not being able to take advantage of the discount code. Not for the play, not for the Mini Louvre. Anyway. MARIE-PIERRE
Reply from FamilinParis
Written by the Familin'Paris team
Good morning, Madam, We are sorry that you were not able to benefit from our discounts. Please do not hesitate to contact us if you encounter any difficulties during the booking process.
- A beautiful moment.
Written by Martine , on 03-03-2023
A beautiful adaptation of the album with two actors full of pep. The lights and sound as well as the music were also top notch. Our grandson (4 years old) loved it and laughed a lot. We highly recommend this show.
- Nice show full of poetry...
Written by marie-laure chermezon, on 26-02-2023
Yes I recommend
- excellent
Written by Ghanim Ramdane, on 24-01-2023
the kids loved it, do it again!
- My 5 year old daughter loved it.
Written by Marie-Christine Ferran, on 21-01-2023
My little girl wants to see the show again. Very suitable for children of this age. I will go back with her friends. Very easy to book at the Lucernaire with Familin'Paris.
Featured plays for youth: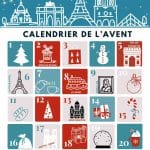 It's Christmas 🎄 early! The Familin'Paris Advent Calendar Try your luck...