Let's enjoy!
It's September 27th from 11:00 to 6:00 p.m.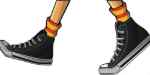 Paris, no car, this is a day to mark with a white stone!
It's so rare that you have to enjoy it: no car, less pollution, less noise. A city more peaceful. Let's participate in this family event. To you the bikes, electric scooters or not, and other machines with 1, 2 or 3 wheels. Beware, motorcycles, even electric ones, are forbidden... on this car-free day.

For the 6th time, after the success of the car-free days in previous years,  Cars are forbidden in ALL of Paris (except the ring road and the woods). For 7 hours, ae 11h to 18h Paris will be very quiet on September 27th.
This year, the day of great calm is set on the same day as the Street Springa festival of free street performances. That's just the thing!
Rest assured, service vehicles, ambulances, buses, taxis and VTC are allowed to drive, but at 20km/h.
If you live in Paris, don't worry, you will still be able to leave Paris or return home by car but with proof of residence with you. Of course you will have to respect the speed limit of 20 km/h.