WE love
: a very lively exhibition on a great lady of the twentieth century, worthy of a novel heroine
Age : 
from 10 years old (free visit) - Workshops from 4 years
Duration: 
until August 25, 2019
Location: 
 Museum of Art and History of Judaism (Paris 3e)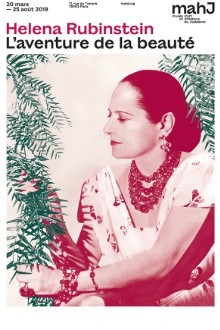 The exhibition on Helena Rubinstein, a life worthy of a movie heroine
The exhibition presents an exceptional woman, a rebel from a poor Polish Jewish family founded alone a global cosmetic empire, an industry and a culture of beauty
The exhibition is exciting because Helena Rubinstein is unique and exciting. Avant gardiste, in all areas she was an extraordinary businesswoman and a great collector
Through the course of Helena Rubinstein, it is much of the twentieth century that is traced in this exhibition. It is a geographical route (she lived in Europe, Australia and the United States) and chronological (1870-1965)
A great collector, Helena Rubinstein met the great artists of the 20th century (painters, sculptors, architects, fashion designers ...). The exhibition presents objects, clothing, photos, engravings, works, paintings, sculptures, tapestries from his famous personal collection and trace the course of the one that Jean Cocteau named "the empress of beauty".
An exhibition suitable for children from 10 years (free visit) and from 4 years with tours workshops:
This exhibition is an opportunity for children to discover an exceptional and romantic life and through it, the great historical and artistic moments of the twentieth century. The photos, documents are exciting and very accessible to young audiences.
The Museum of Art and History of Judaism offers some tours especially for children:
  THE VISIT - WORKSHOP: Tales tales, stories embroidered  :
Family visit of the exhibition. Large and small discover the atmosphere of a tailor's workshop, before going in search of gold embroidery, silky fabrics and precious fabrics in the exhibition. Each family then composes a textile story using various materials. We sew, we stick and we draw his life!
for children from 5 years old and accompanied by adults
Price: 9 € the workshop
Sunday, April 7, 2019, 10: 30-13: 00
  CHILDREN'S WORKSHOP: Madame Rubinstein's beauty salon  :
In the manner of Helena Rubinstein, the genius designer, children make up a face under the lens of the camera, using an animation film technique.
for children from 4 to 7 years old
8 children maximum
Tuesday 23 April and Tuesday 9 July at 14h
Duration 2h
Price: 9 € the workshop