From 6 years old
- CHILDREN'S VISIT TO THE MUSÉE GUIMET -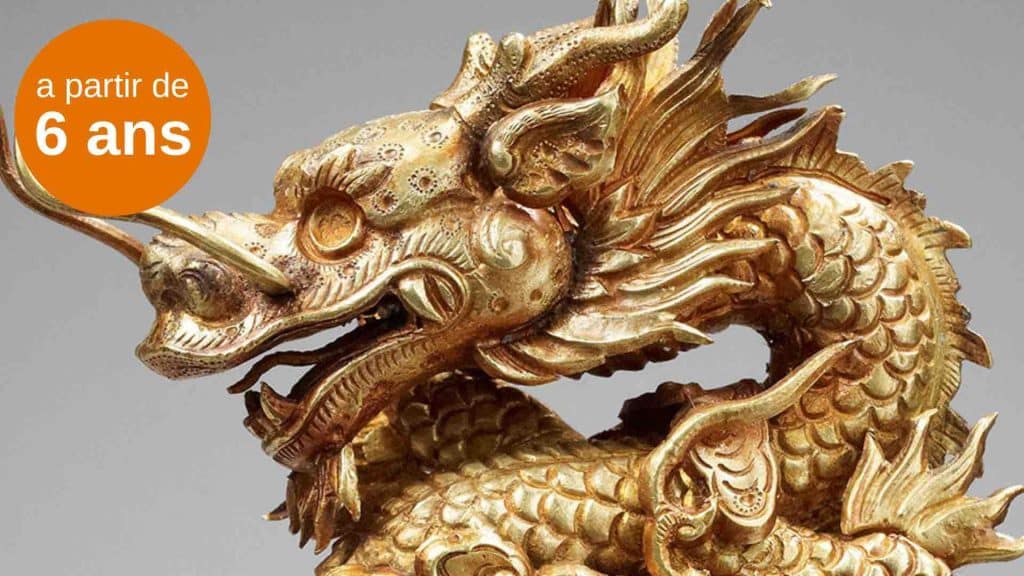 1 – WE DO NOT ACCEPT LONE CHILDREN (unaccompanied by an adult).
2 - YOU MUST BOOK A TICKET FOR EVERY PARTICIPANT (children and accompanying adults).
Date in red the session is sold out
Date in green : Places are still available 🙂 Please note that if you are unable to select the desired number of tickets on the same order, there are not enough seats available overall -> choose another session.
The "Magical Journey to the Land of Dragons" children's tour
You'll discover all the surprises and magic that Asia and ancient China have hidden from us. The guide will explain why dragons aren't so bad (much less so than our medieval dragons).
We'll talk to children about chinese calligraphy, of Asian legends, ancient superstitions or human sacrifice. They'll discover who the Phoenix was.
We'll tell them the story of the Silk Road and the animals of the Chinese zodiac.
It's a tour as rich and varied as this age-old culture. Our tour guide is a professor of Asian art at the Ecole du Louvre, and a specialist in tours for children.
Rates and information for scheduled visits
Adults (not ticket-exempt) must pick up their Guimet Museum ticket on arrival (it is not included in the price of the guided tour).
20 to 22 participants maximum per visit
duration : 1h30
Meeting place in front of the Musée Guimet
This visit is animated by guide-lecturers
An adult seat is necessarily associated with a child seat.
Visit in French
Privatization
Who is it for? : school, extra-curricular, birthday, family privatization...
Rate From 250 euros per visit
Increase of 20% on Sundays and holidays
Number 25 people max (adults and/or children)
Visit in French or English
For schoolchildren: from the first grade / primary school
Find the list of our reviews
- Visit to the Guimet Museum
Written by CHRISTINE DAL PICCOL, 31-10-2023
The guide had a good feeling with the group of children, and knew how to interest them...I wasn't expecting this approach in relation to the proposed theme, I found the subject a little difficult, and the visit a little long for children (2 hours), but everything went well. My granddaughter (in CE2) liked it....I regret, however, that I had to pay for both the visit AND the museum entrance fee....
- Great visit!
Written by DELPHINE DAHAN, on 29-10-2023
An enriching, interactive tour that my 8- and 14-year-olds really enjoyed. The guide was simply brilliant, and we didn't see the hour and a half go by! I recommend it, especially for children aged 7 to 10.
- Medium
Written by Ks, 28-10-2023
I found the visit a little boring and not suitable for children of cp and ce1. Suitable for ce2 and above I think... This tour isn't about dragons, but it does take us to China, to tell us some stories. I found the visit disappointing... it's a shame! We did learn a few things, though, which is always good culturally!
Family visits in Paris