In French and in English
Art and culture for your children or teenagers
For a privatization in family (from 3 years), between friends or for a birthday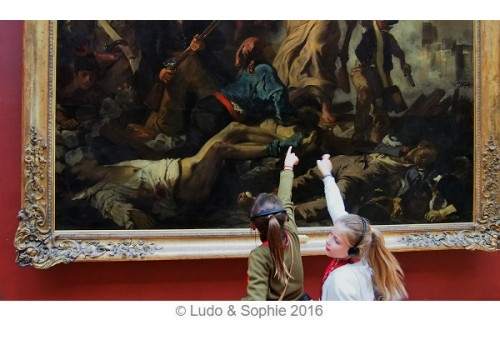 You wish to privatize a visit to the Louvre
Reservations at the Louvre must be made at least 10 days in advance.
6 themes for private visits to the Louvre Museum (to be chosen later)
My mini Louvre (3-6 years)
The masterpieces of the Louvre explained to children (from 7 years old)
Egypt at the time of the Pharaohs at the Louvre (from 6/7 years)
Monsters and heroes of Mythology at the Louvre (6/10 years)
The masterpieces of the Louvre explained to teenagers (from 13 years old)
The great masters of the Renaissance at the Louvre (from 13 years old)
---
Number 6 people max (adults and children)
duration : 1h30
Language in French and English
Tours led by certified tour guides
At least one adult must be present when minors are involved
Choose the date (and time) on which you would like to privatize a family visit. The availability of the guide will be confirmed within 48 hours. Your transaction will be charged only after confirmation of availability.
And also: these visits are offered in group visits
All year long, including during school holidays
From 20€ per visit (child rate) and 38.99€ per visit, including admission to the Louvre (adult rate)
These visits last between 1h30 and 2h
They are led by certified guides.
Up to 25 people per visit
Find the list of our reviews
- Great visit
Written by Pascaline SINEY, 14-11-2023
Very child-friendly and we adults learned a lot too. I recommend it!
- We had a great time as a family at the Louvre with Marie.
Written by Anne, 01-11-2023
We highly recommend this tour, which focuses on some of the museum's most important works, providing a good first approach. Marie was top-notch and kept the children's attention (aged 10-13 and 15) throughout the visit. They loved it! Thank you, Marie.
- Great!
Written by Virginie Magne, 31-10-2023
Our guide Pauline knew how to adapt to each of us: an 8-year-old, a 17-year-old and 2 adults. We lost no time and all loved the Egyptian tour. I'd do it again with a different theme - it was top-notch! Thanks Pauline
- Private guided tour at the Louvre: A really fun and educational experience
Written by Monica Ladekarl, 28-10-2023
We are a Danish family with two teenagers (18 and 13) that went to the Louvre for the first time. We met the guide, Pauline, outside, who helped us enter the museum as fast and easy as possible. Pauline took us through a two-hour long teenage-friendly highlight tour. She was so nice and knowledgeable and kept our children interested the whole tour. Especially the museum's own history was fascinating for them. We definitely recommend and will probably book a private guide again for another museum when we return to Paris.
–
Written by Anne Wurtz, on 25-07-2023
This guided tour was of the highest quality Not only was the guide very, very pleasant, she was also extremely professional throughout the visit. The children really enjoyed it I highly recommend LUDO&SOPHIE and encourage them to continue. Thank you and bravo
- Excellent tour, really child-friendly
Written by Brigitte costerg, 15-07-2023
For a 1st visit to the Louvre with children, I really recommend it. We had a great time as a family, and what's more, it was very enriching.
- Thanks Cyril
Written by Roxanne Tremblay, 08-07-2023
We thoroughly enjoyed our visit to the Louvre with Cyril. The challenge with this kind of visit is to appeal to everyone; 7, 11 and 14... Cyril kept them interested for 2 hours. We came away delighted with our visit.
- A memorable visit
Written by Joanna DEGRANGE, 08-06-2023
Incredibly interesting visit for children and adults alike. The guide immediately put the children at ease and told us lots of anecdotes about the works. The time passed very quickly, and the children's attention remained at a maximum for the whole 2 hours, even the 8-year-olds.
- Great site
Written by Joanne Suissa , 18-04-2023
I am delighted with my experience with familin. A variety of activities are offered depending on the age of the children. Ideas are suggested. I visited the Louvre thanks to a private tour with Pauline. My 5 year old son, despite his condition (a bit sick) was delighted as were my husband and myself. I can only recommend this site!
- An interesting visit but lacks a little relief
Written by Stephanie Muyard, 03-04-2023
Interesting visit but the children remained too stuck on the activity book which is not quite in the order of the rooms of the Louvre. The speaker was interesting but not captivating, she didn't make the children enter enough into the daily life of the Egyptians/their beliefs and at several moments they lost interest. Quite expensive for an hour and a half visit.
- Very nice afternoon spent at the Louvre on the theme of Greek mythology
Written by jean philippe MARTINET-FERROILLE, on 24-12-2022
pleasant visit with Natalina who captivated our daughter and ourselves I sincerely recommend thank you
- Great
Written by Laure Maillet , on 20-12-2022
Very nice guide, great with children and parents. Very adapted guided tour, she fascinated our children. We thank her very much for her kindness and her practical advice for the Louvre which helped us a lot! We had a great time.
- Guided tour for children
Written by Sophie LACQUIT, 06-12-2022
The guide arrived right on time at 10am, then passed through security, checkroom, entrance. The visit ended approximately 1h30 later, whereas it was agreed to be 2 hours. We were surprised especially that the 6 years old boys were not tired. Too bad because it was very interesting!
- Very good visit with Natalina
Written by Pierre-Alain, on 28-11-2022
Visit of the Egyptian antiquities department at the Louvre with Natalina for our family of five. She was a very interesting and lively speaker who adapted perfectly to the level of expectation of the young and old participants. Bravo and thank you!
- Extraordinary!
Written by Valérie Michel Dousse, 02-11-2022
The reservation was made by our hotel. We did not receive any comments about any difficulty in booking. I recommend this activity to all families who want to visit the Louvre with their parents and, in particular, I recommend Cyril, our guide. He was extraordinary. Our children did not see the two hours we spent in the museum pass by. Perhaps a remark of improvement. We were lucky, there were few people but in case of big crowds, such a guided tour should give access to a more particular queue to enter the museum.
- Exceptional visit!
Written by Marielle Pericchi, on 04-09-2022
An extraordinary guide. Strong sensitivity and listening. To be repeated everywhere with her.
- Great
Written by Stéphanie Lorfevre , on 30-08-2022
EMILIE was fascinating and passionate and we had a great time. The children and adults loved it. I would recommend her without hesitation!
- our visit
Written by René Massé, 04-07-2022
We really enjoyed this visit. The lecturer was very competent and kind. The organization was very good. I highly recommend this organization
- Cultural escapade
Written by Famille bordelaise , on 30-04-2022
A very pleasant family time. Our guide Catalina was wonderful: smiling, understanding, she adapted instantly and answered all the questions from the youngest (10) to the oldest (the father). Her vocabulary was adapted to our little knowledge. In spite of the crowd (school vacations), thanks to her, our visit of the must-see places was smooth. I recommend her ++++ On the administrative side, familinparis is very professional and straightforward... everything is set up like clockwork and it's very pleasant... no bad surprises or delays. An experience to be repeated! Thank you
–
Written by katia bocq, on 20-04-2022
Our feedback on our visit to the Louvre was very positive. We were seduced by the 7-12 years old visit, as were our two children. They didn't miss a thing and were captivated by Cyril and his good mood. He knew how to lead the group with kindness and the visit went very well! Thank you for these cultural proposals that seduce young and old and for the quality of your speakers!
- Overall rating: 4.5. Quality / price : 4 Fun :5
Written by MARIE-ANTOINETTE BAUDET, 20-04-2022
Plu: ticket cutter/choice of works/adaptation to children... No difficulties even with a little advance..... Highly recommend it.
–
Written by Pascale M, on 07-03-2022
Thank you for this great visit: Emilie is an excellent lecturer, attentive to all and who gives explanations that are perfectly adapted to children! Bravo, we will surely do other visits with you.
–
Written by Michèle G, on 25-02-2022
Offering guided tours for children in a museum is great. We participated with my grandchildren (5 and 8 years old) to the visit on mythology and gods. The organization of the visit was perfect: welcome, deposit of coats and bags in the checkroom, headphones, activity booklet to be filled in during the visit... The tour and the accompaniment by the guide were completely adapted to children. We will repeat these visits on other themes.
–
Written by Marie Pascale D, on 21-02-2022
My grandson and I loved our visit to the Louvre. The tour was not too long and we learned a lot of things in a very playful way. The guide was very well adapted to her public. Perfect organization, a very good moment! I highly recommend it.
–
Written by Caroline L, on 20-01-2022
Exceptional speaker during our visit to the Louvre. She was able to captivate the children (and parents) by telling simple, funny and exciting stories. Few people that day. Very pleasant. I recommend for all ages. Even the 3 and a half year old was hooked!
–
Written by Thomas P, on 20-01-2022
Excellent guide who gave us a great tour of the Louvre in concentrate. She knew how to keep the children's attention for 1h30. I highly recommend it!
–
Written by F.F, on 20-12-2021
Visit of the masterpieces of the Louvre and visit of the Opera (kids)... these moments made the discovery of Paris very enriching for the children (10 and 13 years old). The smallest one tested with joy and pride the words of skulls thanks to Cyril. They discovered the wonders of Paris and these two moments were part of the magic they felt. They came back delighted and we adults learned just as much! Very pleasant moments from the beginning to the end each time.
–
Written by Florence H, on 20-11-2021
Extraordinary! We are very happy. We did the visit of the Louvre for the children with Nathalie as a lecturer. It was very lively, very interesting, also for the adults. Lots of explanations, anecdotes, information... Thank you!