(free for children under 5 years old)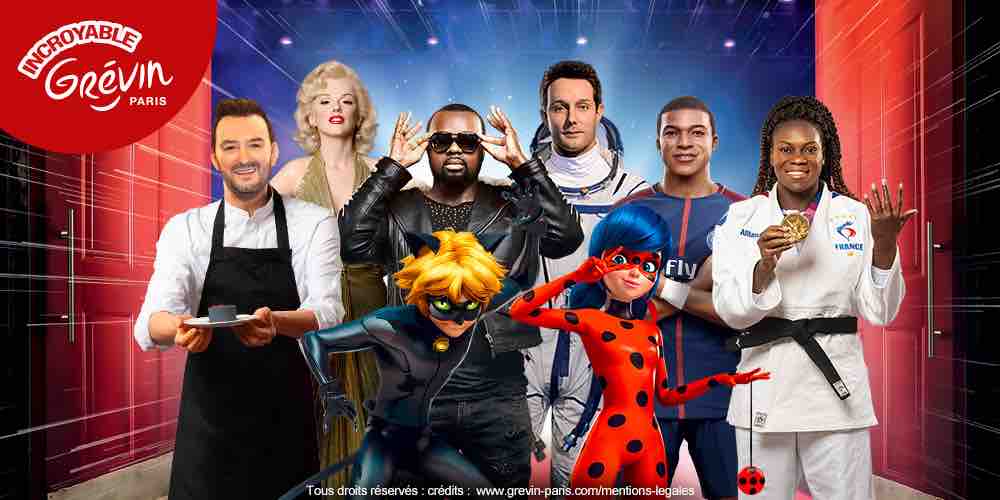 The Grévin museum is...
Over 200 celebrities to meet
New personalities all year round
New and immersive stagings
An enchanting sound and light show
An exceptional architectural heritage
You have thesoul of a music star or a film actor ? Have you always dreamed of living the greatest moments of French History?

You wish to compete against the greatest athletes ? At the Grévin Paris it is possible!

Meet over 200 celebrities and enjoy our new experiences!
I take advantage of 5% discount on the Duo offer
The Grévin Museum, from the origins of man to the present day
Meet over 200 celebrities and enjoy our new experiences!
Live the experience of famous TV shows such as Koh-Lanta or Fort Boyard! The council, the elimination, face to face with Denis Brogniart... experience the highlights of the adventure! Or slip into the shoes of a The Voice coach alongside Nikos, before tackling the mythical tests of Fort Boyard under the eyes of the Father Fouras and the master of time.
For the first time the web is unleashed at the Grévin! Do a live with the most followed content creator in France: Squeezie, and his dog Natsu or discover your first android in the video game store Detroit: Become Human
Enter the history of France! Draw cave paintings, fight a Roman centurion alongside Vercingetorixmeet royalty at the court of Versaillestake part in the council of war with Bonaparte, march in the the Jeep of General de Gaulle at the time of the liberation, live May 68 and many others!
Dive into imaginary worlds with your children's favorite heroes! Explore the rooftops of Paris with Ladybug and Black Catdraw a sheep for The Little Princecatch cockroaches with OggyHelp Scrat get his nut back or go back to school with Little Nicholas.
Record your new hit with the greatest voices! Go into the studio with Gims under the watchful eye of Johnny Hallyday and Phil Collins. From Katy Perry to Soprano through Edith Piaf, Stromae, Lady Gaga or Roberto Alagna and Luciano PavarottiThe most famous musicians welcome you in the cosy atmosphere of a piano bar for a jam session that will be remembered for years to come!
Join the jet set and rub shoulders with the biggest stars! Take a break from the red carpet and enjoy a VIP evening with George Clooney and Meryl Streep in the iconic "Salle des Colonnes" and join your favorite movie stars: Leonardo Dicaprio, Ryan Gosling, Penelope Cruz, Omar Sy, Scarlett Johansson ... they're all there!
Spend a delicious moment with renowned chefs! Meet delicious people in the Grévin's kitchen. Cyril Lignac, Anne-Sophie Pic and Paul Bocuse are all at the stove for you.
Frequently Asked Questions
---
What to do in the Grands Boulevards area?