Ghost, the musical
We like: the quality of the shows staged by the Mogador team
Age: for teens
DATES: September 17 to June 21
Place : Théâtre Mogador (Paris 9e)
Ghost, the French musical inspired by the cult film
This musical has been created in 2011 in London and since then he has had a successful international career
This musical, in French, like all the shows presented in Mogador, takes up the strong elements of the 1990 film embodied on the screen by Demi Moore and Patrick Swayze, starting with the song Unchained Melody (a success of 1965 that is due to the Righteous Brothers).
Ghost is a love story, a thriller and the supernatural. A young couple, Molly and Sam are very happy until Sam is fatally wounded in a fight. From the body of Sam escapes a ghostly double, who does not resolve to leave the love of his life, when he understands that his death is not as accidental as it may seem and that a danger hangs over Molly ...
Like all shows presented in Mogador, Ghost is a musical whose songs are translated into French.
The musical shows on the bill :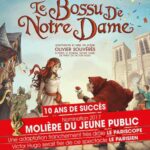 Back in October