One Sunday per month: children's film preview + free activities
Next session, February 13 at 10 a.m.
Cinékids
WE LOVE : The discovery of a cartoon or children's film in preview + free animations around the film
AGE: Depends on programming
WHEN: One Sunday a month
RATE : 6.50? for children / 13.60? for adults + Free animations
LOCATION: Gaumont Aquaboulevard (Paris 15th)
NEXT FILM: February 13, 2022: Preview "Hopper and the Hamster of Darkness" at 11 a.m. (free animations from 10 am)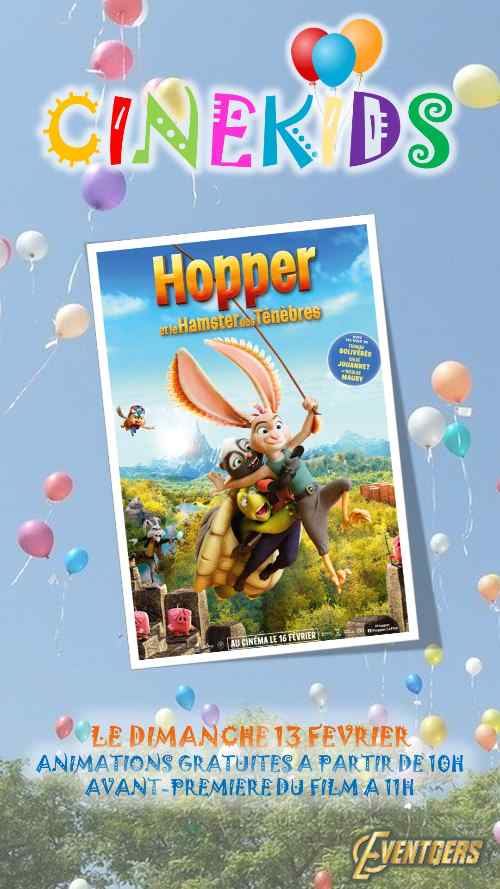 Cinékids at Gaumont Aquaboulevard, it's a movie premiere + animations
On the CinéKids program, once a month :
Screening of one or more cartoons or youth films.
Most of the time, these are films in preview.
Free animations around the theme of the film. Supervised by animators, the children have the choice between :

Creative workshops
Board games
more sporting activities around the theme of the film: mini archery, mini zip line, mini golf, a Foot-billard area...
CinéKids rates:
adult: from 9.50? to 13.60? depending on the film
children : 6,50?
free animations

Cinékids: the upcoming program
Preview of the film "Hopper and the Hamster of Darkness"
Ideal from 5 years old
Screening of the film at 11:00 a.m.
Price : 6.50? for children / 13.60? for adults
1 FILM PREVIEW, February 13, 2022 from 10am:
Free animations between 10 and 11 am
Creative space Rabbit to customize, animal masks to customize, papertoy hamster
Events and duet races area : precision game with lassos, race against the clock, chase
Archery Space on the theme of the film
Slackline adventure course
Goodies to win
And always, a wooden play area
Cinema for young audiences