An outdoor escape game / historical clue on the Île Saint-Louis
Duration of the game: 2 hours
All audiences, from 10 years old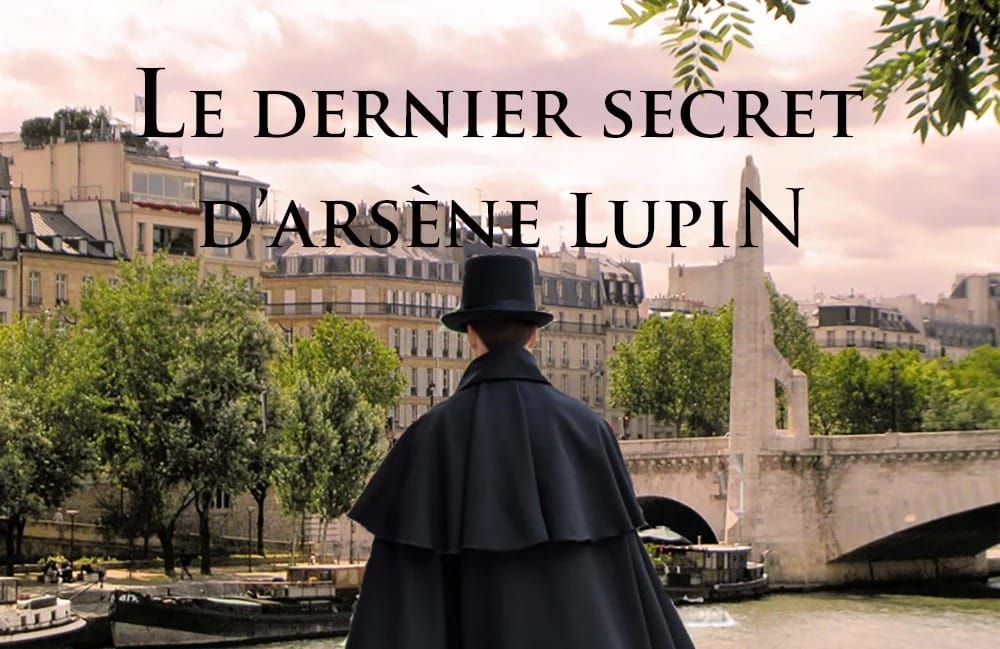 Will you succeed to solve the last secret of Arsène Lupin ?
A treasure hunt - historical investigation on the Île Saint-Louis for solve the secret of the Flask of Nicolas Flamel and find out why Arsène Lupin stole the vial. An outdoor treasure hunt / Cluedo built on the same model as "2 hours to save the king", the escape game in Versailles which is also a great success.
For who ? With family and friends, for a birthdayfor an EVJF, EVG or Team Building
The price of the treasure hunt "The last secret of Arsène Lupin
29 euros per participant (adult or child)
Free for children under 9 years old
Practical information :
Place outdoor, on the Ile Saint-Louis
Duration of the game: about 2 hours
This game is played in teams. The number of participants is not limited. However, a minimum of 2 players is required
groups of minors must be accompanied by an adult during their investigation
The meeting place : quai d'Orléans, Ile-Saint-Louis, Paris 4th
Choose the date and time. We will confirm availability within the day. The transaction is charged only after validation
A very nice treasure hunt to discover the historical heart of Paris while having fun
The objective of this historical treasure hunt designed as a life-size clue or an outdoor escape game is to discover the history of the Ile Saint-Louis, while having fun.
You will discover its history and its mysteries: the club of the Haschischins where Baudelaire, Théophile Gautier and Alexandre Dumas met; the house of the Centaur where Aurelien, hero of the eponymous novel of Aragon, lived; the street of the woman without head...
It's a visit very adapted to the whole family (ideal from 10 years old). No special historical knowledge is required, the game is designed for everyone.
The pitch
1921 – A vial that belonged to the alleged alchemist Nicolas Flamel was stolen by the multi-recidivist burglar Arsène Lupin from the Countess Cagliostro's mansion at 24 quai d'Orléans. Commissioner Lenormand, in charge of the survey is convinced: "It is not the vial that has value, but what it contains."
2022 – This vial is always hidden on Saint-Louis Island. You will have to use all your skills as an experienced investigator to finally find her and discover her secret.
==> Your mission: you will have 2 hours to find the precious clues and discover the last secret of Arsène Lupin
2 hours to discover "Arsène Lupin's last secret" : between an escape game and a life-size clue
The course of the treasure hunt / escape game :
At the beginning, distribution of the secret documents necessary for your investigation and distribution of the teams
To help you, you will have clues throughout the treasure hunt and, if necessary, the help of a guide who can be reached at any time by telephone.
2 hours later, you will meet the host. The winning team will then be chosen.
A surprise awaits all participants at the finish.
Privatization (school, extracurricular, CE, Rally, EVJF, EVG, Teambuilding...)
For schools and extracurricular activities (schools, leisure centers, youth associations, town halls): from 10 years old (end of primary / secondary / high school)
For schools and extracurricular activities: free for adults (teachers, organizers, etc.), accompanying adults, etc.
For the organization of rallies, works councils, adult groups, EVG, EVJF
Request for quotation / information : Contact us
Find the list of our reviews
- A great activity!
Written by Chloé, 09-07-2023
We did this activity as part of an EVJF and it's just a great idea! We had so much fun! Bring comfortable shoes! We are more than delighted!
- Enjoy!
Written by Fanny, 28-06-2023
A good time, with two possible improvements: 1/ adapt the level to the seniority of the participants 2/ comment on the riddles with a cultural component to enrich the experience. Thanks a lot!
- Great experience!
Written by Morgane, 07-05-2023
We had a great time. The game allowed us to explore Ile Saint-Louis and discover its history and every nook and cranny. The host was very friendly.
–
Written by Sophie S, on 04-02-2023
We thank you for the excellent moment spent in company of Arsene Lupin on the island Saint Louis Very beautiful course to discover magnificent curiosities We thank Anais for her welcome and her guidance We are looking forward to receiving the pictures
- Great!
Written by Pascal, 21-12-2022
A great family outing to discover Ile St Louis. A good brainstorm to do in good weather.
- for the curious
Written by Berenice Herisson, 02-06-2022
Nice way to discover a neighborhood
- a pleasant moment
Written by Aude Sirot, on 11-05-2022
welcome, top-notch decourverte We are big fans of classic escapes, we would have preferred more difficult puzzles.
- A great afternoon with the family
Written by Pauline Dutilleul, 24-04-2022
We had a great time with my partner, my 63 year old father and my 13 year old brother. This activity is suitable for all ages but it is better if there is a majority of adults, because the level of the riddles is not obvious! Anais was very friendly, available in case of blockage and very knowledgeable. A great afternoon with the family!
- Very good moment!
Written by Sandrine SOUBEYRAND Obrecht, 22-04-2022
To do with family / friends to have fun and discover a historical place of our Capital!
- Arsene Lupin
Written by laetitia camalo, on 22-04-2022
A very nice welcome (thank you Anaïs) and a puzzle adapted for children as well as adults! So a good time to do it again
- Great activity
Written by Chantal Carter on 22-04-2022
The activity makes us discover the island. Be prepared to walk...a lot! Easy to make reservations We recommend this type of activity
- Excellent moment
Written by MARIE FRANCE JAMAL ALAOUI, on 22-04-2022
Real treasure hunt that requires observation. Extremely easy to book To be recommended
- Disappointed
Written by Aurélie THOUMAZEAU, 14-04-2022
The game was not at all adapted to children. No coherence with the theme of Arsène Lupin and the vial to find. Very disappointed!
- Much appreciated!
Written by Chiara Dureau, 06-04-2022
I had taken several places to celebrate my birthday and it was really nice! We found the clues as we discovered the island, I know the island by heart now ???? ! It was funny because another group arrived a little later and they have a bonus: they had to find "Charlie" (My friend had a bag with the character of Charlie printed on it so when they saw us it was funny because we knew they were watching us ????) I highly recommend this activity!
- Excellent treasure hunt
Written by Lau Petermann , 24-03-2022
A very pleasant treasure hunt, especially since the weather was very sunny ☀️ It calls for observation, deduction and culture in a magnificent historical and picturesque setting. We didn't quite finish in time but the participants were 11-13 years old. There is another version in the gardens of Versailles and I will be sure to go there ????????
- A very nice afternoon
Written by Julie Pellereau Soussan, 23-03-2022
Very friendly welcome, challenging puzzles at a fast pace! Children as well as adults are taken in by the game on a marvellous Saint Louis island with multiple secrets. To be recommended absolutely!
- Very nice
Written by Sylvain, on 03-03-2022
An ideal way to visit Ile Saint Louis
- Good family time
Written by amandine bon, on 17-02-2022
Very good experience with a great guide thank you
- Fun!
Written by Déborah Blocker on 05-01-2022
My son and husband both had a great time!
- A very good playful moment
Written by Thibaut COFFIN , on 03-12-2021
The young and old alike were taken in by the game, the riddles were neither too difficult nor too easy, everyone found something to do! The activity was successful, so we were in direct competition with other groups, maybe even a little too much ... but that didn't spoil anything!
- Very good animation!
Written by sophie nothum, on 02-12-2021
The activity required thinking, walking and observation! With a young teenager, it's a great activity to spend some quality time outdoors 😉 The activity leader was very pleasant and available.
- Great family time!
Written by Gwenaëlle Cordier, on 02-12-2021
In spite of the November drizzle, the children were very enthusiastic about the investigation, which kept them enthralled until the end! Clues when needed and a fun exploration of the island of Saint Louis. Thank you for your welcome and your patience! It makes you want to discover other investigations!
- Very good family time in a magical place
Written by Marine Boucher, 24-11-2021
Very good time. The organizers are great and very accommodating (we had a reservation problem and they solved it very easily). The visit of the Saint Louis island as an escape game is really worth it! To do with the family!
- Nice game but not easy
Written by marie-cecile calmettes, on 23-11-2021
YES I recommend. Unfortunately, it rained at the end of the game which disrupted the end of the event.
- Great family time
Written by Julie GIOVANNETTI, on 14-11-2021
Excellent activity to do with the family. The game is accessible to young teens, the setting is beautiful, it is outdoors, the animators are available without being too present. The online reservation is simple and the appointment easy, everything is fluid. I recommend it!
- Nice /
Written by NICOLAS DESCHAMPS, on 29-10-2021
Yes, nice overall
- Great!
Written by Sophie, on 28-10-2021
We had a great time with my 9 year old son with passionate animators at the top! I highly recommend it!

Other unusual walks to discover with family and friends