2 days of model railroading: 820 m2 of railroad networks
Model railway festival: trains on every floor
We like: The Cité des sciences et de l'industrie is transformed into a train station hall!
When: May 18 and 19
Place : Cité des Sciences (Paris 19ème)
Age: for all, from 2 years old
Price: ticket price for the Cité des Sciences: 12 €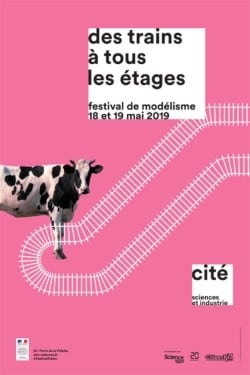 Model Making Festival: an exceptional event!
The City of Science and Industry turns into a station hall with the largest exhibition of model railways presented in Paris in the last ten years.
820 m2 of rail networks!
There are several networks to discover: from the smallest, which fits in a Brie box, to the largest of 260 m2.
A unique opportunity to talk with enthusiasts, to take part in locomotive assembly workshops, to drive model trains or to travel in a steam locomotive!
Saturday May 18th from 10am to 6pm and Sunday May 19th from 10am to 7pm.
The model making festival thinks about children and organizes for them a wide variety of activities and workshops.
From 2 years "Bricks of pleasure." Workshop of 30 min. The toddlers manipulate LEGO trains thanks to a large fixed railway layout and a small modular layout. A static miniature train of great length is built with the public throughout the weekend.
From 7 years : "Driving simulator". To discover the job of a train driver, children are asked to monitor signals, speed limits and manage passenger exchanges...
From 12 years Model making" 1 hour workshop. To discover the origin of the steam locomotive and understand the principle of its operation. Without tools or glue, the public assembles and takes away a model of an authentic wooden locomotive, entirely mechanical, type 230.
The TOP EXHIBITIONS of the moment