- EXHIBITION -
Until January 7, 2024
At the Grande Galerie de l'Evolution (Paris 5ème)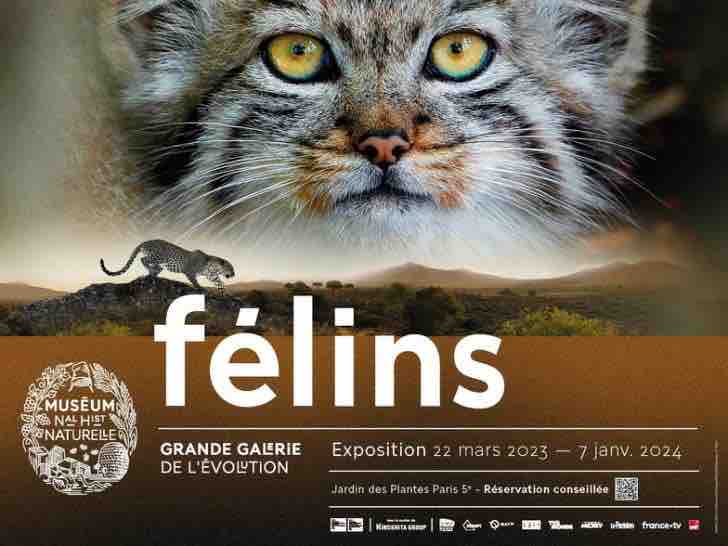 WE LOVE : discover the 38 species of felines that exist on earth!
AGE : from 5 years
DATES until January 7, 2023
HOURS Every day (except Tuesday) from 10 am to 6 pm
LOCATION: at the Grande Galerie de l'Evolution (Paris 5ème)
DURATION 1 hour minimum
"Felines" the temporary exhibition of the Grande Galerie de L'évolution
There are currently 38 species of felines living in the wild on all continents except Australia, Madagascar and the poles. How many could you name?
The Great Gallery of Evolutionlocated in the jardin des Plantes offers a fascinating exhibition on these animals, both admired and feared.
We know the stars : the lion, the tiger, the snow leopard, the puma, the jaguar, the leopard, the domestic cat...
The exhibition "Felines" also presents us the more confidential species like the fishing cat, the margay or the guigna, the ocelot, the jaguarondi, the serval, the adorable sand cat...
Magnificent animals, small or large, of unequalled elegance - We fall under the spell of these wild felines
3 main themes guide the visit: the scientific aspect of each species (its habitat, its characteristics), the sociological aspect and the mythological aspect
The exhibition is fun and educational. It begins with a spectacular set of 38 naturalized catspresented on a podium by geographical zones and accompanied by a digital cartel
Then "The cat tree", a fresco tells their evolutionary history since the Proailurusthe oldest known cat that appeared about 22 million years ago
Many spectacular videos show us felines searching for their prey, a film alerts us to species in danger of extinction
Interactive spaces to admire their exceptional senses: a hearing that allows felines to hear on a range of 50 kHz to 80 kHz (when humans are limited to 20 kHz); a sight and vibrissae to hunt at night ...
Finally, among the 38 species of felines, only the cat Felis sylvestris catus has been successfully domesticated. There are 600 million domestic cats in the world, including 15 million in France
At the end of the exhibition, a moving reconstruction shows a tomb from 9500 years ago. Discovered in Cyprus, it is the oldest known tomb with a cat
The top exhibitions in Paris at the moment