From age 6 (no age limit)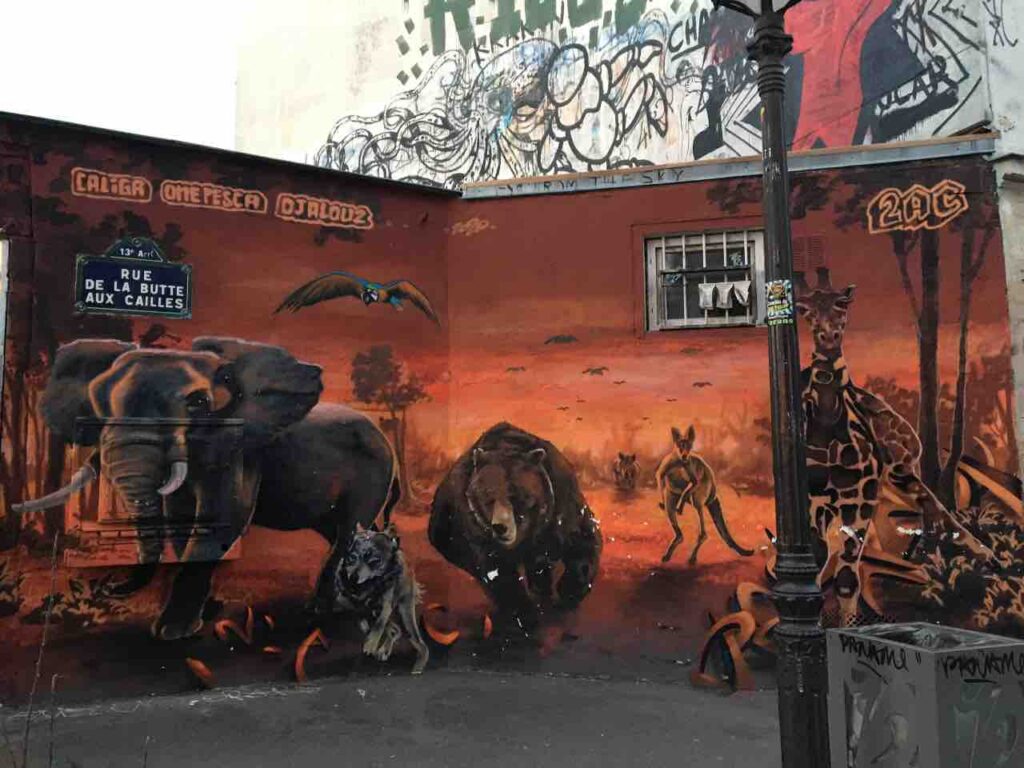 Pitch of the guided tour "Street Art explained to children
It is an interactive and playful visit during which the children will discover the names of artists and the techniques used by graffiti artists. This exciting visit ends with an "in the Street" mini-workshop during which the children can express themselves. We love this neighborhood with young children for many pedestrian precinct and few cars (the countryside in Paris).
Meeting at the exit of the Corvisart metro station with the tour guide
Let's go for a 1h30 walk in the bucolic district of the Butte-aux-Cailles
After a short introduction on what street art isthe guide will explain to the children the different techniques used (collage, stencils, mosaics...)
She's gonna tell them about the artists (Kashink, the Kraken, Jef Aéroso...) and will show them all the supports they can use
It's a participatory visit because the children will have to recognize a technique, an artist and look for works such as the Invaders and have fun to use the "too stylish" vocabulary... like TAG, SPOT, BITER or CREW.
This guided tour will end by a mini-workshop of about 15mn during which children or teenagers can also express themselves on the urban furniture
This visit is led by guides specialized in young people
Rates and information for scheduled visits
20 to 22 participants maximum per visit
Duration of the visit : 1h30
Meeting place : metro Corvisart (13th)
This visit is animated by lecturer guides specializing in children
The price includes the services of a guide
An adult seat is necessarily associated with a child seat.
Weather : visits are maintained even if it rains slightly
Held at Wear comfortable shoes (like sneakers). And don't forget water bottles, hats and glasses if the weather is very nice.
Visit in French
Privatization (birthday or family visit)
Rate for a privatization : 220 € the group
Additional 20% on Sundays and holidays
Visit in French
Privatization for a birthday party 12 children max. (and 2 accompanying adults)
Privatization for one or more families 15 people (adult and child)
Birthday: the snack is not included in this formula
Choose the date (and time) on which you wish to privatize this visit. We inquire about the availability of the date (answer within 72 hours). You will be debited upon validation of the date.
For schools or youth centres
From €220
Additional 20% on Sundays and holidays
Administrative vouchers are accepted
School : from 1st grade / primary
Leisure centre, youth association, town hall for children aged 7 years old
Payment in good standing is accepted