A guided tour for children from 8 years old
At the Police Museum (in the 5th district)
In family, school, peri-school, privatization...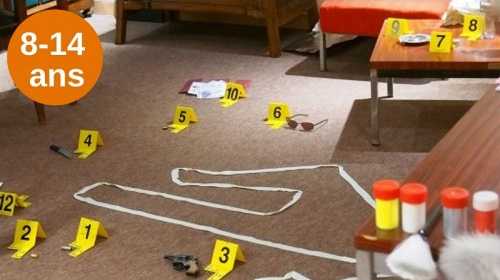 Pitch for the "Who benefits from crime?" investigative tour.
The history of the great criminals told to children (and their parents or grandparents)
The first serial killer in French history was, it was.... you dry admit it!!!
Well not your child at the end of this visit to the Police Museum. Because this is also culture...
During this outing, your children will learn all about the great "villains" of French history. From Landru to Doctor Petiot through Ravaillac and the Queen of the Apaches...
Everything, they will know everything about the techniques of the greatest criminals and how the great policemen such as Vidocq operated to denounce them.
Small disgusting stories assured .... Sensitive souls should not be involved.
---
Rates and practical information
Rate : 14€ (adult or youth) - 10% discount with code FAMILINPARIS
For your information: admission to the Police Museum is free for everyone
20 participants max. per visit
Children must be accompanied by at least one adult (1 adult for 6 children)
Duration of the visit : 1h30
Meeting place at the police museum
Visit in French
Private visit "Who benefits from crime? (rates and info)
♡ Nice to book for several families (more reasonable budget).
Rate 220€ for 15 people max. (child and adult)
Age Children : ideal with children between 8 and 14 years old (they must be accompanied by at least one adult)
Duration of the visit : 1h30
Meeting place The Police Museum
Visit in French
What are the days when you can privatize this visit? ?
weekdays (Monday to Friday)
3rd Saturday of each month
The Police Museum is closed on the 1st, 2nd and last Saturday of each month. It is also closed on Sundays
For schools or youth centres
180 € the visit (free entrance fee)
At least 3 adults for a class of 26 students
Including 1 copy of the activity booklet in PDF format (optional 20€ printing of the booklet for children)
School From CE2 to 3ème
Mairie for children (from 8 years old) and teenagers
Payment in good standing is accepted
Guided tours in museums...