PARTICIPATIVE CONCERT at the Philharmonie
From 8 years old
Concert on March 12 at 4pm / Rehearsals on March 11 and 12

PROGRAM: "Community Project," a participatory concert led by San Francisco Symphony musicians and soloist Claire Chase
AGE : for all, from 8 years old
DATE :

Concert on March 12 at 4pm - Rehearsals on March 11 (2:30 to 5:30pm) and March 12 (10:30am to 1pm)

)
DURATION OF THE CONCERT : 1h10
RATE for the concert : 20€ for adults and 12€ for children under 15
RATE for the rehearsals and the concert : 36€ the adult ticket and 24€ the ticket for children under 15
LOCATION: concert hall, Cité de la musique
This concert takes children and their parents on a voyage of discovery of the myth of Pan, through a work that combines flute, electronic sounds and everyday objects!
Pan tells the story of the eponymous chimeric deity from Greek mythology: Pan is in love with the nymph Syrinx but it is not reciprocal. To escape his advances, Syrinx turns into reeds. Inconsolable, Pan draws his famous flute.
The audience is invited to take an active part in the performance from the stage. They accompany the artists on stage by singing or playing excerpts of works prepared beforehand.
2 rehearsals are proposed for the participating public: March 11 from 2:30 to 5:30 pm and March 12 from 10:30 am to 1 pm.
Concerts for young audiences in Paris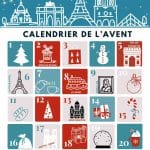 It's Christmas 🎄 early! The Familin'Paris Advent Calendar Try your luck...