- EXHIBITION -
For all, from 3 years old
Until December 31, 2023
"Seth se la joue", a Musée en Herbe exhibition
WE LOVE : the joyful universe and facetiousness of this street artist who speaks to children
AGE : for all, from 3 years old
DATE: until December 31, 2023
HOURS: open daily from 10 a.m. to 7 p.m.
CLOSE December 25
VISITING TIME : About 1 hour
LOCATION: at Musée en Herbe (Paris 1st)
"Seth se la joue", an exhibition by a globetrotter who talks to children's children around the world
"Seth se la joue", a luminous and joyful exhibition by a globetrotter who takes us on a journey through the imaginary world of children.
You'll find transformed toys, mirror games or some secret passages from which emerge the figures of mischievous children !
A real whirlwind that transports us into the sensitive, dreamlike world of childhood ... into this strange world of ours.
After the exhibitions "Imaginary worlds -Speedy Graphito (2022), "For Ever play - Asdrubal Colmenarez (2021) or "Spider, Fireflies and Butterflies (2020-2021)
"Seth la joue" at Museum in Grass is an immersive street art exhibition where childhood play resonates in an atmosphere of cool attitude.
With their hands in their pockets, Seth's mischievous characters are little creatures evolving in a colourful and joyful world in which every child can recognize himself!
Keep your eyes peeled, Seth is a detail-oriented artist!
The exhibition is divided into four fun-filled sections:

"Seth Globe painter deals with the artist's world and his travels. In Madagascar, Java, Haiti, Ukraine and China... Large silhouettes of children speak of his own encounters with the inhabitants of these troubled territories, but also of the carefree spirit of childhood through traditional games he brought back from his travels... and which you can even try out!
"La Rue Marmaille takes us into an alleyway in Paris, the city of the street artist. It's a world full of mischief, where colorful palisades reveal the figures of joyful children with masked faces, playing with our gaze. Whether they're swinging up to the clouds, jumping from rooftop to rooftop in pursuit of the cat, or ducking through secret doors, we really want to play with them!
"Eight the masks is a response to this desire to do like the children in the large-scale frescoes we've just seen. In this space, Seth lets the imagination run wild! And each child can try on different masks to suit his or her own taste. make like a carnival and change your personality! The "House of Imagination" features a range of board games from our childhood.
Entering the last room of the tour, "Word games and mirror gameswe have to go through a "Vortex ! A swirling, multicolored tunnel takes us into an immersive room where mirrors merge visitors' images with those of Seth's characters.

It's a beautiful, colourful and mischievous exhibition. which regularly reminds us that the world of childhood is not necessarily the same everywhere on earth.
A treasure hunt booklet accompanies children through the exhibition.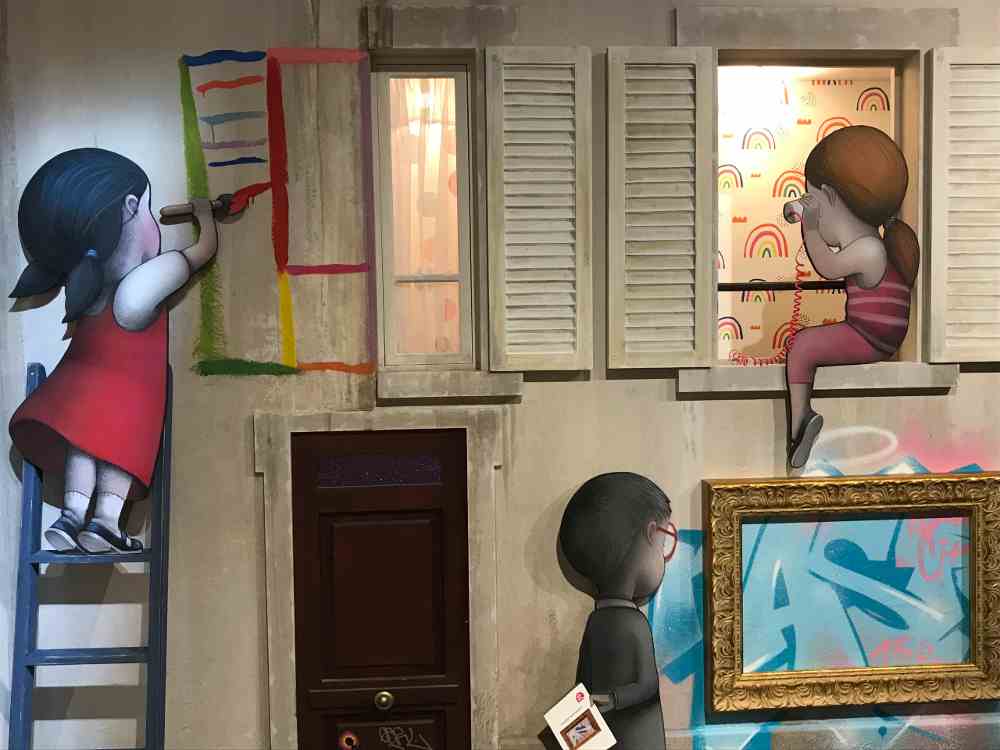 If you like Street Art...
Exhibitions to see in Paris