- EXHIBITION COUP DE COEUR-
At the Musée de l'Homme in Paris
Tickets for Musée de l'Homme permanent and temporary exhibitions
Free of charge for EU citizens under 26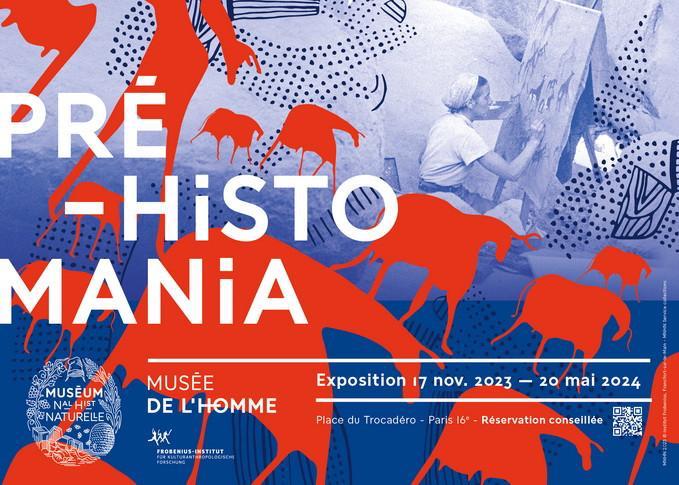 WE LOVE : a discovery of rock art. It's fascinating, moving and very accessible to the very young.
AGE : from 4 years
DATE until May 20, 2024
HOURS 11 a.m. to 7 p.m.
CLOSE Tuesday, December 25, January 1 and May 1
LOCATION: on the 2nd floor of the Musée de l'Homme (Paris 16th)
DURATION approx. 45min
FREE for under 18s (and under 26s who are EU citizens)
WORKSHOP RATE : 5€
From cave to museum ... "Préhistomania" bears witness to a priceless heritage
"This highly educational exhibition invites visitors to follow the archaeologists on their expeditions, and leads them to reflect on universal notions of scientific testimony, safeguarding, and the heritage of Mankind."
"Prehistomania" is an astonishing exhibition which traces how rock art was brought to public attention (the oldest drawings left by mankind, through faithful reproductions)
It's a moving journey of discovery the roots of humanity
It's a chance to see representations of hundreds of works of rock art from all over the world.
On the walls, reproductions of works of art dating back thousands of years and so moving handprints, hunting scenes with bison or antelope
The Prehistomania exhibition is dedicated to rock art surveys by the scientific community
A group of paintings on canvas or paper that reproduce works painted or engraved on the walls of prehistoric caves.
In search of man's originsThese testimonies have been recorded since the beginning of the 20th century on the occasion of incredible scientific expeditions around the world.
From the 1930s onwards, these surveys of prehistoric works were presented in the most prestigious museums, where they came face to face with modern works of art.
Art critics and artists of the time were fascinated by the discovery of this an opportunity for ancestral "modernityThey recognized themselves in it and drew inspiration from it.
Many great painters such as Paul Klee, Arp, Pollock or Wifredo Lam, converse in the exhibition with archaeological surveys on canvas.
With the help of photo-reports, we discover the art of surveying and its evolution. to current techniques
Finally, the exhibition concludes with the need to safeguard these surveys, their importance as evidence ofa fragile and priceless heritageoften in danger of destruction or extinction
---
Prehistomania: workshops for children
For ages 4-6 - December 27, 2023 to January 5, 2024 : Animation: "Prepare your expedition!" - prepare your equipment and explore - introduction to tracing - duration 45 min
For all - December 27, 2023 to January 5, 2024 – Guided tour: "Archéomania - Journey to the Neolithic". After visiting the exhibition (recommended for ages 8 and up), children can learn about the principles of archaeological excavation.
Good plan : 10% discount on duo offers...