Exhibition at the Grande Galerie de l'Evolution Until August 22, 2021
THE "PRECIOUS STONES" EXHIBITION
WE LOVE : a real dive into the world of precious stones
AGE : From 8 years old
DATE: COMPLETED
LOCATION: at the Grande Galerie de l'Evolution (Paris 5e)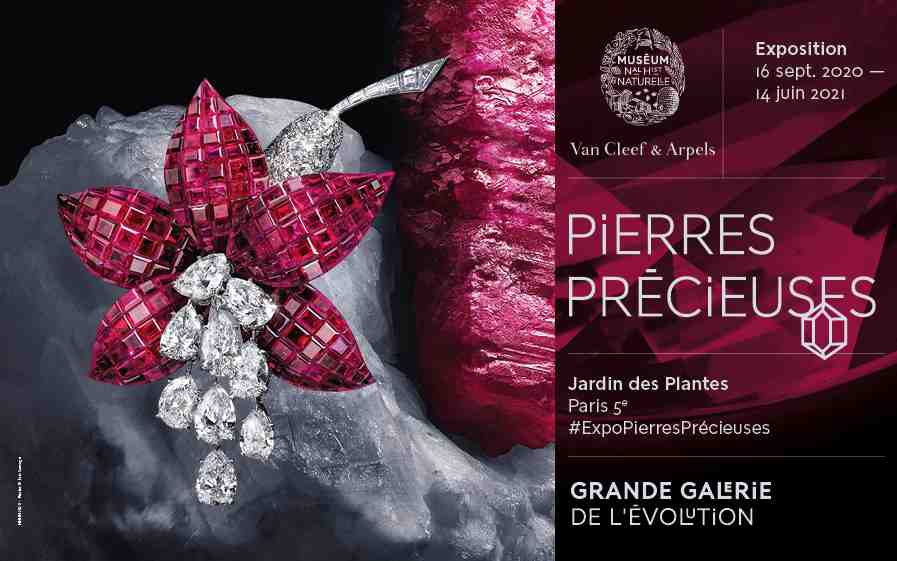 THE "PRECIOUS STONES" EXHIBITION : TO HAVE A FEAST FOR THE EYES !
This exhibition presented at the Great Gallery of Evolution of Garden of plants was made in collaboration with Van Cleef & Arpels!
It's a real immersion in the world of mineralogy, gemmology and jewellery: are presented more than 500 minerals, gems and objets d'art from the Museum's collections and over 200 gems and jewellery creations of the House of Van Cleef & Arpels
The Precious Stones exhibition presents diamonds, rubies, emeralds or aquamarine and turquoise extracted from the depths of the Earth, coveted and sought after for millennia.
These gems - man-made gemstones - have always been considered as instruments of power and objects of seduction but also, since the 18th century, as scientific subjects...
The scenography is contemporary, the exhibition immerses the visitor in the history of the Earth, the processes of mineral formation and the latest scientific advances in geosciences.
Young and old alike will marvel at the most beautiful creations fashioned by the hand of Man from natural diversity.
The TOP EXHIBITIONS of the moment