- Exhibition at the Picasso Museum -
The EXPO "Calder-Picasso
WE LOVE : putting into perspective the work of two giants of 20th century art
AGE: for all, from 7 years old thanks to the junior audioguide
DATE: until August 25, 2019
LOCATION: Picasso Museum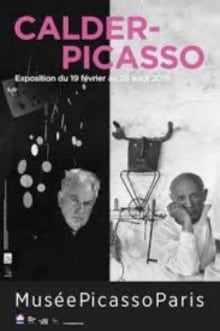 The CALDER - PICASSO exhibition : a very nice perspective of the work of these 2 great artists
Very successful perspective of the work of two giants of art, the American sculptor Alexander Calder (1898-1976) and the Spanish Pablo Picasso (1881-1973),
These artists, who respected each other without being close, have appropriated the non-space and have established, through their work, a fascinating creative dialogue. Fill the void with mobiles that defy the laws of dimension for Calder, play on the contortions of time for Picasso through abstract painting.
The Calder - Picasso exhibition questions this question of emptiness by presenting about 120 works by both artists in a chronological sequence.
CALDER - PICASSO : the exhibition adapted to children from 7 years old :
This exhibition is an opportunity for children to discover the works of 2 great artists, with simple explanations adapted for them. We recommend the audioguide audio guide. The works of both artists are very accessible to young people. The Picasso museum offers especially for children:
THE FAMILY VISIT: "A tough one!"

for children over 5 years old
Duration : 1h15
The aim is to help the lecturer to find the most important works in the rooms
Every Sunday at 11am (except the first Sunday of the month) and some Thursdays during the school vacations school holidays

GUIDED TOUR + FAMILY WORKSHOP: "On the Wire

for children from 5 years old
Visit + workshop for children and parents
Duration: 2 hours
a lecturer guides the children through the exhibition and then puts them into practice in the workshop
Every Saturday at 2:30 pm and some other days during school vacations
The TOP EXHIBITIONS of the moment